Posted: Jan 10, 2014 7:00 AM
Working out is fun when you're exercising your pelvic floor muscles. These discreet and not so discreet toys will help you do exercises that are especially helpful for moms. Get inspired to start doing your Kegels.
As moms, we hear a lot about Kegel exercises. According to the U.S. National Library of Medicine, Kegel exercises can help make the muscles under the uterus, bladder and bowel stronger. Pelvic floor muscle training exercises can help women overcome or avoid problems like stress incontinence after childbirth. The good news is, you can have fun doing Kegels if you find the right toys. We'll get you started.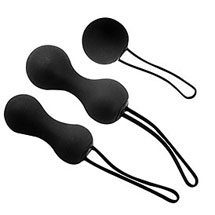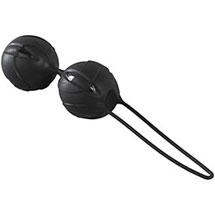 When you take a muscle strengthening class at the gym, you don't skip straight to the super heavy hand weights. The Ami Balls toy uses the same principle of gradually increasing muscle strength thanks to a set of three toys. Take your time and work your way up to a strong pelvic floor.
We won't tell anyone you heard about Silicone Smart Balls in Fifty Shades of Grey. The truth is, these unique toys get the job done whether you're trying to achieve stronger orgasms or you're trying to fight urinary stress incontinence. Challenge yourself to experience awesome results.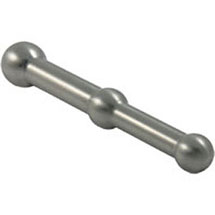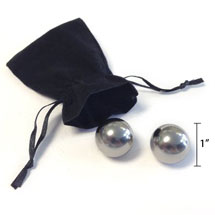 The name is silly, but the results are fantastic. This classy little toy looks like a miniature barbell — and for a good reason. It's made to help you strengthen your pelvic floor. The Kegelcisor comes with instructions to teach you how to use it. This is a workout you'll look forward to.
Ridiculous pun aside, Steele Balls are a solid toy for exercising your pelvic floor. Stainless steel makes them easy to clean. We'd say they're not your mother's Ben Wa balls — but we're pretty sure you don't want that mental picture. For a nice looking set, the price is definitely right.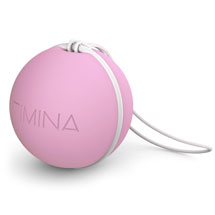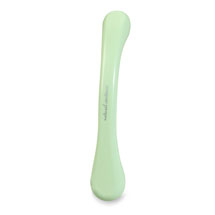 If you're looking for a super discreet toy that's big time feminine, try the Intimina. It takes a gentle approach to Kegel exercises. You can consider it more of a medical device than a toy. For some women, that's a little more in the comfort zone. And that's OK. Either way, you can't beat the price.
This sleek, small toy doesn't look like it does much, but it's weighted for maximum results. Natural Contours helps you feel and squeeze the right muscles to do your Kegel exercise the right way. If you end up finding other purposes for this discreet toy, even better.
More on sex
Do you know how to achieve the big O?
Spruce up your toy box this Valentine's Day
Too stressed for sex?