Posted: Feb 07, 2014 10:00 AM
Many parents feel that schools are becoming too sugar-filled. Between birthday treats and class parties, is there too much sugar in schools? But on the flip side, are sugar-free schools yet another symptom of our kids' deteriorating childhoods? Moms and teachers discuss this hot topic.
When my oldest daughter started kindergarten, we received notice that birthday treats were no longer allowed in our schools. My image of my sweet girl passing out equally sweet cookies to her classmates fizzled. Having been an elementary school teacher for almost a decade, I understood the draw of banning sweets. A classroom is a small space to fill with sugared children.
But the parent side of me, the one that hears — really and truly hears — the call for preserving childhood fun — school included, felt disappointed. Why can't children pass out birthday cupcakes, have sledding parties followed by hot chocolate and exchange Valentine's Day treats with their friends and teachers? The answer is that many parents, teachers and school administrators feel that the sheer amount of sugar in schools not only sends a negative message to young children about the connection between food and fun, but is also simply unhealthy.
Sugar high
Writer and mother of four Stacey Conner feels passionate about this topic. In an article in Mamalode Magazine, Conner wrote, "I know we all want to spoil our kids, make them feel special and shower them with love. I know it's fun to see a roomful of little kids light up at the sight of a tray full of cupcakes with glow worm gummies piled on top. What I don't understand is why we can't see that it's never just our kid's birthday, or just the sweet we want to bring. It's always times 24 and it's too much."
Conner isn't alone in this opinion. Schools across the country are changing their lunch menus, party plans and snack policies. Several schools in my school district have adopted a fruits and vegetables only classroom snack rule. This decision falls neatly within the practical message that most of us aim for: Everyday food choices are different than celebrations.
Band-Aid solutions
It also scratches the surface of this topic — is banning sugar from classroom celebrations the key? Does it solve the sugar worries that our society has? Or does it put a Band-Aid on a bigger issue?
When the district decides to ban treats based on sugar content or calories, they aren't really getting to the root of the issue.
"
"
Writer, mother of two and former teacher Sherri Kuhn weighs in on these tough questions. Kuhn says, "What I saw at the elementary school I worked at is that the biggest problem with sugar at school comes from home. The snacks and lunches that the kids bring are usually full of relatively unhealthy treats. Do the kids love them? Of course! But when the district decides to ban treats based on sugar content or calories, they aren't really getting to the root of the issue."
Schools = 0, Home = 1?
Like Conner's, Kuhn's point is soundly based. The amount of sugar in our children's diets is startling. An article on CBS News called America's children's sugar intake "problematic", "excessive" and "unhealthy." Dr. Robert Lustig, professor of pediatrics at the University of California, San Francisco, went as far as to say, "The amount [of kids' sugar intake] is so far over what any rational physician, dietitian or government agency would have us eating." But when doctors were asked to weigh in on what the solutions are, the fingers weren't pointed at schools, they were pointed at homes.
Dr. Wendy Slusser, an associate clinical professor of medicine at the Mattel Children's Hospital at the University of California, Los Angeles, said that [these reports are], "an opportunity for families to choose healthier options for their kids at home."
Rules and laws don't really teach healthy eating,
in my opinion.
"
"
Kuhn's opinion falls in line here. She says, "As a mom, I never had a problem with my child coming home from school and announcing that a classmate brought birthday cupcakes. Life is full of choices, and our kids need to learn when to choose a treat and when to pass. Rules and laws don't really teach healthy eating, in my opinion."
In defense of the birthday cupcake
This is a hot — or a sweet — topic for a reason. We can't argue the fact that some American children's diets need overhauling. When Conner says, "We — collectively, as a society — are teaching our kids the very thing that so many of us spend an entire adult lifetime trying to unlearn. Sweets = happiness. Sugar = fun. Cupcakes = love. The celebration hasn't happened until we feel sick and our teeth are coated in sugar residue... If we don't want to raise kids who struggle with the food issues of our generation we need to stop the constant association of positive social events and sugar." She's right. But does the issue lie in celebrations? Is this problem solved by banning birthday cupcakes?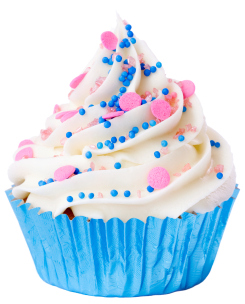 Writer and mother of two, Kirsten Doyle, says no. Doyle explains, "I often hear it said that kids are in school to learn, and that they don't need treats and parties in the classroom. My own view is that while kids are indeed in school to learn, there is no reason for them to not have fun while doing so. Maybe they don't need parties and cupcakes, but (barring medical conditions like diabetes and allergies) I don't see the harm. When I was a kid, we had class parties for Christmas and Easter. If your birthday fell during a school day, you brought in one cupcake for each of your classmates, plus one for your teacher. The practice didn't spoil us, it didn't make us obese and it didn't create an addiction to sugar. I believe that if we ensure balance in our kids' lives and encourage healthy living practices, those parties and cupcakes are just fine. They are better than fine — they create those little gems that kids look forward to, that prevent school from being "all work and no play". Maybe, in a way, they even turn our kids into better students by allowing them to take time out from the ever-increasing pressures of school in order to have a bit of fun."
Just a spoonful of...
Doyle's point voices what so many feel: Behind all of these sugar-filled statistics, are children. And the good news is that parents and teachers are attempting to work together to maneuver through these decisions. Schools taking a stand on the connection between health and sugar (or lack thereof) is important. Conner says, "At school, I want [my kids] to learn that protein is good for your brain and your school work and that people can be celebrated wonderfully and meaningfully without a single teaspoon of sugar."
I would be lying if I told you I didn't miss the occasional frosting heaped cupcake or the frosted donut with sprinkles for birthday celebrations!
"
"
But together, we all need to look at this topic from all angles and realize that sweeping changes might not be necessary and are definitely not the endpoint solutions. Erika Green, a mother of two who has been an elementary school classroom teacher for 17 years, has seen her fair share of sugar passed out in schools. She's also seen the sugar pendulum swing from high to nil and has noticed that many kids and families are making great food choices. Green explains, "As a second grade teacher, I know I should be a good example to my students. Asking children to bring a healthy snack to school makes me feel somewhat hypocritical. I, myself, am quick to grab a piece of dark chocolate or a swig of Diet Coke when I need an energy boost. I'm always in awe of the students who bring a container of veggie dip and carrot sticks or bite into a juicy apple during snack time. I guess this is a time when the tables are turned and the students are good examples to me. I would be lying if I told you I didn't miss the occasional frosting heaped cupcake or the frosted donut with sprinkles for birthday celebrations!"
Sweet talk
Everyday food rules — both at home and at school — for snacks and lunches send students a healthful eating message. The birthday cupcake ban sends a message as well, but I'm not sure that it's the same one. What I really want to know is what you think about sugar in schools. We're all better parents for engaging in parenting dialogue — with or without cupcakes in hand.
More on smart parenting
Goodbye tiger mom, hello dolphin dad
Real moms discuss kindergarten redshirting
Yell less, love more