Posted: Jan 29, 2014 10:00 AM
Blogger Allison Zapata founded Project: We See You, a community effort to distribute essentials to homeless individuals in Houston. This winter, she headed up efforts to create 150 bags of goods to help those in need.
In 2012, Houston mom Allison Zapata was running through the Starbucks drive through with her toddler when she saw a homeless woman sitting on the curb. Their brief encounter sparked a movement and led to a community-wide effort to recognize and serve the homeless.
A fateful cup of coffee
After spotting a homeless woman with all of her belongings huddling on a curb beside a Houston Starbucks, Allison Zapata asked the barista for an extra cup of coffee and a pastry. She had encouraged her children to root for the underdogs in life, but realized she'd been missing everyday opportunities to do the same. "It was like the universe was punching me in the gut telling me to stop ignoring situations just because they made my heart hurt," Zapata recalls. The woman thanked her tearfully, and Zapata knew she had to do more.
Bags of hope
After a simple cup of coffee made such an impact, Zapata began considering the things we take for granted, particularly essentials. She came up with the idea to create bags of basics to help those living on the streets get by. "I only intended to put together a few bags to hand out — but people starting sending things from all over and it turned big," Zapata says. Last year, she worked with the Houston Coalition for the Homeless and handed out 50 bags containing essentials like clothing, warm hats, rain coats, socks, toiletries and vouchers for meals.
Whatever souls are made of,
yours and mine are the same.
"
"
The movement spreads
Zapata called her efforts Project: We See You in honor of her personal vow to stop treating homeless individuals as if they were invisible. To her surprise, Zapata's online friends and followers donated almost $5,000 to the cause. As contributions rolled in, Zapata began documenting the boxes piling up in her house. During the busy holiday season, she made purchases and organized dozens of deliveries. She sorted hundreds of fleece blankets, bus passes, toiletries, condoms, water bottles, body wipes, snacks, stamped envelopes and clothing items. Each bag also included the quote, "Whatever souls are made of, yours and mine are the same."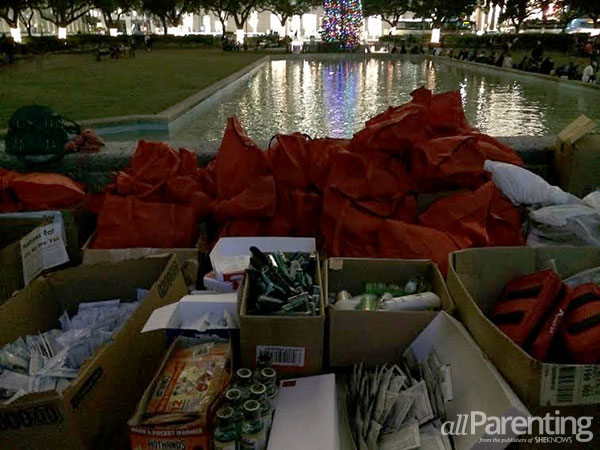 Celebrating lives
This winter, Zapata was able to put together 150 bags thanks to the help of her local community and online donors. Zapata's sons' school helped sort items and fill bags as part of December's service efforts. She distributed the finished bags at the Houston Coalition for the Homeless' annual In Memoriam gathering that honors those in the homeless community who have passed. "This year was way bigger than last year," says Zapata. "I was able to give a lot more and saw fewer folks walking away empty-handed."
More outreach
New Year's resolutions that make the world better
How to help families after a cancer diagnosis
Paying it forward ideas
Image credit: Leslie Gaworecki GOODLIGHT PHOTOGRAPHY