Posted: Feb 11, 2014 9:00 AM
We've all gotten some terrible gifts over the years. Hopefully we can all sit back and have a good laugh as real women share the worst gift they ever received for Valentine's Day.
The cliché
Multitasking Mumma's Leighann received one of the most cliché bad gifts one year from her husband — a vacuum cleaner. "He said I asked for one. No I didn't. I can't eat a vacuum so I would never ask for one."
Similarly, Carlotta of The Well-Versed Mom recalls her worst gift: a weed whacker, from her then-husband. "Granted, I was really into gardening, and I was the main caretaker of our lawn. I may have even requested the darn thing. But once I got it, I was kind of disappointed."
Husbands, take note. Unless your wife specifically asked for something that she can use to clean the house or maintain the lawn, it's probably best to steer clear. Or at least cover it in chocolate.
The non-gift
Some couples don't exchange gifts on Valentine's Day, which is perfectly acceptable. Just make sure your gifting intentions are made clear before you are left holding... nothing at all.
Allison of Twingle Mommy shared that her first Valentine's Day with her husband was less than romantic. When she handed her husband his gift, he had nothing in return. Then on the way to what she hoped would be a romantic dinner, he flat out asked her where she wanted to go, making it clear he had not made any plans at all. "I lost it and asked him how he could possibly not plan our evening and forget to buy me a gift. His reply? 'How could I buy you something? We were together all day.'"
Ten years later, and Allison has planned every Valentine's Day since that fateful day.
Lisa, author of Hip-Baby Mama, reminisces about the romantic mattress cover she received from her now husband. "It would have been a better 'just because' gift," she admits, "but it just happened to be on Valentine's Day. I don't even think there was a card. I love him anyway." Sometimes love really knows no bounds, even that of the mattress cover.
The worst of the worst!
Does a bad gift on what should be a romantic holiday mean that the couple is doomed?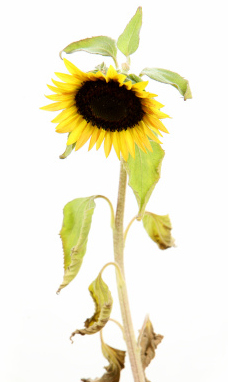 When Lisa M. had a group of single girlfriends over to her house one Valentine's Day, her then-boyfriend showed up with gorgeous flowers for all of the single ladies... and one dead and droopy sunflower for Lisa. And no card! "The next day he gave me the rest of my 'gift' and broke up with me!" recalls Lisa. "I was mortified, especially as my friends oooh'd and ahhh'd over their flowers and how sweet he was for doing that."
Lisa admits that there was much more to the story, and luckily she can laugh about it now, which is good. She and the bad gifter have been happily married for 14 years!
Evin, the hilarious writer behind Food Good, Laundry Bad, spent weeks putting together a digital photo frame for her then-beau for Valentine's Day. A week after the holiday he followed up with his gift to her — a pair of enormous pink fuzzy pajamas, which Evin claims were the least sexy pajamas ever created. "Your grandma would think these jammies were frumpy," she says. But all was not lost.
"I kept the jammies and dumped the dude. They were comfy as hell."
More Valentine's Day fun
What to buy your guy for Valentine's Day
Apps for sending love on Valentine's Day
Valentine's Day for one and all
Photo credit: Rob Melnychuk/Siede Preis/Nathan Blaney/Photodisc/Getty Images