Posted: Apr 30, 2014 9:00 AM
Looking for great family vacation destinations? Check out our top picks for the best family vacations in the U.S. These are not only trips every family should take and top family vacation spots, but also cool places to see. Now you just have to decide which trip to take first.
Photo credit: Kali Nine LLC/ iStock/360/ Getty Images
Our kids spend so much time learning in school flipping through books, writing with pencils and looking at screens. But the secret of memorable learning comes with traveling. There are places in the U.S. filled to the brim with beauty and history that our kids should see — with us.
Nicole Standley covers luxury travel, fine dining and pop culture events for The JetSet Family and CBS LA. You can follow her latest travels and escapades on Instagram.
Standley is a have family, will travel enthusiast. She says, "When my daughter was born, my husband and I made a promise that no matter what, we would take at least one week-long family vacation together every year. Regardless of work schedules, finances and other obligations, it became a firm priority and our ambition to make it happen. Some years it has been a little bit more challenging than others; however, with advanced planning, a little juggling and some creative thinking, it is possible and worth it. Absolutely nothing will replace the laughter, smiles and happy memories we've made together while exploring this great big world."
Like Standley, we believe that there is so much to see in our country, so create a list — or a Pinterest board — for your family's travel dreams, plan these trips — the anticipation and the learning that will happen as you do this is delicious — and make them happen. The memories you'll make are irreplaceable. We've started your list with six places in the U.S. every family should see together.

Photo credit: Denis Jr. Tangney/ E+/ Getty Images
Gateway Arch, St. Louis, Missouri
Clad in stainless steel and built in the form of a flattened catenary arch, the Gateway Arch is the tallest man-made monument in the U.S., Missouri's tallest accessible building and the world's tallest arch. Built as a monument to the westward expansion of the U.S., it's the centerpiece of the Jefferson National Expansion Memorial and has become an internationally famous symbol of St. Louis. The arch sits at the site of St. Louis' foundation on the west bank of the Mississippi River.

Photo credit: questforfire/ iStock/360/ Getty Images
Golden Gate Bridge, San Francisco, California
The Golden Gate Bridge is a suspension bridge spanning the Golden Gate strait, the mile-wide, three-mile long channel between San Francisco Bay and the Pacific Ocean. The structure links the city of San Francisco — on the northern tip of the San Francisco Peninsula — to Marin County, bridging both U.S. Route 101 and California State Route 1 across the strait. The bridge is one of the most internationally recognized symbols of San Francisco, California and of the U.S. It has been declared one of the Wonders of the Modern World by the American Society of Civil Engineers.

Photo credit: ImageSource/ Getty Images
Mount Rushmore, Keystone, South Dakota
The Mount Rushmore National Memorial is a sculpture carved into the granite face of Mount Rushmore (Lakota Sioux name: Six Grandfathers) near Keystone, South Dakota. Sculpted by Danish-American Gutzon Borglum and his son Lincoln Borglum, Mount Rushmore features 60-foot sculptures of the heads of four U.S. presidents: George Washington (1732–1799), Thomas Jefferson (1743–1826), Theodore Roosevelt (1858–1919) and Abraham Lincoln (1809–1865). The entire memorial covers 1,278.45 acres and is 5,725 feet above sea level. Mount Rushmore has become an iconic symbol of presidential greatness, has appeared in works of fiction and has been discussed or depicted in other popular works. It attracts nearly three million people annually.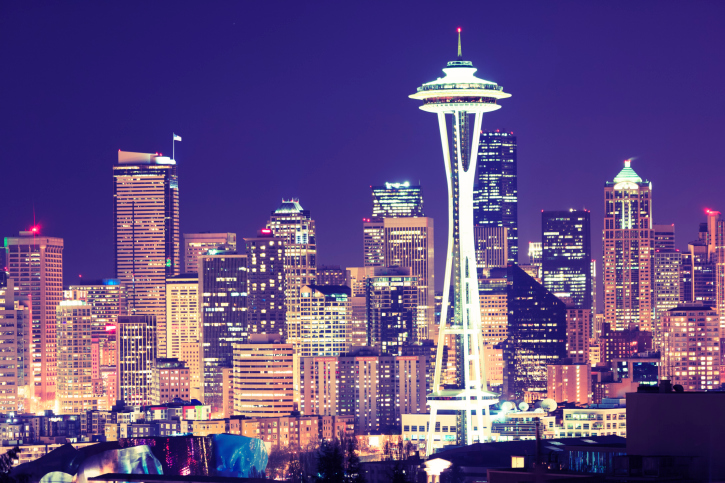 Photo credit: pawel.gaul/ iStock/360/ Getty Images
Space Needle, Seattle, Washington
The Space Needle is an observation tower in Seattle, Washington, a landmark of the Pacific Northwest and a symbol of Seattle. Built in the Seattle Center for the 1962 World's Fair — which drew over 2.3 million visitors — nearly 20,000 people a day use its elevators. Once the tallest structure west of the Mississippi River, it's 605 feet high, 138 feet wide and weighs 9,550 tons. It has an observation deck at 520 feet and a gift shop with the rotating SkyCity restaurant at 500 feet. From the top of the Needle you can not only see the downtown Seattle skyline but also the Olympic and Cascade Mountains, Mount Rainier, Mount Baker, Elliott Bay and surrounding islands. Visitors can reach the top of the Space Needle by elevators that travel at 10 miles per hour — the trip takes 41 seconds.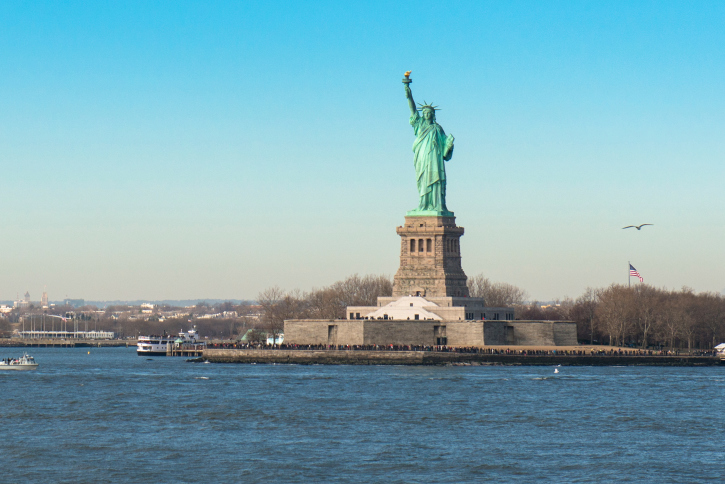 Photo credit: franckreporter/ iStock/360/ Getty Images
Statue of Liberty, Manhattan, New York City
The Statue of Liberty is a colossal neoclassical sculpture on Liberty Island in the middle of New York Harbor, in Manhattan, New York City. The statue — designed by Frédéric Auguste Bartholdi and dedicated on Oct. 28, 1886 — was a gift to the U.S. from the people of France. The statue is of a robed female figure representing Libertas, the Roman goddess of freedom, who bears a torch and a tabula ansata (a tablet invoking the law) with the inscription: July 4, 1776 — the date of the American Declaration of Independence. A broken chain lies at her feet. The statue is an icon of freedom and of the U.S. and a welcoming signal to immigrants arriving from abroad.

Photo credit: SamAntonioPhotography/ iStock/360/ Getty Images
Washington Monument, Washington, D.C.
The Washington Monument is an obelisk on the National Mall in Washington, D.C., that was built to commemorate George Washington, once commander-in-chief of the early Continental Army and the first American president. The monument — made of marble, granite and bluestone gneiss — is both the world's tallest stone structure and the world's tallest obelisk, standing 555 feet 5-1/8 inches tall. Taller monumental columns exist, but they are neither all stone nor true obelisks. It officially opened Oct. 9, 1888. Upon completion, it became the world's tallest structure, a title previously held by the Cologne Cathedral. The monument held this designation until 1889, when the Eiffel Tower was completed in Paris, France.
More on family vacations
5 Reasons camping is the best vacation
Road tripping with the family
Best travel apps