Posted: May 07, 2014 10:00 AM
As we enter our thirteenth consecutive year of active military deployment, more and more spouses are suffering through long-term time with loved ones gone. We spoke with military moms from around the web and asked for simple ways friends can help while their other half is serving away from home.
Anyone who has ever parented alone will tell you it is rough work. When it's coming up on bedtime and you don't have your partner around to tap in on teeth brushing and storytelling, it can make even a late work night feel like the longest day ever. Consider then, the plight of the military spouse when their hero is off on deployment. Not only are they doing the parenting work of two for months on end, they do it with the constant undercurrent of worry that goes along with knowing your honey is most definitely in harm's way.
Military Spouse Day is May 9. As a tribute to those behind-the-scene parents, we spoke with some who have survived life as the homebound half of a deployed family to see what friends and family can do to make that separation a little less trying.
Send them mail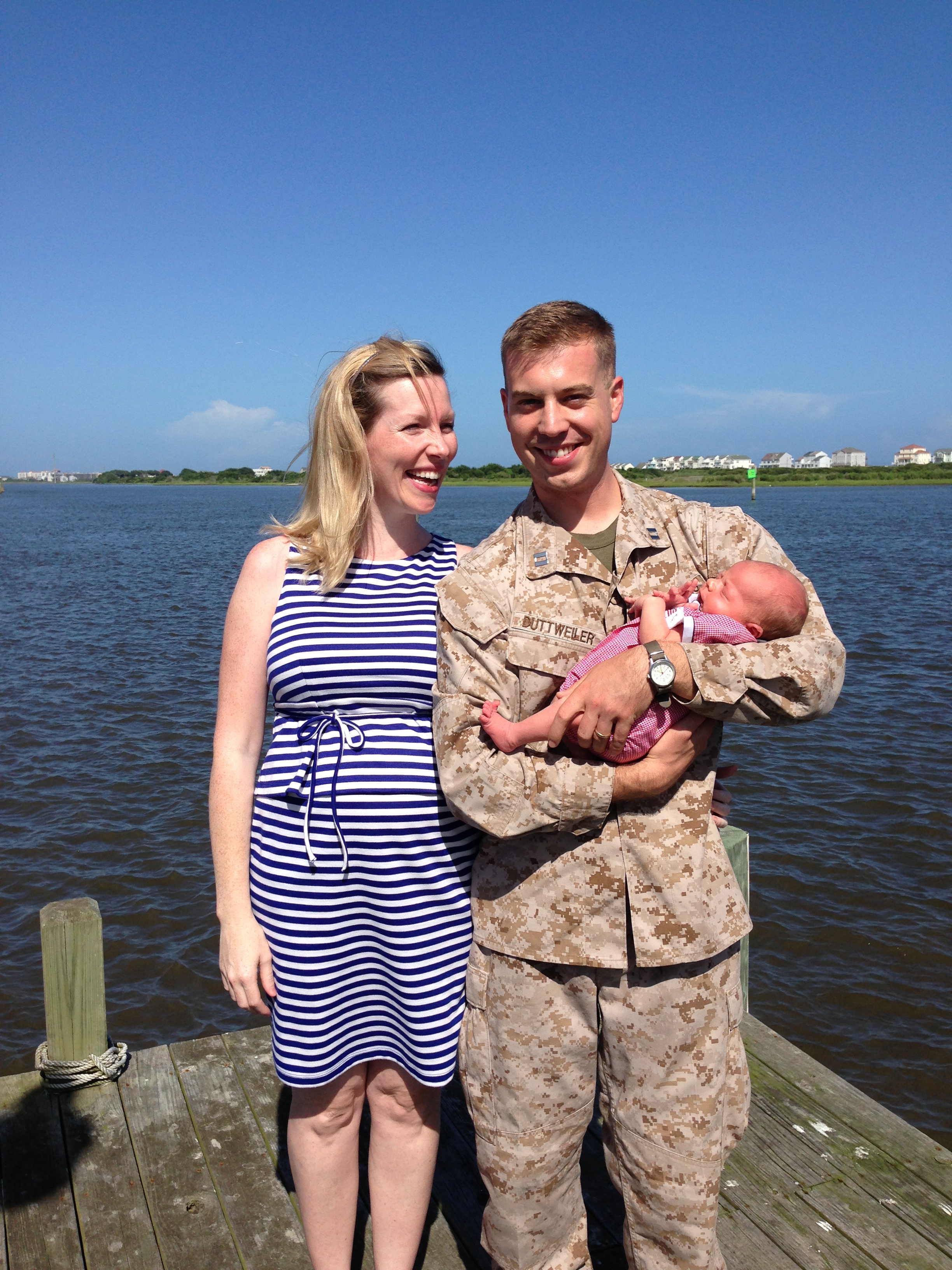 "Military spouses are constantly sending mail overseas — in fact, we are care package experts. We decorate boxes, spend hours planning special treats and do our best to bring a smile to someone's face with little more than a stamp. Do the same thing for her. If she's lucky, she'll get the irregular, often sandy letter back, but most days the mailbox brings the usual bills instead. So send her a treat — some cookies, a DVD, hot chocolate mix, fuzzy socks — something simple that says you're thinking about her will make her day." — Raleigh-Elizabeth, U.S.M.C. wife and mother, writer for military.com, SpouseBuzz.com and blogger at mable-mable.com.
Photo credit: Raleigh-Elizabeth Duttweiler
Plan "everyday" activities with the kids
"I personally enjoy when my friends just invite us over for a down-day... I feel so much more at ease when I can watch how happy (my kids) are, whether they are experiencing a new place or just watching a movie. It takes a burden off my shoulders to know that, for a little while, they're not gloomy and depressed because Daddy isn't around. For those couple of hours, things are not so bad." — Katlyn, Army wife and mother, founder of Mothering Through Deployments.
Photo credit: Melissa Seligman
Remember beyond month one
"The most important thing for me is for people to remember that we ask for very little and will often respond with an 'I'm fine' when asked. Showing up beyond the initial first push of 'we are so sorry he is gone' is when I really find myself needing that. I know people see me at month one of a separation. At month eight, I wonder if I am invisible. " — Melissa, Army wife and mother, author of The Day After He Left For Iraq, and co-founder of herwarhervoice.com.
Meet them for meals
Have them over for dinner or bring a prepared meal to their house and stay to eat. Meals for many families are a gathering time, so the added company (without the added work) can be a godsend. "It helped a lot to have dinner over at a friend's house or them over, so you're not just cooking for yourself." — Kaley, Army wife and mother.
Offer to babysit
Set up a monthly "Time Train." Friends willing to participate sign up for a month, then pick one day to watch the kids for a couple of hours while Mom or Dad has some time to themselves. If 10 friends each offer two hours of their time, the homebound spouse can make it through a typical deployment with sanity-saving alone time to look forward to monthly. — Yours truly, part-time Army wife and mother.
Secret Santa isn't just for December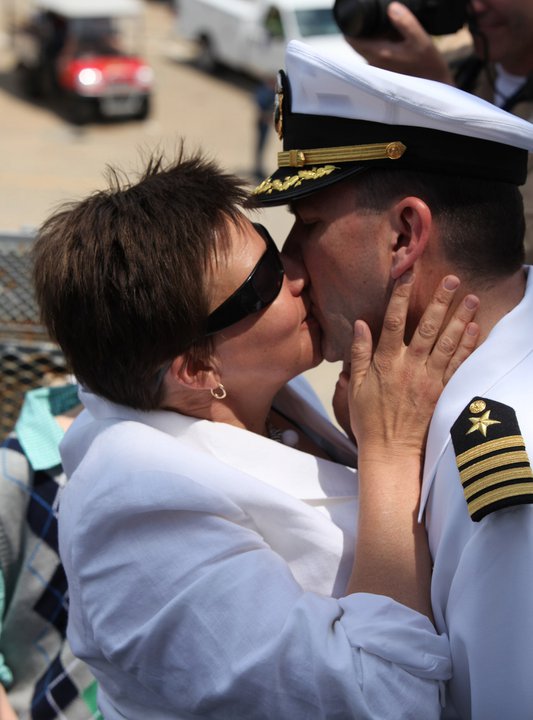 "During one deployment, someone left a present on our doorstep on the first of every month. We got flowers. An enormous pack of new markers. Sidewalk chalk. One day a giant paper mache frog clutching a piece of mistletoe was sitting on our front steps when we woke up. We never did find out who our Santa was. My kids still talk about it." —Jacey, Army wife and mother, military sociologist and the Director of Spouse and Family Program for military.com.
Photo credit: Jacey Eckhart
Jacey also had this to say: "Day-to-day, most military spouses pride themselves on being able to do what needs to be done. It is when things get off kilter that we could really use some help. So if you want to be a friend to a military spouse, keep an eye out for those occasions when things aren't 'normal':
Minor holidays. Unlike Thanksgiving or Christmas, most people don't travel home for Easter or Mother's Day or the Fourth of July. Those days when everyone else is busy with their own families can be peculiarly empty for a deployed family. Invite them to club together with your family even if you don't have big plans.
Snow days, hurricane watches, tornado watches, etc. A time where a phone call from a friend is especially welcome. If you are going to the store and you know that military spouse has kids in car seats, the offer to pick up milk or bread in preparation for the storm can be a godsend. The military spouse may not need anything, but having another person to talk over plans is a very welcome gesture.
Flu season (or morning sickness). Another time when spouses really miss their service member. Having someone to call who can pick up some Tylenol or bananas or diapers makes military spouses feel less alone.
Really, it all comes down to time. They are counting down the time until their family is reunited. The very best thing you can do is offer a bit of yours, to make that countdown a little less tough.
More on our military
A Memorial Day reminder
Operation Love Reunited: Photos of military families
Teach your kids about Memorial Day