Posted: Jun 10, 2014 7:00 AM
Lovelyn Palm and her husband Matt have been married for 12 years. They have nine children ranging from toddler twins to tweens. Their three boys were born in Uganda. We talked to Lovelyn to find out what it's like raising a big, blended family and how she manages to stay active and involved in the adoption community.
Photo credit: Moments with Love
The power of a community
When Palm had three girls ages 4 and under, she found herself forgetting little things. She began blogging to capture those moments, big and small. "Through the years, my blog and social media outlets have become a little community," says Palm. "They have come alongside us to help with our adoptions and those of friends." In the years since she began blogging, Palm's readers have helped her fund three freshwater wells, purchase a generator for a home for children with special needs in Uganda and funded feasts for children in prisons in Uganda. " It's beautiful to watch people come together for something bigger than any one of us," says Palm. "It also truly shows the power that we have together, as what we think may be just a little that we're able to give adds up to so much."
Advocating child safety
At times, Palm's family grows to even greater numbers. The Palms are part of an initiative called Safe Families. They open their home as a host family to offer temporary shelter to children with families in crisis. Safe Families offers families a chance to stabilize before children have to enter the state custody system. "The goal is then to reunite the family in a more healthy state as soon as possible. The need for a Safe Family could be for many reasons, including homelessness, a single mom without a support system going through chemotherapy or other illness or a short-term incarceration," says Palm.
Answering a calling to love
"I've been drawn to adoption since I was a young girl," says Palm. "When Matt and I learned that we had a similar heart there, it just always seemed like something that would be part of our plan someday." When the Palms felt it was time to grow their family, they opened their hearts to children who needed homes. "As a Christian, my faith absolutely guides me as a mother," she says. "I feel called to love God and love others. That is what I try to do each day — love my kids well."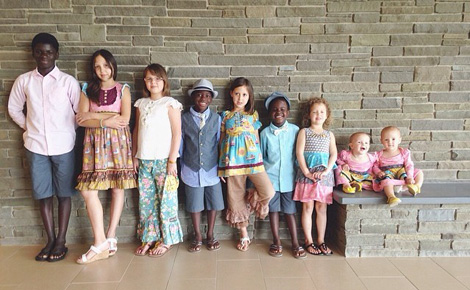 Photo credit: Moments with Love
Life in a big family
"There are the logistical challenges that most people can imagine with a large family — the massive amounts of food and laundry, how someone always needs their nails clipped and how shoes and clothing are forever being outgrown by at least one of them," says Palm. "What I truly challenge myself with, though, is knowing them, treating them individually, loving them in a way they can receive it best and trying to help everyone feel confident in their role on our team. I know it will never be perfect, but I want them to feel seen and heard."

When asked how she handles the logistics, Palm shares that teamwork is a big part of her family's everyday life. "Everyone from the 5-year-olds up can take a job," she says. "It works best for us to line up the plates, and a different person is responsible for the veggies, fruit and vitamins on the divided trays while I finish up the main course. A child might be emptying the dishwasher while I prep, and another putting out utensils. Everyone clears their area after the meal is over, and we take turns on cleanup, but it goes quickly with many hands."
What about the clothes? Though the kids help with laundry, Palm says the key to staying on top is to do some laundry every day. "My husband or I normally wash, dry and fold the laundry into seven piles for the biggest kids. They put their own pile away."
Photo credit: Moments with Love
"Everyone from the 5-year-olds up can take a job."
"
"
A big, beautiful, colorful family
"We have been very fortunate to not have had overtly negative comments about our family's size or appearance," says Palm. "We've heard some jokes about our large family, for sure, but none of them have been mean spirited. I think that you tend to attract feelings and vibes that you give off, and I think our big, beautiful, colorful family is a lot of fun and a huge blessing. I think that even if people know it's not for them, they can appreciate that it's working really great for us."
More on adoption
Moms react: The first time I saw my baby
True stories behind the happy pictures of adoption
Jillian Michaels talks motherhood and adoption