Posted: Jul 23, 2014 8:00 AM
Staying hydrated is so important during the summer. Turning to diet soda doesn't have to be the only low-calorie alternative to water.
Photo credit: Siraphol/iStock/360/Getty Images
If you forget to get your water ready, simply toss some fruit or veggies into your water bottle and continue to refill throughout the day. It may not have as strong of a flavor as water that steeped overnight, but it will add a bit of sweetness or tanginess, depending on the flavor combination you try. Popular infusions include: mixed berries, strawberry and mint, cucumber and mint and blackberry and sage. For three great ideas, check out our infused water recipes.
On their own, herbal teas are basically as close to zero calories as plain water. Different herbal combinations have different health benefits, and it can be helpful to do a little research or speak with a knowledgeable employee at your favorite tea shop before loading up on summer alternatives to water.
Herbal teas are derived from herbs and spices. They're sometimes called tisanes and are not the same thing as true, caffeinated teas. Their lack of caffeine makes them a palatable hydration option that won't interfere with your established sleep patterns by adding caffeine to your diet. If you prefer your tea in caffeinated form, try one of our fresh iced tea recipes.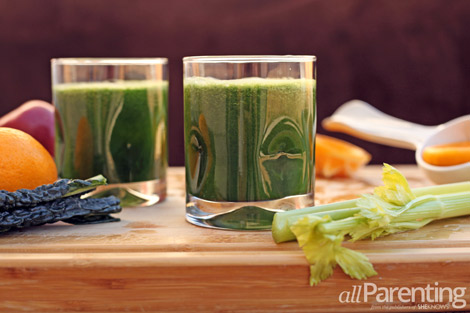 Summer is the perfect time to take advantage of the health benefits of green vegetables. Adding salads to your meal plans is a common step for increasing vegetable consumption, but juicing your greens packs the double benefit of replenishing fluids while providing a nutritional power punch.
Kale and spinach are nutritionally-dense juicing greens, while celery and cucumbers provide a thinner consistency with their high water content. We love green juices so much, we've offered recipes for delicious, fresh-tasting juices — twice.
Photo credit: pat138241/iStock/360/Getty Images
Runners and other athletes often turn to sports drinks in the summer to keep up their energy and replace nutrients lost through sweat — and moms chasing preschoolers around the park definitely know about working up a sweat. Coconut water is touted as a natural sports drink. The beverage contains potassium and electrolytes, two crucial components to rehydrating after water loss.
Keep in mind that coconut water is the liquid found in the center of the coconut — it's 94 percent water. Coconut milk is a delicious ingredient in many recipes, but it doesn't work as a low-calorie water alternative.
More about summer health
How to avoid summer stress
Grilled summer vegetable panini
Create a balanced summer schedule