Posted: Aug 04, 2014 10:00 AM
Book lovers always cherish book-based gifts, but a gift card to a bookstore is only one gift they'll love. Handcrafted gifts that incorporate words, vintage books and favorite quotes will all make the book lover in your life smile.
Buying a gift for a book lover seems kind of obvious: enter bookstore, purchase book, smile because a book is a fairly regular rectangle and easy to wrap. Perfect! Then you enter a bookstore and realize you have no idea if your book loving friend or partner has the newest Jodi Picoult or only reads paperbacks, and who knows if she even wants a hard copy of a book when it's so much simpler to take an e-reader on vacation.
A gift card for books will always be welcome in a book lover's hand, but there are other options for your favorite readers. Handmade and handcrafted gifts can pay homage to books while still showing a personal — or quirky — bit of thought.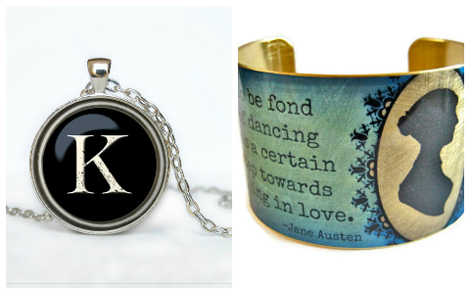 Book-inspired jewelry is one way for readers to keep their favorite things close to their hearts. The Vintage Typewriter Key pendant necklace can be personalized with the letter of your choice, and the simple style works in a wide variety of wardrobes (etsy.com, $14).
Jane Austen lovers are fierce and loyal in their love for the reigning queen of drawing room drama. The quirky Jane Austen Cuff is made of stainless steel and imprinted with a Pride and Prejudice quotation and an iconic profile in cameo (etsy.com, $30).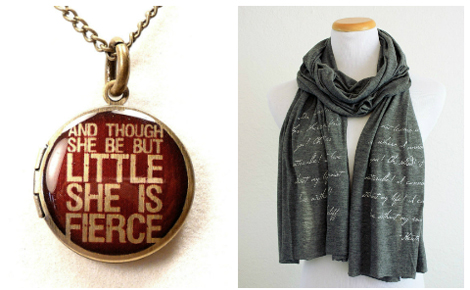 Lockets are the type of jewelry that become more personalized by each wearer. The Shakespeare Quote Locket can contain a lock of hair or a photo to remind the book lover that she — or someone she loves — is stronger than she may first seem to be (etsy.com, $22).
A jersey scarf is the ultimate layering piece for most seasons. The lightweight fabric doesn't overpower in warmer weather, but it battles too-cold air-conditioning. The screen printed Wuthering Heights Literary Scarf has an Emily Brontë quote to keep beloved words close to one's heart (etsy.com, $32). The shop will custom design a scarf with your favorite literary quotation.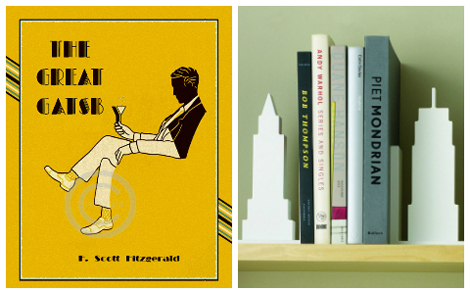 If you keep hearing about how your book-loving friend recently turned her guest room into a library to house her overflowing bookshelves, consider a wall print inspired by a favorite book. The Deco Jazz Age The Great Gatsby Giclee Print has clean lines and a vintage feel (etsy.com, $18).
Speaking of bookshelves, bookends are always needed to fill in the gaps until more books spill over to the next shelf. The Skyline Bookends are designed to reflect New York skyscrapers, and their clean, minimalistic design is a quirky addition to any shelf (fab.com, $40).
Help readers keep reading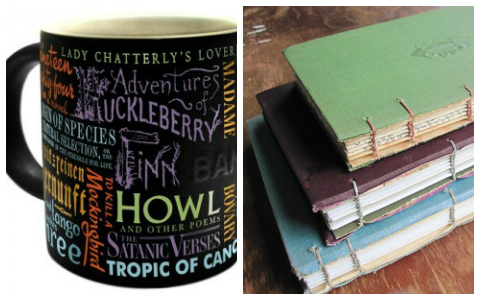 Late nights with "just one more chapter" mean tired mornings. This Banned Book Mug will help a tired reader enjoy her morning coffee — and might even inspire her next read (store.uprisebooks.org, $13).
Many readers keep a notebook with them at all times. A running list of new titles to peruse, notes on the books they're reading or their own writing scrawled across the pages. A Customized Journal is the perfect way to add a unique touch for a Book Lovers Day gift (etsy.com, $37). The journals use upcycled materials to custom design a journal that fits your favorite reader, from the type and color of paper to the binding material.
More about the perfect gift
DIY photo gift ideas
5 Perfect hostess gifts
The best gifts for moms