Posted: Aug 06, 2014 7:00 AM
They say it's the "great American pastime" and these families certainly agree. Meet families who are head-over-cleats with baseball and hear why they make it a family affair. But, whatever you do, don't slam their favorite team.
Photo credit: Kristin Brocoff
Take me out to the ball game...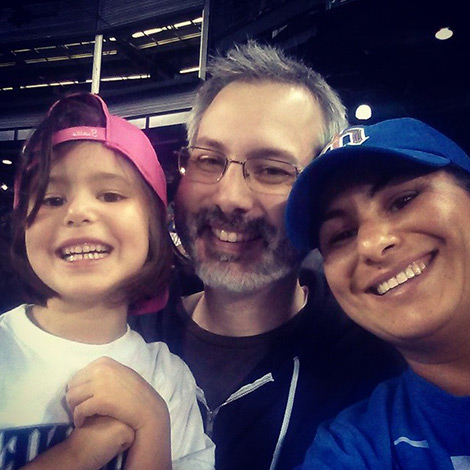 Photo credit: Kelli Currie
Rooting for their hometown team, the Seattle Mariners, Kelli shares that even though they've lived from coast to coast, their family can't help but root for their hometown baseball team... who also happen to be the perpetual underdogs of MLB. Kelli, who has two little baseball fans, says that her kids love scoring the game, which helps keep them watching and involved from inning to inning.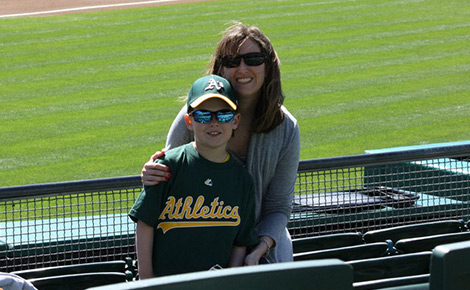 Photo credit: Kim Coma
Another family rooting for Seattle, we love this family's dedication to the game. "Our goal is to visit all of the MLB ballparks by the time Lucas is 18," Kim shares. So far, they've hit up four of the 30 ballparks and with just over 10 years before Lucas hits 18, we'd say they have some fun work cut out for them.
Take me out to the crowd...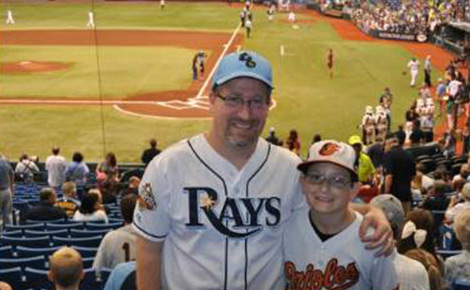 Photo credit: Toby Srebnik
A dad who has passed down his love of baseball to his son (despite rooting for different teams), Toby shares that his love of his favorite baseball team, the Tampa Bay Rays, came from working on a campaign with them, long before his kids were even old enough to appreciate the game. Eventually, his son, Bailey, became hooked on baseball, too, although he's been a devoted Baltimore Orioles fan (likely the only one living in South Florida) since he was 5 years old. Now, they've attended over 20 regular season games and 10 spring training games together since 2006. And, with plenty of memories, "At the first game I ever took him (August 2007, SunLife Stadium, Miami) Barry Bonds hit the 760th home run of his career (which was also his third to last home run) and the ball landed one row in front of us, just 10 rows over. It was quite the memory!"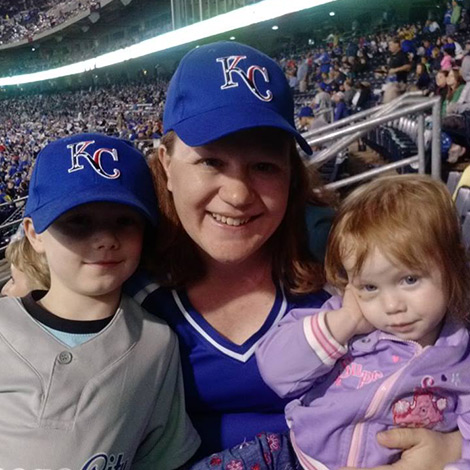 Photo credit: Janae Melvin
With Kansas City Royals blue running deep in the veins of this family, Janae shares that she grew up in a baseball family and has passed her love of the game on to her kids. "Baseball is something special that I share with my own dad," she tells us. "I'm so happy that my son loves baseball as much as I do and that it's become a bond for the two of us as well. There are so many people who are able to draw a special connection to a parent, sibling or child because of the game of baseball... I think that's fantastic."
Buy me some peanuts and Cracker Jacks...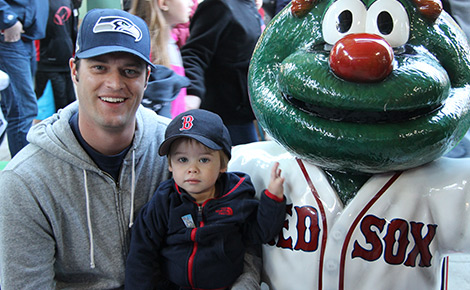 Photo credit:  Dan & Robyn Campbell

Despite living in Seattle, Dan and Robyn also have another baseball team that they root for, the Boston Red Sox (they even have a dog named Fenway for Fenway Park, where the Sox play). While their son, Oliver, who just turned 2, is still developing his love of the game, they share that they're doing their best to make it happen. "We happened to be in Boston this year for Family Day at Fenway Park and Ollie got to run the bases after the game... a dream come true for Dan," they said. While they confessed that Oliver fell asleep and that they woke him to run around the bases, Dan ended up carrying him to home plate. "We all know who was more excited to run the bases!" (Hint: It wasn't Oliver.)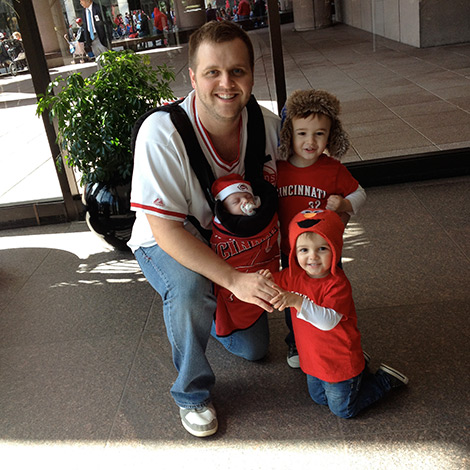 Photo credit: Jake Cain
Jake, a dad of three baseball-loving kids, ages 3 and under, loves the game so much that he runs a website, BallparkSavvy, dedicated to helping other baseball fans make the best of their ballpark experience. When it comes to being a fan, Jake and his family live in Cincinnati, making them die-hard rooters for the Reds. "Our kids haven't missed an opening day yet. Two of our kids were about a month old for their first opening day. It's practically a holiday in Cincinnati — we start them young!"
'Cause it's root, root, root for the home team...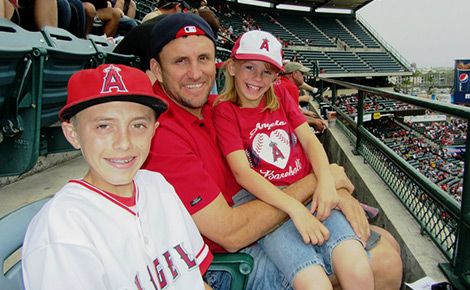 Photo credit: Kristin Brocoff
Rooting for the Angels, Kristin and her family, including her two children, "Live, sleep and eat baseball." Despite moving from Orange County to Las Vegas last year, they keep cheering on their favorite team from afar, being known to travel to catch a game (sometimes four hours for opening day and back again, so that the kids won't miss school) and being upset when the games are blacked out on TV. Kristin's favorite story is from when her daughter, who was 8 years old at the time, "wiggled her way around dozens of adults and bigger kids to get Mike Trout's autograph on her ball." This family is always prepared with permanent pens and they've taught their kids to address the players by "Mr. Last Name," two tips we love.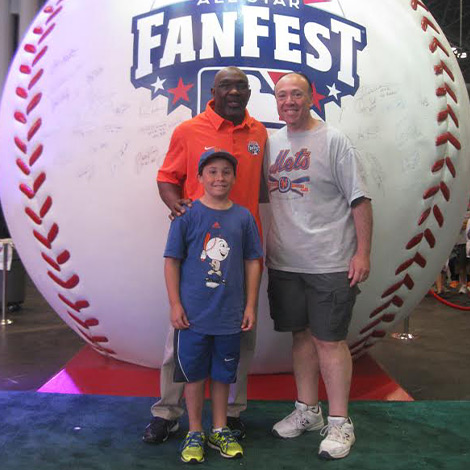 Photo credit: Leora Lanz
Loyal Mets fans, through and through, Leora and her family are fans that won't let their favorite team's record keep them from cheering, wearing team colors year-round, following players around the city for autographs and even tailgating at home when they can't make it to a game. "Both my husband and I grew up in families who were huge Mets fans and the stories and traditions have been passed down," Leora shares. "We love watching old Mets games (especially the 1986 World Series) to teach our kids about the history of the game and to share some of our favorite players with them."
Tips for taking your kids to a baseball game
Toby: "Don't over think your trip to the ballpark. Let your kids set the pace. If you go to the stadium thinking that you're going to sit in your seats for nine innings straight, you are not being realistic."

Kelli: "Feed your kids before you go so that you don't have to give in to the $8 hot dogs."

Robyn: "If we're going to a game with Ollie, we try to splurge to sit as close to the field as possible. It's much easier for Ollie to see what's going on and he stays interested longer."

Janae: "If your child is old enough, start teaching them about the game. I engage in conversations about the game with my son, asking questions — 'Who's batting?' 'How many outs are there?' and 'Do you know what a batting average is?' — getting them involved and giving them a general understanding will make them want to keep watching."

Leora: "Be prepared with your mitts to catch balls, bring Sharpies for autographs on shirts or hats and have your cell phone ready for quick photos."

Kristin: "Even if we have to be on a higher level, we like to get seats in the front row with an unobstructed view. Otherwise, the kids will be on your lap or complain about the guy with the big head who just sat down in front of them."

Also not to be missed for tips on taking your kids to a baseball game, with answers to all of those unanswered questions, check out Jake's Guide to Taking Kids to a Baseball Game on BallparkSavvy.
More on baseball
Tony Gwynn's death highlights the dangers of smokeless tobacco
Sports pundits say MLB player's wife should have had C-section
Proud to be a sports mom