Posted: Aug 06, 2014 10:30 AM
Going back to work can be difficult for any mom, but it's even more difficult when breastfeeding moms can't find a clean, private, appropriate place to pump. In her photo blog Places I Have Pumped, working mom Sarah Beaulieu documents the various bathrooms, offices and even a shuttle bus where she's had to pump milk for her baby.
Photo credit: Sarah Beaulieu
Juggling career and new motherhood
Breastfeeding a baby and going back to work don't often go hand in hand. A nursing working mother must pump milk every three hours on average in order to keep up with her own supply and the demands of her infant. The problem lies in the fact that many places of employment don't provide an appropriate and dedicated space set aside for this situation. In a best case scenario, a mother can close and lock her office door while she pumps. Worst case scenario? She's forced to pump in the bathroom. Not exactly the most inhabitable or sanitary place to produce food for your baby.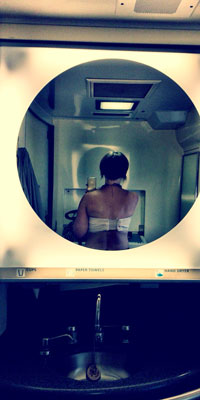 For working mom Sarah Beaulieu, pumping to feed her baby is just another part of her workday, a part that she documents in her photo blog, Places I Have Pumped. As the founder of the Enliven Project, a campaign to raise awareness of sexual violence, and Senior Advisor to Opportunity Nation, a campaign to increase economic opportunity in America, Beaulieu maintains a busy schedule, one that involves meetings and conference calls that have to be worked around her pumping. Before having her second child, she actually sat her employees down and explained that she would be needing to pump, and that while she was happy to take phone calls during those times, they were not to schedule any in-person meetings.
Photo credit: Sarah Beaulieu
During those specific pumping times, she can often be found in the bathroom, accompanied by her pump and her phone. But when she travels for work, finding a decent place to express milk can prove tricky.
The birth of a blog
Beaulieu recalls the struggle to fit in a pumping session on a work trip, after a meeting and before a phone call, where she found herself hurriedly pumping in a Washington, D.C., airport bathroom. She snapped a photo, and Places I Have Pumped was born.
Beaulieu has since pumped in countless bathrooms, gyms, commuter trains and even on a US Airways shuttle.
"
"
Beaulieu has since pumped in countless bathrooms, gyms, commuter trains and even on a US Airways shuttle. But it's not the locations that have bothered her as much as the stress that pumping on-the-go can often cause. "The first time I was away overnight from my son, I missed him so much that my body just didn't want to produce milk. Even though I was in a comfortable hotel room, I was stressed about not making enough milk that it felt worse than being in a dirty bathroom!"
Now imagine the stress of having to find a clean, semi-private location to pump during the workday or business travel.
Putting working motherhood under the microscope
Places I Have Pumped is a profound illustration of work and motherhood and the struggle many mothers face in balancing the two. In 2010, the Affordable Care Act amended the Federal Labor Standards Act to include the "Break Time for Nursing Mothers Law," requiring employers to provide "reasonable" break time and a private space, other than a bathroom, to pump for hourly paid workers, up until the baby turns 1. Still, many working mothers struggle with lack of privacy and lost wages due to noncompliance with the law or employers that are simply uninformed.
The lack of pumping facilities is just one example of how our culture doesn't make it easy for working families.
"
"
"The lack of pumping facilities is just one example of how our culture doesn't make it easy for working families," says Beaulieu. With a supportive employer, a semi-flexible schedule and the resources to find good childcare options that work with the hours of her job, she knows she is lucky. Unfortunately there are many more still who do not have the same types of support systems in place to aid in raising their families.
The conversation starts here
Beaulieu may not have intended Places I Have Pumped to be a change agent, but she does hope that people can start having real conversations and sharing connections about the struggles of real life. "Unless and until we tell the truth about what's really happening in our lives and our organizations, we are powerless to change it. Whether sexual violence or birth trauma or pumping breast milk or whatever else is present in our human experience, sharing our truth creates opportunities for connection and for change. And if we can do it with good humor and grace to boot, wouldn't that be an amazing thing?"
Related articles
The dirty truth about breastfeeding in public
Real moms share the strangest places we've breastfed
Breastfeeding: Do you have to pump in the bathroom at work?