Posted: Aug 30, 2012 9:00 AM
Looking to get some well-deserved me time and lift your self-esteem? Remind yourself (and your significant other) that you've still got it with a boudoir photo shoot. After all -- a little pampering, the right lighting and the perfect angle can really flatter a girl!
If you're considering getting boudoir portraits taken but don't know where to start, consider these tips from the pros.
Love the skin you're in
Jennifer Hoffman and Marisa Gallegos, founders of Los Angeles-based Esme And Eve Photography, specialize in boudoir portraits and are quick to point out that, "As women, we are all incredibly well versed in what is wrong with us. An intimate photo shoot is really an exercise in self-love and acceptance." They've taken portraits of women from all walks of life: new mothers, cancer survivors, burn victims and even grandmothers. According to Hoffman and Gallegos, "They all walk out of our studio with their heads held higher and empowered with a new perspective on themselves."
Find the right angle
If you're slightly self-conscious about certain features, be up front with your photographer, and they'll find the angles that will make you look flawless. If your post-baby belly makes you nervous about baring your midriff, the ladies at Esme And Eve have a tip for that: Lay on your stomach, propped up on your elbows, so the camera captures a peek of cleavage while you elongate your torso and hide your belly. Focus on the assets you love and don't mind showing off. Softly-lit bedroom eyes, a sultry profile, or a flattering silhouette of your legs are always options.
When you're planning for your shoot, Hoffman and Gallegos say to remember the number one rule in the art of seduction: A little imagination goes a long way. You don't have to bare it all. A flowing baby-doll negligee or a silk robe can be just as sexy as a revealing chemise. If you've thought about doing boudoir photos and shied away because you were intimidated by the thought of a barely-there bra and panty set, you can show a peek-a-boo thigh or the curve of your lower back for photos that are more subtle, but equally sexy.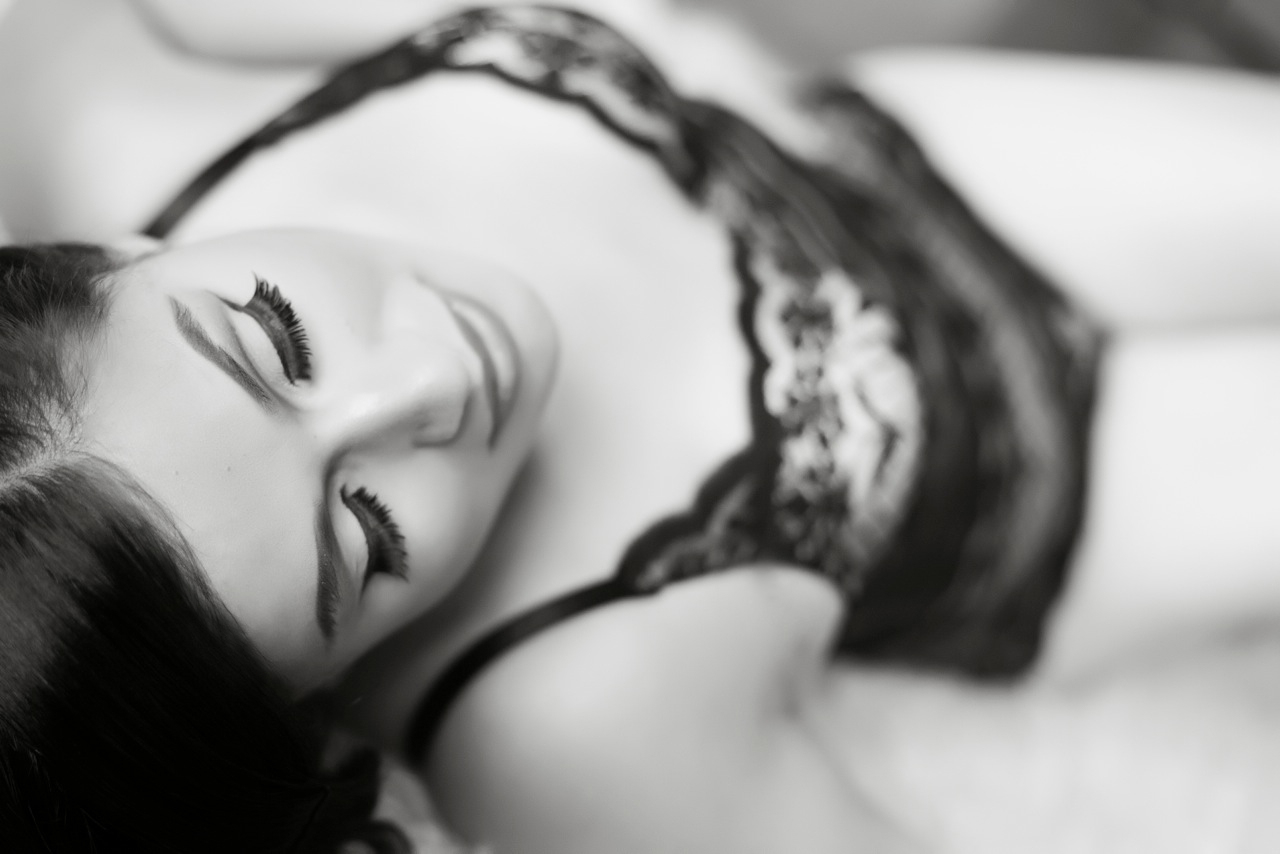 Photo Credit: Esme & Eve
Get glammed-up
Pick a photographer that will provide everything you need to be camera-ready, complete with hair and makeup styling so you'll feel over-the-top gorgeous when it's time for your close up. Make sure to pamper yourself before you arrive too. Drink lots of water, get a mani/pedi and make sure your skin is moisturized.
More about love
5 Ways to get in the mood when you're exhausted
Back to bliss: Renewing your wedding vows
How to go on a 20-minute date with your spouse