Posted: Aug 31, 2012 8:15 AM
Forget girls' night out -- when was the last time you and your girlfriends really got away? If you're like most moms, you have a list of excuses a mile long for why you and your friends haven't traveled further than the local coffee shop since you had kids. Well it's time to do something for you! If you're ready to carve out some serious girlfriend time, read on for some fun ideas about where you can go and what you can do.
Viva Las Vegas
What better way to have some good old-fashioned fun than hitting Sin City? A new hot spot hotel, Aria, is an affordable and hip destination you should consider. It's located in a prime spot on the Strip — by day you and your girlfriends can shop at the nearby City Center and hang at one of the three pools (maybe even rent a cabana). And by evening, you'll be in close proximity to fun night spots such as Eva Longoria's restaurant, Beso.
Paint (your own) town red
Why not have a girls' staycation? When it's not possible to fly somewhere for a few days, hop in the car and hit the closest major metropolitan city near you. Have fun being tourists in your own town and trying places you've only read about. It will prove that you don't have to hop on a plane to feel like you got away.
Your own Sanctuary
If you and your BFFs are in the mood for some serious relaxation, head to the Sancuary on Camelback in Scottsdale, Arizona. Nestled on the north side of Camelback mountain, you'll have spectacular views from everywhere — including the gorgeous infinity pool. Not to mention its restaurant, Edge, is to die for.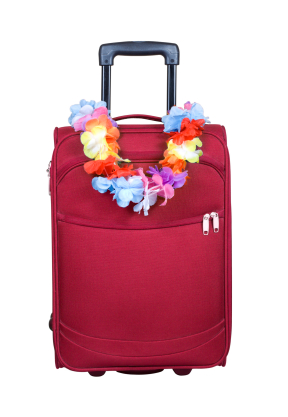 Time to splurge
If you can carve out enough time in your calendar and enough money in your bank account, why not splurge on a trip to Hawaii and book a trip to Waikiki, Oahu. Waikiki offers the best of both worlds that you and your girlfriends will be looking for — a relaxing day life and a fun nightlife. Stay at the iconic Royal Hawaiian to get a taste of old Hawaii. Lounge beach-side during the day and at night have dinner and drinks at fun spots like Duke's which is an easy walk from your hotel.
Girls' weekend in
If a vacation or even a staycation in your city isn't possible, why not try a weekend in? Pick one of your houses as the locale (hopefully one of your husbands will indulge you and take himself and the kids to grandma's) and have a girls' weekend in. Because there's nothing like a good old-fashioned sleepover for some fun bonding time. You can switch off making meals (and cocktails), even hire someone to come in and do nails and give massages and simply relish in the fact that you get to kick your feet up, gab and relax.
More about friendship
Why every mom needs a non-mom friend in her life
Girlfriend SOS
How to have a girls' night out without guilt