Posted: Jan 20, 2013 10:00 PM
We've all been to the Bunco parties and the book club meetings -- maybe you actually even read the book. Looking for a new idea for your next girl's night out? Hosting a wine-tasting party is a fun way to spend time with your girlfriends and learn a little bit about wine in the process.
Types of tastings
There are different ways to structure a wine-tasting.
A vertical tasting is what you would most often experience when visiting a winery. Starting with the whites and moving up through the reds, the idea is to taste different varietals from the same vintner.
Horizontal tastings compare wines of the same varietal from different vintners, all from the same harvest year or vintage. The goal is to see which vintner produced the best wine when other factors were equal.
A general tasting has no rules, but usually you would pick white (or red) wines within a certain budget, from a specific region of the world or different varietals from all around the world.


Make it fun!
For a night with the girls, you should structure the wine-tasting in a fun way. The idea is to mix and mingle, have fun and maybe find a few new wines you love. A general tasting is the easiest to prepare for, and requires limited knowledge of wines to plan. Rachel Voorhees -- Certified Sommelier and wine aficionado -- has great recommendations for a fun summer tasting. "For summer, do a fun flight of whites with all different varietals from around the world," she suggests. "Think Sauvignon Blanc from New Zealand, Gruner Veltliner from Austria, Torrontés from Argentina, Pinot Grigio from Italy and a Chardonnay from California!"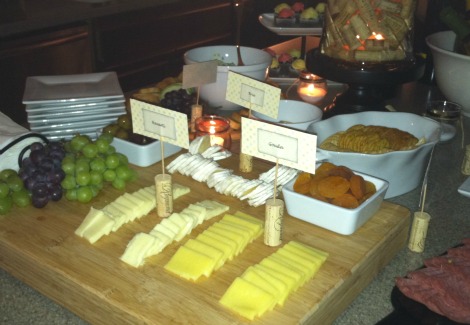 Munchies
While choosing the wine is important for your tasting, also consider the food that you will be serving. Light finger foods that pair nicely with wine will keep your friends from drinking on an empty stomach. "However, make sure the food isn't too spicy or flavorsome or it will interfere with the aromas and tastes of the wine," says Voorhees. "Mild savory crackers, vegetable crudités and mild cheeses are best."

Decor
Have fun with your table décor for a wine-tasting! A sparkling array of white wine glasses ($4 each) on the table catches the eye when your guests arrive. Use fun wine charms ($8) to mark each person's glass -- the choices vary from fun to elegant. A large party bucket in white ($129) keeps wines chilled and looks beautiful on the table. Simple bouquets of white flowers on the table complement the white wines and add a classy touch.
The goal of the evening is not only to have fun, but to expose your guests to some really awesome wines they may not have tried before. Good food, great friends and some amazing wines -- what's not to love? Leave the book group meetings for another time, and invite your favorite ladies for a wine-tasting instead!
Photos courtesy of Cam Bowman, Lori O'Hara and Laura Willard
More entertaining
Elegant (kid-friendly) dinner parties
Set up a party food bar
Make houseguests feel special