Posted: Jul 04, 2012 8:00 AM
I just returned from the Type A Parent conference in Charlotte, North Carolina. It was my fifth blogging conference, and while sacrifices have to be made to attend, these weekends are always fruitful. If you're a mom blogger, there are several reasons why you might want to consider attending a blogging conference.
The connections
The most valuable part of a blogging conference for me is meeting bloggers that I've read or communicated with online. There is something so special about putting a face to an avatar. It also gives me a chance to meet other bloggers who are new to me, widening my internet circle. The conversations I have in the hotel halls and during meals are always the most solid thing I take away from a conference.
The camaraderie
With millions of mom blogs worldwide, it's baffling to me how few real life friends I have who will talk to me about blogging. At a conference, there are roomfuls of people who want to dish about SEO and traffic drivers and posting schedules. I glean so much more information in the nuggets of wisdom from my fellow bloggers than I do from the actual sessions. It helps that everyone nods with understanding when you say something like, "Hold on, I want to put this on Instagram," or, "I am so tweeting what you just said."
The perspective check
To be perfectly honest, blogging conferences can be a bit of a roller coaster for me emotionally. I'm a more advanced blogger than most of the sessions, but I'm not nearly as advanced as many other bloggers who have been doing it for the same amount of time. It's easy to feel discouraged, become convinced you're doing everything wrong, or get your feelings hurt by at least one of the masses. But every single time I come home with a fresh perspective on my blog. Over time, this has led me to change directions, change my design and change my attitude. Money can't buy this kind of experience.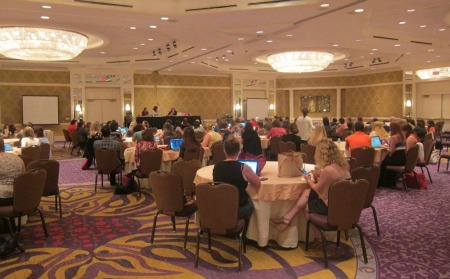 For me, blogging started out as a hobby, became my passion and now is a career. But there are all levels of bloggers at the blogging conferences, from the freshest newbie to the most successful breadwinners. If attending one of these weekends appeals to you in the least, I highly encourage it. Spending a few days connecting with other women who share and encourage my interests is worth the money and time away from family.
More about women online
Blogging: The new baby book
Are online friendships real
5 Apps to help you relax