Posted: Jul 18, 2012 11:00 AM
Sure, we love a night on the town with our favorite ladies -- but on a hot summer night, why not plan a girls' night in? Check out our fun ideas for girls' night in.
Cook-off challenge
Pick a cook-off theme and ask your guests to bring their own homemade version of the item. This can be anything from salsa to mac and cheese. Do a blind tasting and have your guests vote by writing down their favorite overall, as well as the most unique version of the dish. Up the ante with prizes -- like cool kitchen gadgets -- for the winners.
Swap your stuff
We all get tired of our own clothes after a while. Instead of leaving them hanging in your closet, give them new life by swapping them with your favorite girlfriends.
There are a few rules for a swap-your-stuff party. Choose a limited number of items (three to five) and make sure they are like items (have your guests bring one top, one jewelry item and one handbag, for example). Items cannot be stained, ripped or in overall yucky condition. Oh, and they can't be from 1989. Bring something cool that doesn't work for you anymore but that someone else could give new life. Keep the wine flowing and do a fashion show to determine who looks best in what.
Favorite things exchange
This is such a fun one and everyone goes home with a little gift. The favorite things exchange is super easy -- just orchestrate it like a white elephant exchange at holiday time without having to wait until December!
The catch? The gift must be something you can't live without (think: your favorite hand lotion or most indulgent dark chocolate covered almonds), and you must stick to a price limit. Even a small amount like $10 can result in a cool, creative gift. To make it really fun, try to guess which girl gave which item.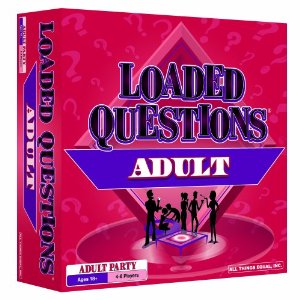 Game night
Sure we've all done Bunco and that's fun and all, but we invite you to turn up the heat on your girls' game night in by selecting some fun and probing question games like the adult version of Loaded Questions, $20. You may get to know a side of your friends that you never even knew about!
More tips for a great girls' night in
Keep eats casual: Girls' night in doesn't have to include a sit-down dinner. Opt for a casual night where you all hang around the kitchen nibbling apps and sipping cocktails.
Dress down: Don't demand dressing up for girls' night in. Some of the wildest nights can start off with all of you in your nighttime cozies.
Keep the guest list small: You can enjoy some real quality time with your closest friends without having to worry about playing the perfect hostess.
More girl time
Host a wine-tasting for your friends
3 Reasons why you should phone a friend today
Girls' night out without the guilt