Posted: Sep 14, 2012 9:00 AM
Love those inspirational quote signs that you see at stores? Make one at home for under $5 in less than 30 minutes.
Love those inspirational quotes you see artfully presented in stores? Having the right guiding words can really motivate and brighten your day. But for desk decor, quote frames can be on the pricey side. What's a momma to do?
Make one yourself! With about $5 in supplies and less than 30 minutes, you can make your own custom quote frames filled with the perfect inspirational quotes for you.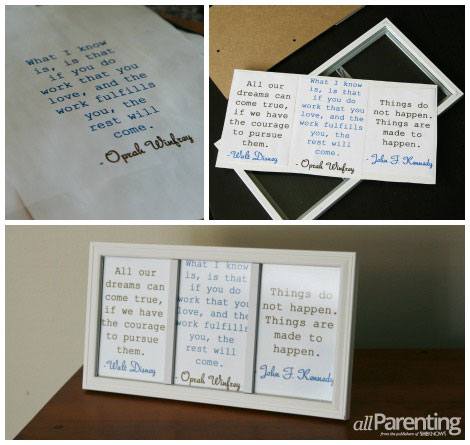 DIY inspirational quote frame
Materials:
A computer/printer
Scissors
Cardboard/heavy stock paper
Glue stick
Frame
Directions:
Choose quotes that inspire you. If you are using a frame with multiple openings, you'll need one quote for each of the slots on your frame.
Create stylized quotes on your computer using the quotes you selected. Size them appropriately for your frame (this might take a try or two!).
Cut out the quotes approximately with the size you will need for the frame.
Cut the cardboard/heavy stock paper to fit the opening(s) in the frame. Glue the quotes to the cardboard/heavy stock paper where they will be seen through the glass in the frame.
Fit the cardboard/heavy stock paper into the frame. Close it up and secure.
Looking for a quote?
Try these! These inspirational quotes are perfect for creating your own wall art.
"The most effective way to do it, is to do it." -Amelia Earhart
"Nothing is impossible. The word itself says 'I'm possible!'" -Audrey Hepburn
"The secret of getting ahead is getting started." -Agatha Christie
"Perseverance is failing 19 times and succeeding the 20th." -Julie Andrews
"A lot of people are afraid to say what they want. That's why they don't get what they want." -Madonna
"A lotus grows in the mud." -Goldie Hawn
"Instead of looking at the past, I put myself ahead twenty years and try to look at what I need to do now in order to get there then." -Diana Ross
"Don't waste a minute not being happy. If one window closes, run to the next window- or break down a door." -Brooke Shields
"Where there is no struggle, there is no strength." -Oprah Winfrey
"I feel very adventurous. There are so many doors to be opened, and I'm not afraid to look behind them." -Elizabeth Taylor
More DIY projects
Glass hurricane candle holders
Tile coasters
Make wax luminaries