Posted: Nov 27, 2012 9:00 AM
If there was ever a book about inspiring you to follow your dreams, it is the memoir
The Little Bookstore of Big Stone Gap
. When you read the story of Wendy Welch and her husband who opened up a bookstore in a small town during the decline in the U.S. economy, you'll be amazed at how books can bring even the most unlikely people (and animals) together.
An inspiring story
Wendy Welch and her husband, Jack, had a dream: to own a bookstore. So, against all odds, they opened one. And guess what? It succeeded. But it took a lot of time, dedication, hard work and faith. But more than anything else, it took a community. A community of people from Big Stone Gap, Virginia (population: 5,540) that supported Tales of the Lonesome Pine Used Books.
It takes a community to build a bookstore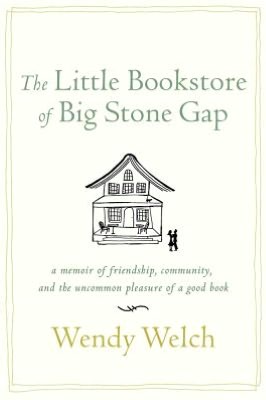 The Welch's wanted a simpler life. So they moved to an Appalachian coal town and took a chance on their dream. No matter that there was a declining U.S. economy, they were moving to a town with no industry and the e-book was on the rise... Oh, and there was that small bit about how they had no experience running a bookstore. But they were determined. And if it hadn't been for the mountain community, they wouldn't have succeeded.
They bought a Victorian mansion, moved in upstairs and filled it with 1500 used books from their personal collection. And it was their love of books that brought people — and kept bringing people — through their little bookstore's front door, which eventually brought their book total up to nearly 40,000. Oh, and maybe it also had a little something to do with their two saucy cats.
The Little Bookstore that could
The first bookstore in the town's history, it wasn't exactly embraced from the beginning. The members of the community that would eventually accept them were initially fiercely protective and suspicious of Wendy and her husband. But eventually, after the husband and wife team got creative and began hosting events to draw the community in, they were embraced and began to succeed — one book at a time.
The Little Bookstore that could became an unofficial community center for everything from writing to music. And Wendy and Jack's warmth and true interest in their customers' happiness made all the difference.
With catchy chapter titles including, What happens in the bookstore, stays in the bookstore, you'll laugh, you'll be hopeful and mostly you'll be inspired from page one until the very end of this heartwarming true story. You'll love taking the journey with Wendy, Jack, their animals and the community of people from the small town who ultimately rally around them and champion them to success. You'll realize that books really can bring people together, even in the hardest times.
More ways to spend your me time
Fabulous fiction for fall
Would you ever travel solo?
You owe yourself a pedicure