Posted: Dec 03, 2012 9:00 AM
It's that time of year again — time to craft the perfect holiday card to send to friends and relatives. Maybe you have the perfect family picture ready to go or a year's worth to make a collage. When you are ready to put your order together, here are our four favorite sites for creating that one-of-a-kind card.
Since the bulk of our correspondence seems to be online these days, everyone loves receiving holiday cards in the mail. Creating the perfect card can be fun and easy, with a little help from these great sites.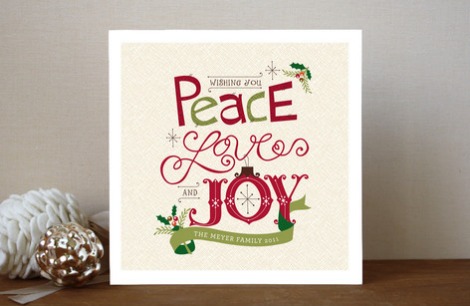 Minted
Minted holds monthly design competitions and all graphic designers are invited to enter. As a result, they boast the best and most unique designs from independent graphic designers all over the world. Minted has an incredible selection of both photo and non-photo cards. The best feature is Find it Fast, which allows you to upload your picture and immediately see it on hundreds of holiday designs. Once you find the design you love, you can customize it to make your cards truly one-of-a-kind. Prepare to fall in love with their cards. We especially love this traditional card that can be personalized with your greetings and photos on the inside.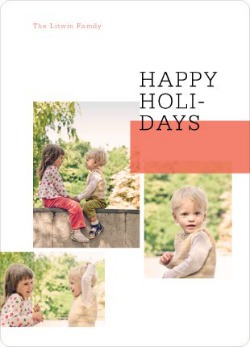 Paper Culture
We started swooning over this site from the very first click. Paper Culture boasts premium, modern eco-friendly cards printed on 100 percent recycled paper. Their unique designs and quality paper truly showcase your creation. Once you find the perfect card, personalizing it is a snap. Paper Culture includes free rounded corners on every card and many designs include a free custom back option for a cute way to personalize your cards. We fell in love with the simple and clean design of this photo card, with a selection of color choices available.

Shutterfly
Many families have ordered their cards from Shutterfly for years. If you already use their site to organize your photos, ordering their cards will be a breeze. The choices and ways to customize your cards are practically endless. If you are having a hard time choosing a favorite, the Shutterfly site has an option to view several card selections side-by-side. Many of the cards can be ordered as either a folded card or a flat one. We loved this holiday season card that includes lots of favorite family shots.
Tiny Prints
Loyal customers are so enamored with the selection and quality of Tiny Prints cards, they return for holiday cards year after year. If you haven't visited Tiny Prints, be prepared to ooh and aah. They offer a wide variety of shapes and styles for holiday cards to help you choose just the style for you. Creating your card is easy on the Tiny Prints site, and you can make a list of favorite designs if you are just browsing. We love this tri-fold card that includes six photos and can be mailed in a modified envelope that doesn't require extra postage.
What are you waiting for? Check out one of these sites today and get started on creating an amazing holiday card for your family.
More holiday ideas
Best Pinterest boards for holiday ideas
What goes into a great holiday card
Fall decorations that work through the holidays