Posted: Jan 20, 2013 10:00 PM
This may be a pipe dream for most of you, but you have an hour free... what would you do with it? We love what these moms had to say and hope you'll find a free hour of alone time soon to put some of their ideas to use!
Whether they stay at home, work at home or work outside the home, all moms juggle the needs of a collection of other people. These bloggers answered the question — What would you do with a blissful hour to yourself? Their answers might surprise you. See if you agree and learn more about these fabulous moms on their personal blogs.
Plug in
These moms blog and with an hour of mom time, they're drawn to their favorite hobby:
Leigh Ann (Genie in a Blog): Read, enjoy some guilt-free social media time, and maybe close my eyes a bit.
Greta (g*funk*ified) and Laura (Mommy Miracles) agreed they would spend their time electronically.
Socialize in a kid-free zone
Without her three daughters around, Tracy (Sellabit Mum) would... have coffee with a friend and not talk about our kids.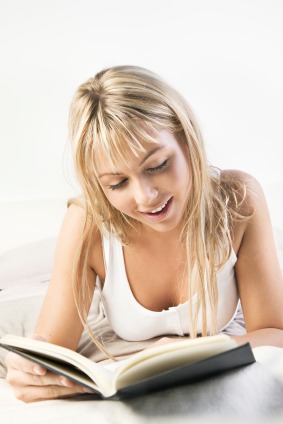 Fall into a book
The lure of a good story has these moms looking forward to an hour of solo reading time.
Tonya (Letters for Lucas): If I had one hour, I'd read. It's my only New Year's resolution and I plan on stealing minutes and hours all year to accomplish it!
Jessica (My Time as Mom): I would read and then probably nap and then eat chocolate with no one asking for a bite.
Get pampered
Many moms dream of a little pampering time, where they can sit back and let someone make them feel feminine, refreshed and a little de-stressed.
Jennifer (Momma Made It Look Easy) and Kristen (The Preppy Girl in Pink) both voted for pedicures to smooth their winter feet.
Alison (Writing, Wishing) would pretty up her hair.
Elaine (The Miss Elaine-ous Life) agrees with Deborah (Ask Doctor G): Absolutely get a massage. It is the one thing that I can do all by myself that feels completely decadent!
Cherish the silence
Some moms are so unfamiliar with the concept of being alone they wouldn't need anything more than the air around them.
Lock myself in a room and breathe. And then play dead. Maybe that will buy me more than an hour.
"
"
Courtney (Courtney Kirland): I'd probably stare at the wall and just enjoy the silence.
Kristin (Said Kristin): Ideally, I'd get a facial or a massage or use the time to write. Realistically, though? I'd probably wander around my house not knowing what to do with myself.
Kiran (Masala Chica): Lock myself in a room and breathe. And then play dead. Maybe that will buy me more than an hour.
More about finding alone time
Traveling without your family
Four things to do each day
Mom's night out — alone