Posted: Jan 24, 2013 8:00 AM
Love using your camera, but feel short on ideas? Whether you are just starting out with a simple point-and-shoot version or have all the fancy lenses, we found a photography blog that's perfect for you.
Taking great photographs isn't all about the equipment. It's the lighting, capturing the mood, the colors, the contrast, the ability to tell a story with simply a picture... these are all elements of a great photo. Photography has come out of the dark room and into our family rooms in an explosion of popularity in recent years. An amazing shot may be just an iPhone click away. Where do we go when we are looking for inspiration? Check out these beautiful photography blogs.

Photo courtesy of Mom*tog
The place for moms
If you have little ones, this is the photography blog for you. Drew is the creative mind behind Mom*tog, the blog she created to connect with other moms who love photography. Whether you are a professional photographer or just a mom who loves to take pictures of her adorable kids, this blog has something for you. Drew has categories like tips and tricks and tons of pictures of her cute family to draw inspiration from. She shows you how to make your photos even better — complete with examples and before-and-after shots. Visit Mom*tog once and you will be back again and again.

Photo courtesy of Project Alicia
Awesome tips
Ready to take your photos to the next level, but not sure how? Alicia of Project Alicia loves photography — but may love sharing her tips even more. She takes beautiful photos and makes them speak to you. Her blog is filled to the brim with inspiration, photography-DIY projects, tutorial and tips. The first time you visit her blog, your idea bank will be overflowing. Her ideas are creative, unique and make you want to take cool photos and try new things. Her photographs seriously make us swoon.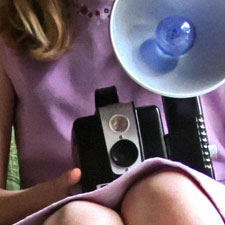 Photo courtesy of Shutter Sisters
Sisterhood of sorts
Wouldn't it be awesome to be part of something big? Tracey Clark, author of Elevate the Everyday and founder of Shutter Sisters, invites you to do just that. Shutter Sisters is an incredible community of talented photographers and weekend shutterbugs alike. Their awesome site is in the process of evolution right now, and they are using the hashtag #ssevolve as a way to invite their community to evolve with them. Sign up for email updates or join their Flicker group so you can be in the know about their evolution — their community is 12,000 sisters strong!

Photo courtesy of Meg Sexton
Capturing pieces of time
Sometimes the best inspiration comes from simply observing someone who gets it right. Meg Sexton is a professional portrait photographer in the San Francisco Bay Area who says her passion is to discover and celebrate the "pieces of time that would normally pass us by." Her ability to capture feelings in a photograph is incredible. Browse her blog and you'll see what we mean. Her use of lighting, outdoor settings and comfortable surroundings allows her subjects to seem like they were just hanging out. Browse by category — like children — and find the inspiration you are looking for.

Photo courtesy of Gavin Farrington
Capturing incredible family moments
Capturing the essence of your family in photos — whether around the Thanksgiving table or at your son's first birthday party — is one of the greatest pleasures. Candid shots during family gatherings can be tricky, but once you have seen some fabulous examples your imagination starts to take over. San Francisco wedding photographer Gavin Farrington is a wedding photographer with an incredible eye for people, expressions, emotions and intimate moments that will leave you swooning. Search his categories and we dare you to walk away without shedding a tear — through a smile.
Grab that camera and get your inspiration from one of these amazing blogs. You will never regret a photo you shot — only the one you didn't take.
More photography ideas
Outdoor photography tips
How to style your family for a professional photo session
Bring sexy back with a boudoir photo shoot