Posted: Jan 31, 2013 8:00 AM
Finally! Pinterest now allows you to create three "secret" boards for pins that you don't want the entire world to see. Find out the details here and how to start putting those secret boards to use!
10 Things you need to know about Pinterest's new secret boards
Each Pinterest account gets three secret pin boards to pin in private. If you need a new secret board, you'll have to delete one first.

You have to create your secret pin boards before you can pin to them.

Create your secret pin boards by pulling up your boards on your Pinterest account. For those of you who pin from your phones or tablets, you can also create those secret boards via your apps. Or, simply use the Add+ button in the top right corner of your Pinterest browser.

Unfortunately, you cannot convert an existing public board into a secret board.

However, you can take a secret board and make it public! Simply go to the secret board, click on "edit board," then push that big red "secret" button from "on" to "off."

Just like with other boards, you can add other pinners to the board, which is perfect for party planning with friends or group gift brainstorming.

Your secret pin boards and all of the pins you add to them will be completely secret — they won't show up to people who follow you or to the general Pinterest feed.

The secret boards are accessible via the Pinterest apps on your smartphones or tablets, just like any other board. (Psst! Make sure you have the most updated version first!)

Wondering what to pin in secret? How about birthday party plans you aren't ready to reveal? Gift ideas for your girlfriends, who are all following you on Pinterest! Your own personal wish list that you'd prefer to keep under wraps. Work project ideas that are handy to pin, but completely boring to share. The pinning possibilities are endless!

The best use of a secret board on Pinterest? Ryan Gosling pictures. Obviously.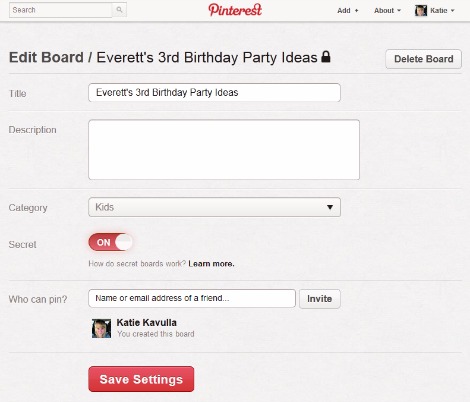 More on Pinterest
Sharing Pinterest with your tween
Pinterest dinner ideas
Pinterest made me a better mom