Posted: Sep 01, 2013 6:00 PM
You don't have to be a bookworm to start a book club with your girlfriends! Get a book club going (and keep it going!) — with friends, moms in your neighborhood or even complete strangers.
Gathering a group
Nearest and dearest: There's something fun about having a book club with your best girls or even your family members (moms, sisters, aunts, cousins, etc.). You see each other all of the time and if you're all delving into the same book together, those "Oh my gosh, did you read that part yet?" moments will be that much better.

Go outside of your circle: Reach out to some moms that you may know from your child's class or from work. Having a book club is a fantastic way to kick off some new friendships and you may find that your book club will have more longevity if it isn't made up of your besties.

Strangers in a strange land: Contact your local bookstores (start with the independent ones in your area!) and see if they have any book clubs that are accepting members, or how you can start your own under their umbrella. Many bookstores give book clubs a discount on their books and even lend them the space to meet!
Picking books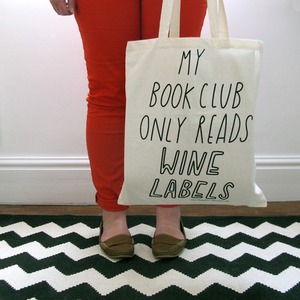 To genre or not to genre: The first thing your book club needs to decide is the style of books you're going to read. Or, you may decide that you're open-minded to a few different genres (historical fiction, youth lit, thrillers, biographies, etc.). Just make sure that everyone is on the same page before you get going. (Pun intended.)

Rotate: Each month, have one member be the hostess. The hostess is in charge of picking the book for the following month, leading the discussion and having the meeting at her home or setting up a location to meet. By spreading out the responsibility each time you meet, it will keep things fresh and will prevent burnout!

You can't please them all: When you get a group of women together for a book club, the likelihood that you can find books that nobody has read is pretty slim. Instead, make a rule that as long as no more than half of the members have read the book, it can be a selection.
Keeping it going
Keep it small: It happens to every book club — members start inviting other friends to join and soon enough, the group is so huge that it's bordering on chaos. Decide, from the beginning, how many members you want your book club to have and stick to it! Make sure it's big enough so that if a few moms can't attend, it won't be a big deal — 8-10 people is typically a nice size.

Be realistic: Don't expect that every member is going to have their nose in a book all month long. If someone happens to choose a longer book give yourself a couple of extra weeks to read it.

What happens in book club, stays in book club: Okay, that's not exactly what we mean (unless you're holding your meetings in Vegas!), but the intention is there... Don't discuss the book with other members until book club night! We know it's going to be hard, but it's also cheating. Save the discussions for when you're all together.
More on reading
A return to reading
5 Novels to read if you liked Fifty Shades of Grey
Lifelong readers