Posted: Mar 25, 2013 9:00 AM
Sweet puffs of marshmallow delight can be good for more than just giving your kids a sugar rush with the right inspiration for Easter crafts! From bunny banners to marshmallow chick topiaries, you won't be able to resist these five marshmallow Peeps crafts.
Peeps bunny bunting
Fabric or scrap paper bunting is adorable, but stringing up marshmallow Peeps give your window or mantle extra sparkle and fun — and an Easter craft with no sewing required!
Materials:
1-2 boxes of Peeps marshmallow bunnies
Sewing needle
Thread
Beads
Wall hooks
Directions:
Thread your needle and measure the length that you want your bunting to be and cut.
Tie a bead to the end of your thread to keep the marshmallow Peep from falling off.
Carefully push your needle and thread through a bunny about where the ears meet the head, but thread slowly because the string can surgically separate your bunny's ears if you're reckless.
Next, thread beads to separate marshmallow bunnies, adding as many beads as you need to fill in your bunting, and continue alternating bunnies and beads until you reach your desired length.
Using one final bead, tie off your thread and hang your marshmallow Peeps bunny bunting with tacks or removable wall hooks for tons of compliments!
Peeps tree
Marshmallow Peeps can be a little ray of sunshine when they're fashioned like the topiary created by natmacsknickknacks.blogspot.com!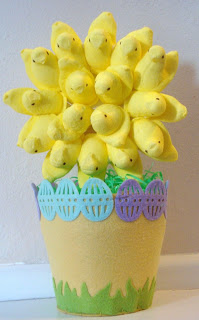 Materials:
Two packages of marshmallow Peeps
Two Styrofoam circles
Cylinder-shaped floral foam
Dowel rod
White ribbon
Hot glue
Felt Easter basket
Scissors
Easter grass
Directions:
Insert dowel into the bottom of your Styrofoam circle.
Cover the edge with ribbon and affix with hot glue.
Using first box of Peeps, position four marshmallow chicks along top and bottom of the front face of the foam circle. Affix with hot glue.
Open the second package of Peeps, separate, and hot glue into gaps on the Styrofoam circle.
Remove handles from the foam basket and insert the floral Styrofoam into the basket.
Push the dowel into the Styrofoam, and trim the dowel height if you're finding your topiary is too top heavy. You can also add extra pieces of Styrofoam around the floral foam for support.
Finish off with enough Easter grass to cover the foam base and enjoy the little extra sunshine in your domicile!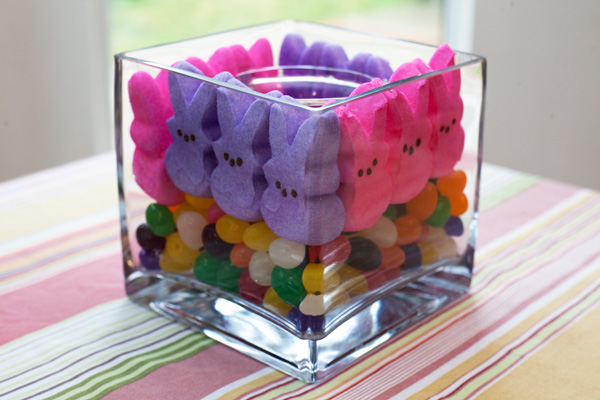 Peeps and jelly beans centerpiece
Simple and sweet, these marshmallow bunny Peeps atop a bed of jelly beans will delight your family and guests as they peep at you all spring long!
Materials:
Vase or hurricane
Jelly beans
Marshmallow bunny Peeps
Small jar or votive
Candle or floral arrangement
Directions:
Empty the bag of jelly beans into the bottom of your vase or hurricane.
Separate three marshmallow bunnies and line the inside of your vase or hurricane with your Peeps facing outward.
Insert a small jar or votive in the middle of your ensemble, add in a candle or bouquet of flowers and place in the center of your table and you're done! Tip: Flowers make it hard for sticky fingers to snag bunny Peeps!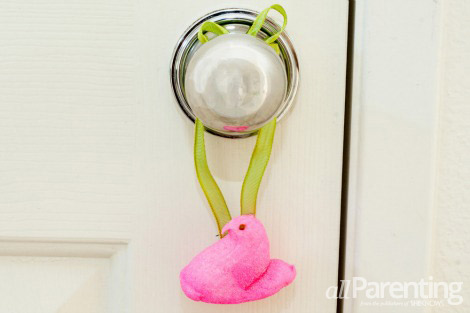 Peeps door hanger
Welcome the season as well as your guests with a sweet surprise that turns Marshmallow Peeps into a colorful reminder that spring is here!
Materials:
Marshmallow Peeps
Ribbon
Scissors
Hot glue
Directions:
Measure and cut your desired length of ribbon. Remember to leave enough to wrap around your door knob.
Tie the ends of the ribbon together into a bow. Find the middle of your ribbon (across from your bow) and crease. This is where you'll glue your Peep.
Using your hot glue gun, place a dollop of hot glue at the center of your ribbon and quickly adhere the Marshmallow Peep. Try and use an "end" Peep so you can hide the exposed white marshmallow portion where you pulled your chickie from her sisters.
Hang your Easter craft from the doorknob, either inside or out of the house, for an easy alternative to eating your Marshmallow Peeps!
Peeps egg craft
Is there anything cuter than a just-hatched marshmallow Peep? You can bet your guest will be tickled pink by this Easter craft created by homeiswheretheboatis.wordpress.com.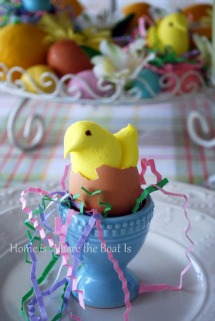 Materials:
Marshmallow Peeps
Fresh eggs
Shredded paper in pastel colors
Egg cups
Directions:
For this Easter craft, you can use brown eggs in their original shades or die raw eggs in spring colors before cracking. Using your egg of choice, gently, tap around the top of the egg with a spoon to remove the top portion of the shell. Pour out the egg yolk and white (and save for Easter breakfast). Rinse and wash the shell and allow to dry.
Carefully fill the shell with paper shreds to form a nest and top with a marshmallow Peep.
Set the entire ensemble atop an egg cup and cluster for a cute centerpiece or set as individual place settings at your seasonal brunch!
Read more ideas for DIY decor
DIY wine Bottle crafts any mom can make
Homemade personalized throw pillows
DIY glitter Champagne glasses