Posted: Mar 24, 2013 9:00 PM
Don't settle for a cheap plastic Easter basket that you'll use once and throw away. Instead, make your child an adorable handmade Easter basket that can be treasured and re-used year after year.
Who says that an Easter basket has to come from the store? Easter egg hunts will be so much more fun with this DIY fabric Easter basket that couldn't be cuter!
What you'll need
1-1/2 yards assorted Easter fabric
12 (32-inch) cotton piping cord
6 (32-inch) cotton piping cord
Hot glue gun
Pinking shears
What you'll do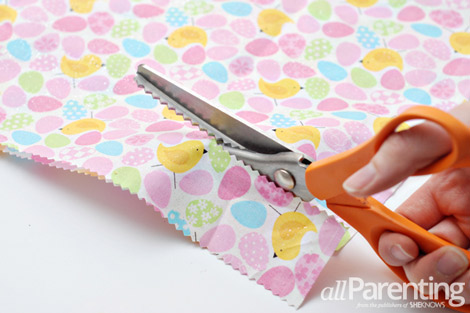 Cut the fabric into strips that are 1-1/2 inches wide and 22 inches long.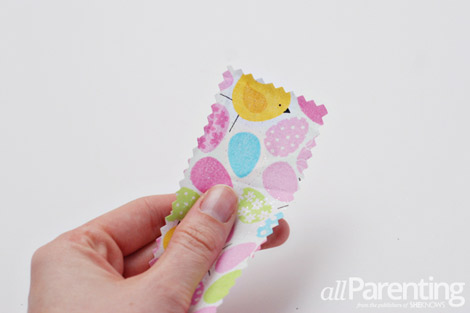 Trim off the ends of the fabric so that the ends have pinked edges too.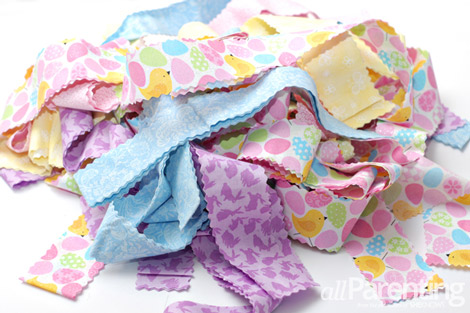 Keep cutting out strips until you have cut up all of your fabric.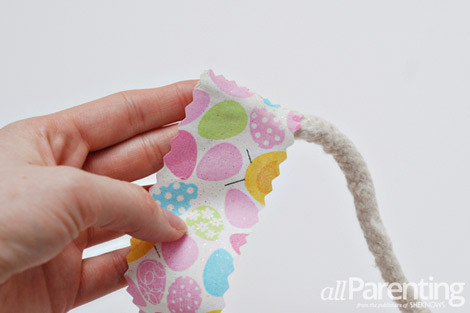 Beginning at one end of the thick cording, hot glue the end of one fabric strip to the end of the cord.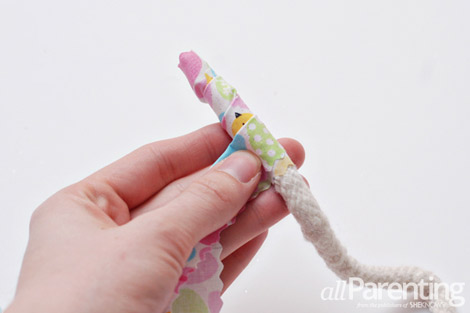 Start wrapping the fabric around the cord.
When you reach the end of the strip of fabric, hot glue the end of the fabric to the cord.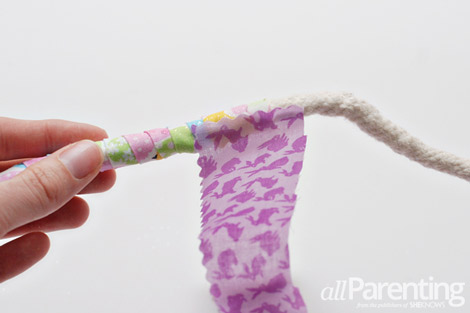 Hot glue the second strip of fabric overlapping the first strip, then continue wrapping.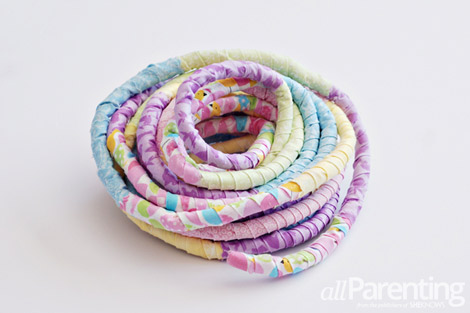 Keep wrapping until the entire length of the cord is covered in fabric.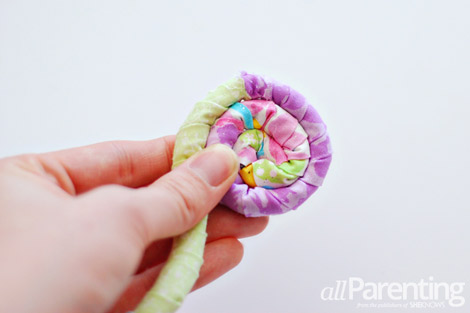 Begin coiling one end of the cord. Hot glue it in place with a small dab of hot glue every few inches.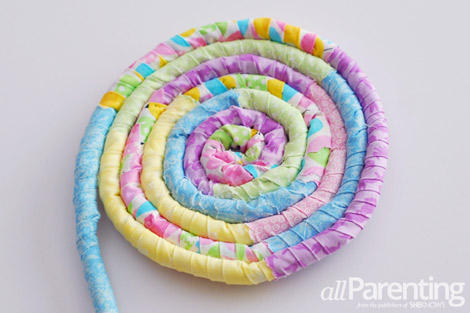 Keep coiling the cord to make the base of the basket. Stop when the coil is 6 to 7 inches across.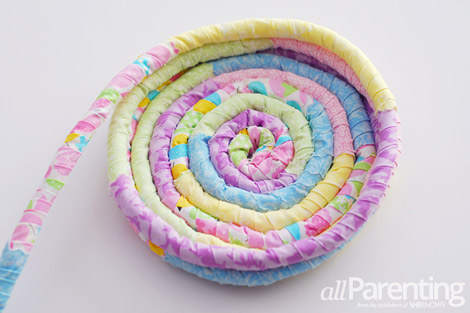 Now start wrapping the cord vertically to make the walls of the basket. Wrap the cord and glue it in place over the top of the outer ring of the base of the basket.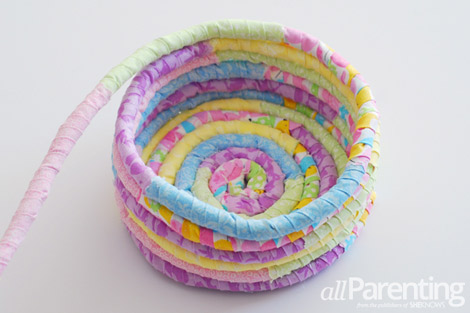 Keep wrapping the coils on top of each other to form the sides of the basket.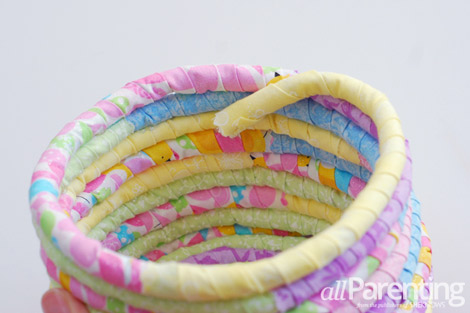 When you reach the end of the cord, tuck it inside the basket and hot glue it in place.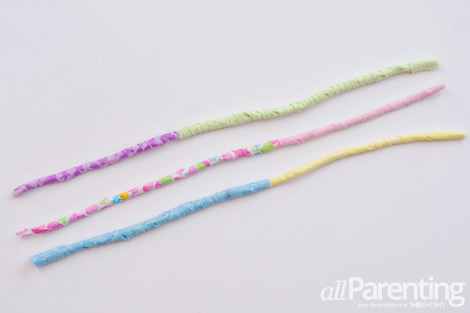 Cut three 18-inch pieces of the narrow cord. Wrap them with fabric the same way you wrapped the thick cord.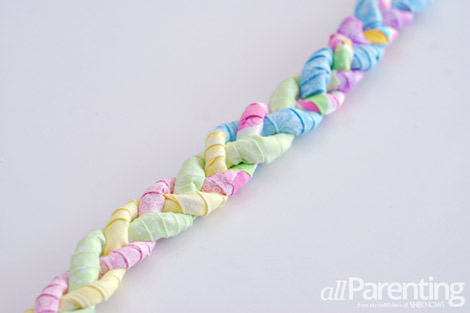 Braid the three pieces of cord together to create the handle for the basket.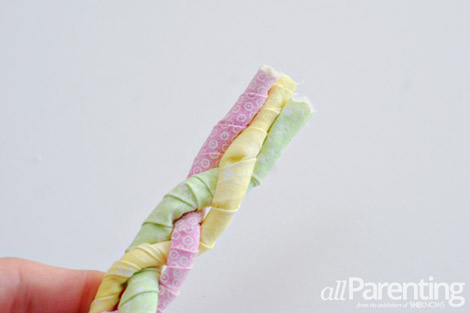 Glue the three cords together at both ends of the handle.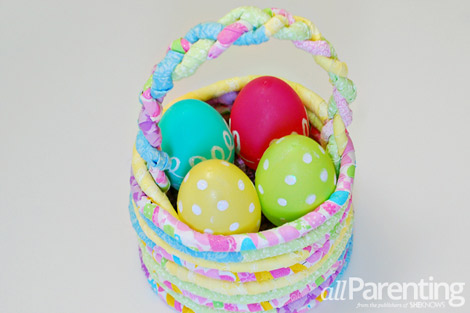 Glue the handle to the inside of the basket, then load the basket up with Easter goodies!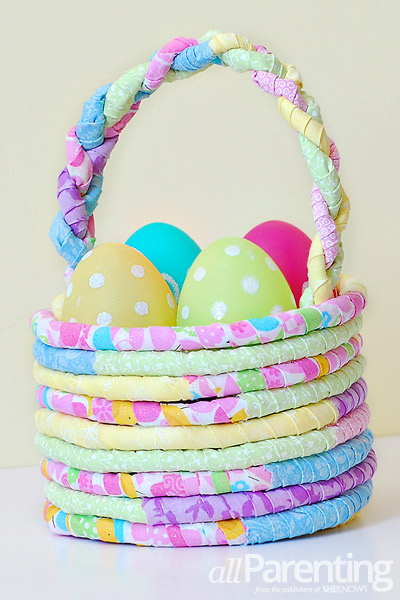 More DIY crafts
DIY paint chip dry erase calendar
DIY confetti tumbler tutorial
DIY wooden letters on canvas