Posted: Apr 24, 2013 8:00 AM
The amount of crayons your kids seem to accumulate could span the length of your neighborhood, but it doesn't mean you have to let those rainbow-hued craft supplies go to waste. From crayon "letters" that will spruce up any playroom to the stained glass DIY crafts you remember from your childhood, take a peek at these four DIY recycled crayon crafts that will brighten up your kiddo's day!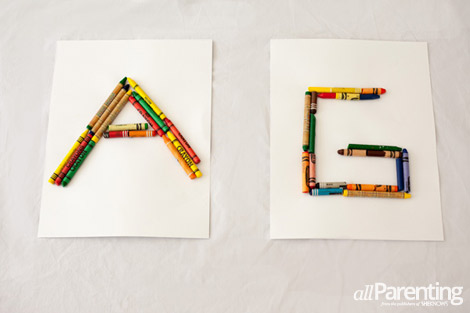 Crayon letter pictures
Give used crayons a fresh perspective and create DIY crayon crafts that teach as well as add a splash of color to your child's bedroom, playroom or teacher's classroom!
Materials:
Used crayons
School glue or craft glue
Cardstock
Picture frame (optional)
Directions:
Lay your cardstock down on a clean table, and help your youngster arrange crayons to form the letter of your choice. Don't hesitate to use more than one crayon side-by-side to create wider letter "strokes" for your recycled crayon craft.
Once your used crayons are lined up in the letter of your child's choice, carefully lift one by one then lay down a line of glue on your cardstock and place crayon back down, pressing into glue to adhere to your paper.
Repeat with each crayon, and allow to dry completely on a flat surface.
As an added touch, frame your kiddo's crayon craft and hang on the wall, although you may have to remove the glass if the crayons are too thick.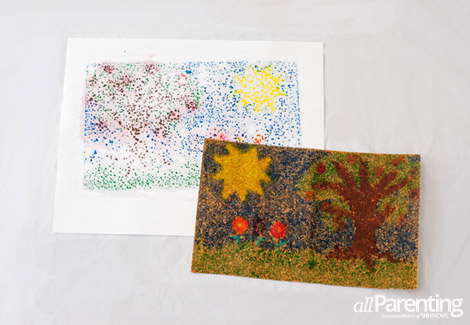 Crayon sandpaper pictures
Turning your child's used crayons into "colored sand" masterpieces is a cinch with a few old crayons, sandpaper and a warm iron!
Materials:
Sandpaper, any grit
Used crayons
Plain white paper
Iron
Directions:
Choose and cut a piece of sandpaper in any grit as the "canvas" of your child's DIY crayon craft. Keep in mind that the coarser the paper, the more the final creation will look like colored sand.
Using crayons, let your kiddo color any design he chooses on the rough side of the sand paper, making sure there is crayon color left on every bit of the surface.
Take your youngster's crayon craft to the ironing board and place between two pieces of plain white paper, with the masterpiece colored side up.
Using the iron on the lowest, non-steam setting, pass it over the top white paper layer, melting the crayon design sandwiched within. The wax will begin to melt, transferring slightly to your white paper until you can see most of your youngster's drawing melted through the white paper.
After you've unplugged the iron, carefully peel the paper from the creation to reveal your kiddo's crayon art — it should look like colored sand. Set aside to cool and you're done!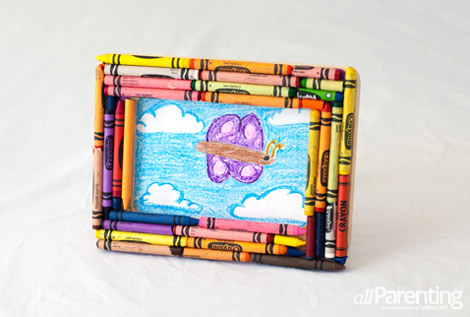 Crayon frame
From custom DIY crayon doodles to the latest photo of your little crafter, a crayon frame is a unique way to put used crayons to good use!
Materials:
Wooden frame
Used crayons
Hot glue
Directions:
Unwrap your wooden frame and lay on a smooth, flat surface.
Arrange used crayons on your frame using different sizes of crayons until your frame is completely covered. Don't be afraid to break crayons into smaller pieces to fill in any gaps.
Using your hot glue, glue down the crayon arrangement one by one; allow to dry and choose your favorite masterpiece to frame with your DIY crayon craft!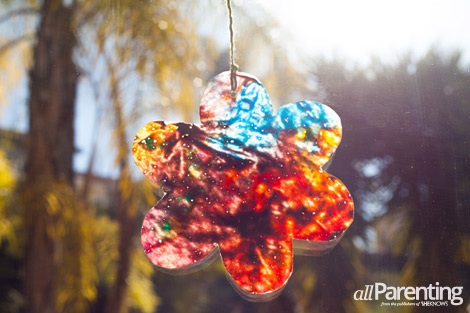 Stained glass crayon flowers
Whether the weather is cold and rainy or sunny and warm outside, your used crayons can help bring a little bit of sunshine inside with DIY crayon crafts from your own childhood.
Materials:
Old crayons
Hand-held pencil sharpener
Muffin tin (optional)
Waxed paper
Iron
Dish towel or rag
Ironing board
Hole punch
String or ribbon
Directions:
Have your kiddos peel the papers off of your old, used crayons.
Using your pencil sharpener, create crayon shavings into a muffin tin, keeping each color separate. You can also shave your crayon into bowls or cups or even right on to your waxed paper.
Place your dish towel or rag on your ironing board to prevent any crayon color from getting on your ironing board. Heat your iron on the lowest setting, no steam.
Tear a sheet of waxed paper double the length that you want your flower to be. Crease it in the middle and lay it on your dish towel on your ironing board.
Let your little one sprinkle crayon shavings onto one half of the waxed paper in any design. Keep in mind that a little bit of shavings go a long way when melted, so try and avoid creating piles of colorful slivers in any one spot.
Fold your wax paper in half, and use your warm iron to melt the crayon creation but don't overheat; the shavings melt quickly. Set aside to cool.
Once your crayon craft is cooled and hardened, use scissors to cut a flower shape from your waxed paper design, punch a hole along one edge, thread with string, hang in a sunny window and you're done!
Read more craft ideas
4 Mardi Gras crafts for kids
4 Chinese New Year activities for kids
DIY wine bottle crafts any mom can make