Posted: Apr 02, 2013 7:00 AM
Glennon Melton is the heart and voice behind the wildly popular blog Momastery. We spoke with Glennon about her 70,000 views per day blog and her out today and already best selling book,
Carry On, Warrior
. What we learned will melt your heart and inspire you in one fell swoop!
Momastery's Glennon Doyle Melton is a recovering everything, best-selling author, wildly successful fundraiser, mother and a stunningly poignant writer. We spoke with Glennon about how her blog grew from 1,400 to 70,000 readers per day, her book that topped the best-seller charts before it was officially for sale and — importantly — how she writes her truth. Like most great things, her story began with a leap of faith.
Diving in
One day, my then 5-year-old son Chase said
I just hope Mommy's nice today, 
and I knew something had to change.
"
"
After ten years of sobriety, Glennon — overwhelmed with three kids under five — tipped back into the dark places of post-partum depression and addiction. She says, "One day, my then 5-year-old son Chase said I just hope Mommy's nice today, and I knew something had to change."
On a playdate with a friend who was also going through a hard time, Glennon noted that while their children played the two women talked about everything besides their truths. Moments later Glennon found herself spilling her heart. She says, "I took a chance and told her everything about my recovery and my depression. She stared at me for awhile. Then we cried together and she told me what was going on with her. Suddenly, we both felt less alone."
Suddenly, we both felt less alone.
"
"
Glennon realized that if that kind of truth-telling shift could be created between two women, the same could happen with many more. Right then and there she decided she would take the same kind of chance with her writing, and truth-tell her way through her depression. And she did. Glennon says, "I got up every single day and wrote at 4:30 in the morning and no matter what, I pressed post at 6:15. I did that for a year and built a little community that way."
Why Momastery
Glennon's unique blog name was born of her love of faith, women and word plays. She says, "I've always been obsessed with all faiths and the magic of tradition and religion. I'm especially in love with the quiet of monasteries." Having felt pulled in every possible direction, Glennon strived to recreate that monastery kind of peace for moms, via her blog. She says, "I wanted a quiet place where women could go and not have anyone pulling on them or asking anything of them." She purposefully chose to not run ads on her blog and write from the heart. Glennon says, "The more personal the writing, the more universal it becomes. People think that it's safer to discuss details. But that's where we're different. The details make us feel alone. But when we go twelve layers deeper — we all feel hurt and anger and love — that's what makes us feel less alone." And that's exactly what Momastery became: a place where women gathered to feel — and do — great things together.
MONKee see, MONKee do
Life is too important to be taken seriously — I love that, I live that.
"
"
Born of the monastery feel, it's not surprising that Glennon took her clever word play to another level. Glennon calls her not-so-small anymore readership her Monkees. And what they do together, is breathtaking. Glennon says, "My Monkees are a community, and when we see needs that one of us has, we do something about them." That "something" has been to the tune of raising $83,000 — in five hours! Glennon calls these love and money raising sprees "Love Flash Mobs." She says, "I love flash mobs, when one person dances and does something really stupid and suddenly everyone joins in, that's such a metaphor for life. Life is too important to be taken seriously — I love that, I live that."
When Glennon's just-out-today book hit number 4 on Amazon in the beginning of March, she felt overwhelmingly grateful for her community and decided to give back. Clicking on the first Monkee request in her inbox, she read an email from Sarah in Indiana who runs a home for five homeless teen moms. Sarah had one empty bed and a 15-year-old mother whom she wanted to fill it. It would cost $83, 000 to make that Monkee wish come true.
Glennon had Sarah write a letter to the Monkees, and together they posted a Love Flash Mob on the morning of March 5th. The teenage warrior, as Glennon calls her, was in the home by six that night!
I just love women and what happens when they come together.
"
"
Glennon explained the Love Flash Mob rules to us, "No Monkee can give more than $25 because I want that single mom who has $7 extra to give to feel like her gift means as much as someone else's who has $500 to spare." The average Love Flash Mob donation is $17, so the speed and enormity of the fundraising really struck us. Glennon explained the why behind the Love Flash Mob rules, "There's something amazing about a community of women watching the numbers grow together and trusting in each other, that we'll come together to help one of us. I just love women and what happens when they come together." And of the $83, 000 gift given, Glennon says, "That girl has had a tough life. I want to give her the suggestion that all of these moms care about her and think she's worthy."
My Brutiful life
Glennon writes and lives by three mantras:
we can do hard things, love wins and we belong to each other
.
"
"
Glennon says that life is brutal and beautiful all at once, so she coined the term Brutiful. And what she feels about her Brutiful life, is grateful. She says, "I was a bulemic at age 8. I hid my addictions for 20 years. They became my coping mechanism for anything hard." Having taken a chance on herself to recover, Glennon writes and lives by three mantras: we can do hard things, love wins and we belong to each other. These beliefs entwine and grow to Brutiful things like the Love Flash Mob, her loyal Monkee community and her achingly stunning and hilarious best-selling book. Glennon says, "We can only do small things, but when we do them with big love, big things happen." Doing things with big love often means baring yourself and showing the real, unpolished you in the hopes that the mom next door breathes deeply by your side and Brutifully whispers, Me, too.
Carry on Warrior — Thoughts on Life, Unarmed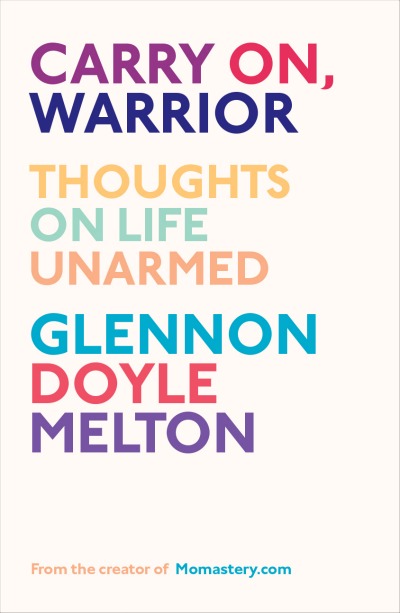 Momastery exploded this January when Glennon's essay Don't Carpe Diem went viral from her own blog and then again via The Huffington Post. Three weeks after Glennon pressed post on Don't Carpe Diem, she was fielding calls from 10 publishing houses. In the end, she did what she says she always does, "I followed my heart and went with the person I liked best, the person I could sit down and have tea with." And with that, Carry on Warrior — Thoughts on Life Unarmed was born.
About the book, which is a collection of Momastery favorites, as well as new essays, Glennon says, "I want women to be inspired to not do anything else today... to just be proud of what they've already done. To fill out a Done list instead of a To Do list, to drop out of this competitive culture, and just take a deep breath — together." Glennon's goal is, "to remind women to shed their weapons and their armor, to stop hiding, competing, striving for the mirage of perfection, and to build better lives in our hearts, homes and communities." Because that's where we're all at our most Brutiful, 12 layers deep, laughing and crying and doing Big Things together.
To find out more about Glennon, visit Momastery, follow her on Facebook and Twitter and, of course, buy the book.
More inspiring reads
Non-fiction must read books for women
Fall in love with Life Moments for Women
Christy Turlington is certain that Every Mother Counts