Posted: Jun 13, 2013 7:00 AM
As a parent, girlfriend time can be a rare and elusive treasure. In this story from Chicken Soup for the Soul: Parenthood, author Mimi Greenwood Knight discusses her dedicated monthly "Mom's Night Out." But at the end of each get-together, Mimi finds motherhood calling her name and that she answers the call refreshed and grateful.
Written by Mimi Greenwood Knight, published in Chicken Soup for the Soul: Parenthood
By and large, mothers and housewives are the only workers who do not have regular time off. They are the great vacation-less class.
~ Anne Morrow Lindbergh
"
"
Nothing can bother me today -- not the mud tracked all over the carpet, not the half-hour search for my car keys, not the eternity spent on hold with the insurance company, not the crayon on the living room wall, not the toilet paper trailed down the hallway, not even the neighbor's dog flattening my flower bed… AGAIN. Tonight is Mom's Night Out, and that knowledge is all I need to get me through the day.
Tonight is the night when my mom friends and I leave the kids at home and get to act like kids ourselves. While the game of Pokeno is our excuse for getting together once a month, it's secondary to the support, encouragement, and friendship we offer each other.
At three o'clock, I call my husband David's office with a gentle reminder. He wouldn't forget anyway. He knows how important these nights are -- not just to me -- but to him and the kids too. Later, I breeze through dinner, hum through my shower, and jump into a favorite pair of jeans.
In the car, I crank the radio to full volume. I feel like a teenager pulling out of the driveway in my mom's old, green station wagon. I can't stop smiling.
"
"
As I dry my hair, I've already begun the evening in my mind, thinking about which stories I'll tell about the kids' latest antics. I wonder who'll be there and what has changed in their lives since last month. The kids object as I start to leave, but David comes to the rescue with the promise of a pizza snack and a favorite video. He winks at me and, with kisses all around, I'm off.
In the car, I crank the radio to full volume. I feel like a teenager pulling out of the driveway in my mom's old, green station wagon. I can't stop smiling. To make the experience complete, I roll down the windows, throw my head back, and sing at the top of my lungs. Here we go! Mom's Night Out at last!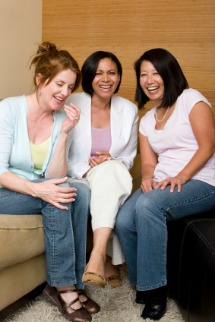 Ten minutes later, I'm pulling up to Lisa's house. I scan the minivans to determine who's arrived before me. There's Jane's van. Good, I have a box of maternity clothes to pass along to her. There's Lelia's. I wonder how her job interview went? As soon as I step inside, I hear bits of conversations in progress. Cheryl catches me at the door with a gift, a thank-you for watching her girls last month. We all take time to hug. Then, someone screams, and I look to see that she's holding up Stephanie's hand, gleaming with a diamond engagement ring. More hugs! No one is surprised. We all suffered through Stephanie's divorce two years ago and have dated Jeff vicariously through her for the past several months. When she reminds us that he has two girls the same ages as her own two boys, we break into The Brady Bunch theme song.
What exactly is so therapeutic about Mom's Night Out?
Everything!
Over the next four hours, we'll ask each other's advice on topics ranging from teething and potty training to romance and office politics. We'll relate experiences with our kids and our jobs that may have had us crying at the time, but about which we can laugh together now. Time management tips, new lunch box ideas, behavior charts that worked and homework incentives that didn't will be discussed. Arrangements to watch each other's kids will be made and recipes, jokes, paperbacks, and baby and maternity clothes will be exchanged.
When it's time to go, we linger in the driveway for another half hour or so, not wanting the evening to come to an end.
"
"
We'll complain a bit about husbands and in-laws, jobs, caregivers, and the kids' schools, and somehow we'll play a game or two of Pokeno as well. In the past eight years, we've seen each other through ten pregnancies, two miscarriages, two divorces, four job transfers and three deaths.
When it's time to go, we linger in the driveway for another half hour or so, not wanting the evening to come to an end. Driving home, radio not quite as loud, I have renewed energy and my positive outlook is back. I feel like I can take on the world. Bring on the neighbor's dog! Bring on the insurance company, the toilet paper comets and murals on the living room wall! I can handle it all!
I can't wait to get home and start being Mommy again. I'll kiss each little sleeping angel, pick up the clothes scattered across the bedroom floor, and read phonetically spelled love notes left on my pillow. Then I'll snuggle with David and tell him my new jokes, happy in the knowledge that whatever comes my way tomorrow, there's another Mom's Night Out and it's only a month away.
*****
Do you have designated friend time like Mimi? Getting out of the house sometimes, even just once a month, can revive you in your role as a parent! To get more stories like this delivered weekly to your inbox, sign up for the Inspiration for Busy Moms newsletter here. And visit www.chickensoup.com to find out about our other great parent-focused books!
Reprinted by permission of Chicken Soup for the Soul Publishing, LLC © 2013. In order to protect the rights of the copyright holder, no portion of this publication may be reproduced without prior written consent. All rights reserved.
More about girls' night out
Classic girls' nights out
Girls' night out 2.0
Girls' night out without the guilt