Posted: Aug 02, 2013 10:00 AM
As you prepare to say goodbye to summer, drink up the hottest books while you imbibe! There is a perfect cool cocktail to drink while you soak in the rays and absorb your favorite novel.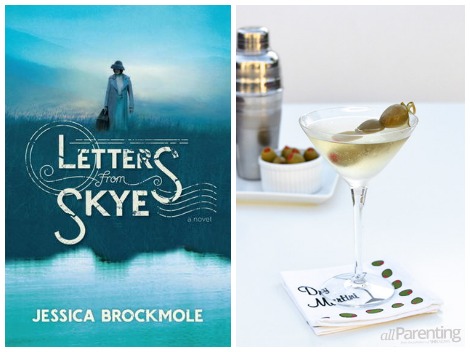 An unforgettable love story, Jessica Brockmole's debut novel, Letters from Skye, told in letters spanning two continents and two world wars, reminds us of the power of the written word. In 1912, Elspeth Dunn, who's never been outside of her remote Isle of Skye in Scotland strikes up a correspondence with David Graham, a college student in America. They fall in love, but then David volunteers for the ambulance unit during World War I and Elspeth is left heartbroken, praying he'll survive. In 1940, at the end of World War II, Elspeth's daughter, Margaret, falls for a pilot in the air force and her mother warns her against wartime love, but she, of course, doesn't listen. And when a bomb hits their house and Elspeth disappears, it's a single letter that holds the clue to her whereabouts.
Pair this captivating novel with a classic dirty martini, a drink that, like true love, stands the test of time.
Classic dirty martini
Serves 1
Ingredients:
3 ounces gin or vodka
Dash of dry vermouth
1 ounce olive brine
3-4 stuffed green olives
Directions:
Place the gin or vodka, martini shaker and a martini glass in the freezer for 30 minutes.
Fill your martini shaker with ice. Add the gin or vodka, dry vermouth and olive brine to the shaker and shake vigorously until well combined.
Pour into your chilled glass.
Garnish with stuffed green olives. Enjoy!

The Irresistible Bakeshop & Blueberry Cafe
A novel that is as irresistible as its title, The Irresistible Bakeshop & Blueberry Cafe is a wonderful summer read that also involves a letter. It's the story of Ellen Branford who wants to fulfill her grandmother's dying wish — to find a boy she once loved and was set to marry and give him an apology letter she wrote to him. When Ellen leaves New York, she thinks it will be a one-day trip, but it quickly turns into more after she almost drowns and is saved by a local carpenter. Ellen becomes somewhat of a local celebrity which may or may not help her unravel the past her grandmother tried to hide. As she learns about her grandmother and herself, she also learns about the power of a simpler life.
A delicious summer novel, it's perfectly paired with a drink that involves blueberries of course! Drink the novel in while you drink blueberry peach sangria!
Blueberry peach sangria
Serves 4
Ingredients:
4 ripe peaches, rinsed
1 cup blueberries, plus extras for garnish
1 bottle Moscato wine, chilled
Directions:
Cut 3 of the peaches into a dice. Add to a glass pitcher. Cut the fourth peach into thin wedges and set aside.
In a bowl, lightly muddle the blueberries. Add to the pitcher.
Pour the Moscato into the pitcher and stir gently to combine. Chill until ready to serve.
To serve, make sure each glass gets fruit from the pitcher. Then, also skewer some fruit on a drink pick for a garnish.
Enjoy! (Responsibly, of course.)

Chose the Wrong Guy, Gave Him the Wrong Finger
Beth Harbison knows how to write the perfect summer read. And you'll love her latest, Chose the Wrong Guy, Gave Him the Wrong Finger. It's the story of Quinn Barton who runs off with her groom's best man (and brother) the day of her wedding because he tells her that her groom has been cheating. But that relationship doesn't work out either and Quinn spends the next 17 years working in her family's bridal shop. And life is going well until the two men come to town for a wedding and old wounds are reopened and old feelings resurface. A humorous and heartfelt story of the endless possibilities of love.
Because love can be oh, so complicated and passionate, pair this novel with a simple yet refreshing passion fruit-inspired drink: the passion fruit margarita.
Passion fruit margaritas
Serves 4 to 6
Ingredients:
1 cup silver tequila
1 cup Cointreau or triple sec
1 cup passion fruit juice
3 ounces freshly squeezed lemon juice
1 ounce simple syrup
Ice
Directions:
In a blender, combine all ingredients.
Add the ice and blend, adding more ice as needed for desired consistency.
Pour into a pitcher for serving.
Serve with lemon or pineapple wedges. Enjoy!
More cocktails you'll love