Posted: Aug 29, 2013 6:00 AM
Do you ever experience writer's block? Dallas Woodburn definitely has, and in this story from
Chicken Soup for the Soul: Inspiration for Writers
, she shares her secret way to break down that creative wall.
Written by Dallas Woodburn, published in Chicken Soup for the Soul: Inspiration for Writers.
When patterns are broken, new worlds emerge.
—Tuli Kupferberg
"
"
Like every writer, I go through occasional periods of writer's block — days when I feel stuck, when I sit at my keyboard and no words come. Usually, I force myself through it, and the next day, the words come easier. But in my first semester of graduate school, I experienced writer's block like never before, a new monster that lingered for weeks and months. Simply put, I sank into a creative rut. Nothing I wrote seemed interesting. None of my ideas seemed worth pursuing. I was exhausted from teaching and from my own studies — there were always assignments to grade, books to read, academic papers to write. I did not feel inspired by the world around me; rather, I felt overwhelmed. I wanted to shut off my brain and turn off my computer for good.
Writing is how I process and deal with my life, how I make sense of the world. When I don't write, I don't feel like my best self.
"
"
But that didn't make me feel better. If anything, when I pushed away my creative-writing projects, I only felt worse. Writing is how I process and deal with my life, how I make sense of the world. When I don't write, I don't feel like my best self. I don't feel like myself, period.
So I came up with a plan. Each day, I would try one new activity to attempt to get my creativity back. Day by day, I hoped that I would rediscover and reconnect with the curious, inspired writer within me.
The first day, instead of using my lunch break to grade papers in my dark cave of an office, I brought my sandwich and apple outside and spent an hour people-watching. I picked a stranger to be my "character." Then I closed my eyes and tried to really get inside this character's head. I asked myself, "What is he thinking, feeling, worrying, wondering? Where is he going? What memories does he have?" I took out a pad of paper and spent 20 minutes "free writing" — writing without thinking too much or editing myself. I couldn't remember the last time I'd written a story by hand instead of on my computer. My pages looked sloppy, my handwriting messy, with words crossed out and cramped words squeezed into the margins — but to me, each page was beautiful. I wanted to keep writing even longer, but I had to go inside to teach my class.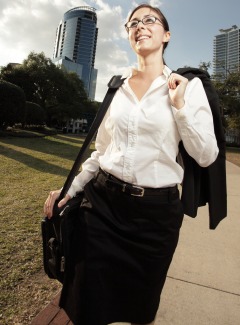 The next day, I changed my routine by walking home from school instead of taking the bus. Usually, the two-mile commute to and from school was just another thing to hurry through. I would spend the whole bus ride home glancing at my watch, wishing the bus would go faster so I could get home and start chipping away at my piles of grading and reading. (Instead, drained and depleted, I usually ended up vegging out in front of the television for a few hours.) But this day I decided to re-envision my trip home as "me time" — an hour or so for me to wind down from a hectic day at school and take in the world around me.
And guess what? When I slowed down my daily trip, the commute home didn't feel like a chore — it felt special. I noticed little things like hummingbirds, squirrels and the unique purple of the sky as the light faded to evening. I reached home feeling rejuvenated instead of exhausted. I made a healthful veggie pasta for dinner, cleared aside my papers and books and sat down to write — not for school, not for work, but for fun. For myself. The next day, I walked home again, only this time I also took a notebook with me so I could jot down notes right when an idea hit me.
The rest of the week I spent trying new things. Nothing fills my "idea well" more quickly than traveling — experiencing new places, embarking on new adventures, meeting new people. But I couldn't just pick up and leave town. Instead, I decided to "travel" by trying new things right at home.
I ventured into a Peruvian restaurant I had passed many times but never had the nerve to try, ordered the first thing off the menu that caught my eye and wrote a poem about the flavor and texture of the food. I watched a YouTube video on how to knit and spent a few nights wrestling soft blue yarn around knitting needles, and a story idea flashed within me about a man seeing pictures in a ball of yarn. I dabbled in painting, an art form I had loved as a child and ended up using my fingers to smear gobs of paint across the page. It had been a long time since I had allowed myself to be creative without the added burden of wondering if my creation was good enough.
As I washed the paint from my fingers, I felt wonderfully free. I knew I had tunneled my way out of my uninspired hole. I've kept these activities as part of my life to keep my daily routine richer, more spontaneous and less draining.
I've found that ideas tend to come once the ending is in place.
"
"
I still get writer's block occasionally. When I do, it is usually related to the specific project I am working on. One thing that helps me is to focus on what I know instead of worrying about what I don't know. I often struggle with "the muddle in the middle" of a story. Perhaps there is a later scene I want to write, but the middle is tripping me up. My solution is to skip forward and write the ending. Then I can go back and write the middle. I've found that ideas tend to come once the ending is in place. Similarly, sometimes I get blocked when I'm at a "fork in the road" in my story: There are multiple routes my story could take, and I'm not sure which one is the "right" one. When that happens, I try picking one route — one way the story could go, one thing that could happen next — and write that. If it doesn't feel right, I can always go back and change it. But often picking one way for the story to go is enough to get me through the block and writing again.
I feel fortunate to have found something I am passionate about, something that allows me to escape into the magical realm of make-believe on a daily basis. Ever since I regained my creativity, I appreciate it much more. Creativity solves problems and inspires curiosity. Creativity unleashes big, beautiful dreams. Nurturing my creativity has not only made me a better writer, it has made me a better person — more optimistic, compassionate and open to life's unending possibilities.
*****
Dallas found that alleviating the anxiety that comes with writer's block was a lot simpler than she would have expected. Next time you're struggling to put pen to paper, or more appropriately fingers to keyboard, try doing something that changes your routine to spark some creativity. For even more powerful tips from fellow writers, get your copy of Chicken Soup for the Soul: Inspiration for Writers.
Reprinted with permission from Chicken Soup for the Soul Publishing, LLC © 2013. In order to protect the rights of the copyright holder, no portion of this publication may be reproduced without prior written consent. All rights reserved.
More creativity
Self-publishing 101
Apps for better Instagrams
My favorite mom blogs