Posted: Nov 04, 2013 10:00 AM
Liz's handmade cakes are the stuff of legend — her business, that started in her kitchen, is growing by the day and leading to new opportunities, and she hopes to own her own bakery some day.
Cake baking is fun for many, but if you're looking for something truly special, you often turn to a professional. Liz Wilson, a mother of two who lives in eastern Iowa, is one that you would turn to if you could — her handmade cakes are everything you could hope for, and more. This self-taught master behind the appropriately-named business eat Cakes started it from scratch, much like the cakes she lovingly creates.
Tools of the trade
Liz learned to bake when she was a small child. "My mother preferred to do crafty things instead of bake, so I started helping her make stuff and then took over," she shared. Starting with cakes that she baked her own kids, she began to branch out when others saw her creations and asked her to bake for them.
I learned everything I know just by practicing, looking at a lot of pictures, and sometimes reading tutorials.
"
"
Surely one with such skill and talent took tons of classes and learned from the best, right? Amazingly, Liz is self-taught. "I learned everything I know just by practicing, looking at a lot of pictures and sometimes reading tutorials," she explained. "Most of the time I will find something similar to what I'm wanting to make and just examine it to figure out how it was done, what I would change about it and how I can make my own version. I've been very lucky so far in that a lot of this has come very naturally to me. I'm a perfectionist, and I don't like to have to correct mistakes, so if it means looking up 12 different tutorials to figure out the best way to make something, I will."
Liz works a lot with fondant, which she carefully sculpts to create the desired pieces on her creations. She uses many different types of tools for this purpose, such as Wilton cake decorating tools, but she has also gotten creative and used forks and Play-Doh toys to make some of her pieces — obviously her hardcore "mom" credentials have served her well as she literally thinks outside the box. "Some of the tools I use the most are rolling pins, shaped cutters like cookie cutters, and my newest favorite is an extruder, which helps me make ropes of fondant in different sizes," she told us.
Inspiration awaits
Liz's cakes are works of art, and art requires inspiration. Fortunately, she is surrounded by ideas, and can pluck her next project from the most unlikely of places. "I get ideas and inspiration everywhere, literally," she said. "Clothes that my kids wear, things I see on TV, fabric, music, tattoos, Pinterest, books, other cake decorators, even seasons. I carry a notepad in my purse to jot down ideas, and I have a sketchbook with lists of flavor combinations and future cakes I'd like to make."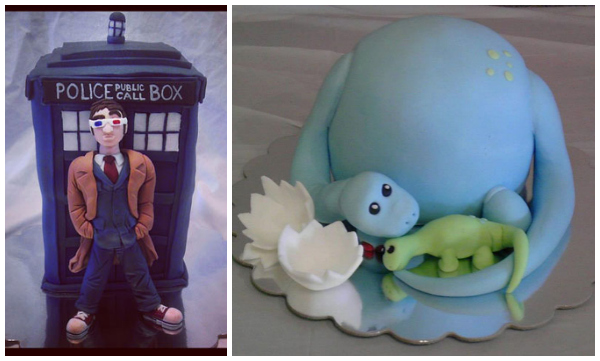 Her customers will have a general idea of what they are getting, but nothing beats the satisfaction of hearing the reaction her cakes get when they are unveiled. "The most common reaction (and I'll be honest, the one I strive for the most) is 'Wow!'" she happily shared. "That's the ultimate compliment to me. When I can give someone that 'wow' I know I've done a great job, I know that they're going to remember the cake I've made. It makes me feel really good, knowing that I'm helping create memories and not just another cake."
What the future holds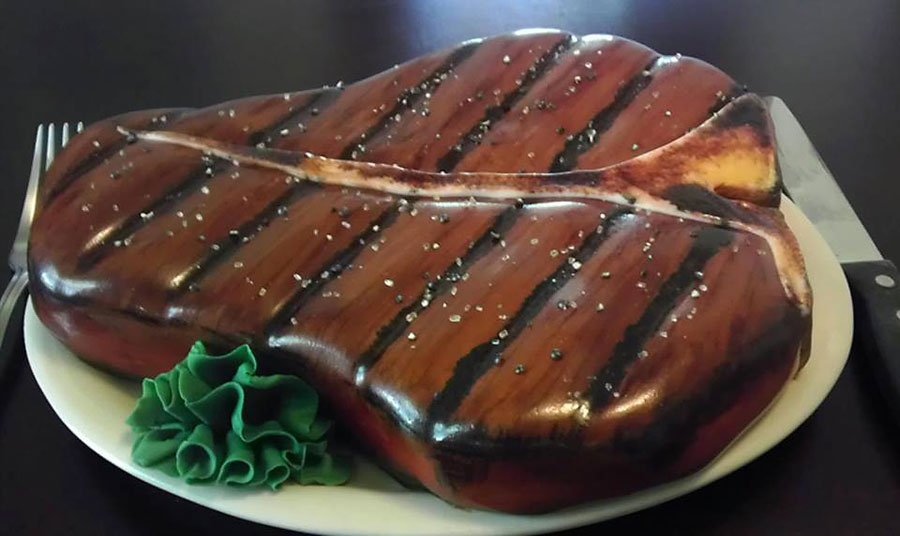 Liz currently works from home, and now that both of her daughters are in school, she has more time to devote to her craft. She has even bigger plans, though, to take her business out of her own kitchen and into a shop of her own. "I have big plans!" she told us. "Ideally within five years I'll have my specialty cake and sweets shop opened. I'd love to be serving the entire state of Iowa and beyond with ridiculously awesome one-of-a-kind cakes, maybe convince Food Network to start up some more Cake Challenges, who knows!"
As far as picking a favorite cake that she's made, she admitted that it's hard to pick an absolute favorite. However, recently her daughter had a birthday and requested a Monsters, Inc. theme. "I knew her cake was going to be incredible," she remembered. "It came out exactly how I imagined it would and I love when that happens."
My dream cake to make would be the first cake I make in my own cake shop.
"
"
As far as what the cake of her dreams might be? That question had an easy answer. "My dream cake to make would be the first cake I make in my own cake shop," she told us. "I know it will happen someday, so until then I'm going to keep dreaming about it!"
More awesome moms
2 Kids, 120-pound weight loss, no problem!
Jennifer's story of loss and hope
Why this mom isn't vaccinating her child