Posted: Dec 17, 2013 7:00 AM
Mark winter's solstice with a break from the holiday madness and set aside an evening of renewal with your closest girlfriends. Bring your friends together for a series of uplifting rituals tied to the season's return of the sun. Together you will let go of the year's negative experiences and set goals and intentions for a bright new year. It's a bonding experience your tribe will look forward to each year.
Since ancient times, the winter solstice has marked a return of the sun, as the shortest day of daylight during the year. Technically, the sun appears at noon at its lowest altitude above the horizon on either Dec. 21 or 22. This year, it's happening on the 22nd. Mark your calendar. Traditionally, this season has been a reliable trigger for depression and anxiety for me and I'm guessing I'm not alone here. Just a few days before Christmas, the solstice is often overlooked. Our modern culture tells us it's a time to hit the mall, watch holiday movies and generally consume a little too much of everything.
That's a whole lot of numbing out. And while all of that is fine if you can manage to pull it off in moderation, I've come to realize that this is a recipe for emotional, physical and spiritual disaster and despair. This year, I'm planning ahead and prescribing an antidote to the winter/holiday blitz with a time-honored salute to Mother Earth, by embracing the annual seasonal shift and inviting my girlfriends to join in the renewal — mid-holiday madness.
The invite
Invite your girlfriends and their daughters over for a brunch, lunch or early evening dinner. Assure them that this will be a nurturing break from the holiday hustle. Ask everyone to bring a healthy snack to share. I'll be making my favorite winter warmer soup, Sarah Yates' date truffles, her salted honey and fig cheese cake, as well as offering tons of fresh fruit, veggies, cheese and sparking water. And because I'm a little bit hippie and little bit heathen, I'll have some Champagne on hand for a post-ceremony toast. It's a time of celebration after all.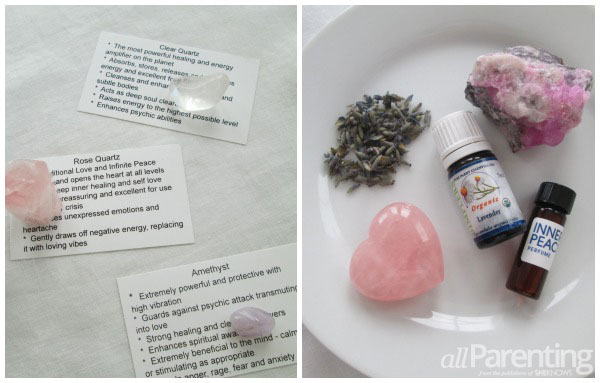 Party prep
Set a beautiful table with elements from nature, candles and the makings of an indulgent party favor. I clipped greenery and herbs from my yard and wrapped them into a loose wreath. Fill a wide bowl with unscented bath salts. Add small crystals of all shapes and colors — one for each guest. These usually run about 25 cents to $1 each. Set aside a selection of essential oil, flower essences, dried lavender and rose petals.
Have some paper and pencils on hand for writing down intentions for the new year as well as something from the past year each guest is ready to release. Those will be burned, while the new intentions will be shared and treasured.
Ask your friends to bring a small empty Mason jar or buy some in bulk at your local craft store. Each guest will eventually fill her jar with bath salts, one crystal and a drop or two of her favorite scent. She can fill her bathtub or just soak her hands or feet in the salty mixture after the holidays as a special remembrance of the intentions set on the solstice.
I also included several bundles of white sage — used to purify your home and each guest. You'll light them like incense and carefully swath or "smudge" each friend with a bit of the herby sent for a cleansing welcome to the party.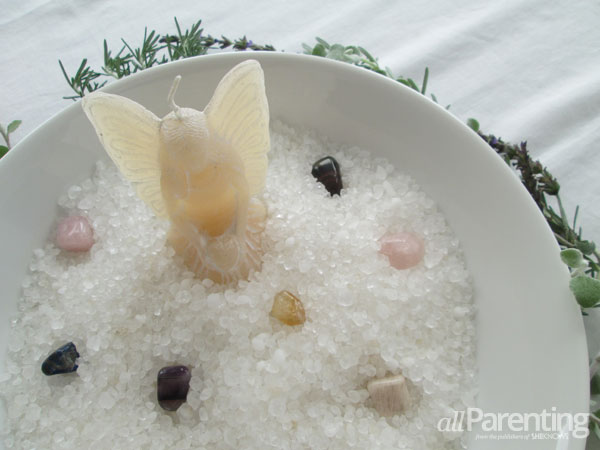 For the littles
If you have young girls attending, prepare an area where they can color, make fresh crowns of herbs and greenery much like the decorative wreath and munch on festive snacks. Pick up a coloring book with a fairy theme and make photocopies of several pages so they can get in the enchanted spirit. Look up each of their "fairy names" and prepare special name tags or place settings.
Celestial celebration
After "smudging" your tribe, offer everyone a beverage and light snack and gather the ladies around your sacred table. Explain the ceremony. Everyone will take a sheet of paper and write down at least one thing they are ready to let go of from 2013. Maybe it's something specific, like a relationship that is no longer serving them or it could be a broader issue like an unhealthy need to control or micro-manage aspects of their life. The possibilities here are endless and probably quite personal. Then take the group outside where you have prepared a safe fire pit or BBQ. Each guest is then invited to share their writing (or not) and add it to a small fire.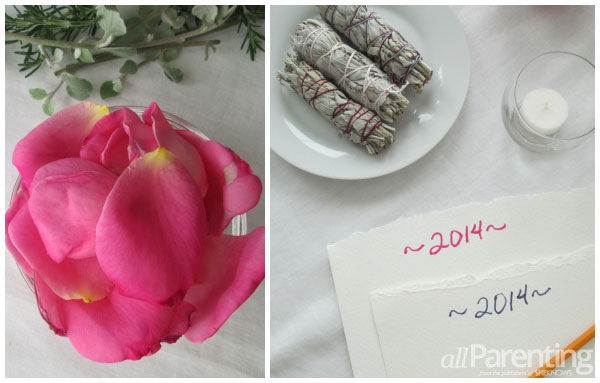 Share and tell
Then head back inside to prepare your one goal for the new year. Each guest will write theirs down along with a few steps they can take to achieve that goal. I love the idea of going around the table and sharing these. Often there are people among us who can help us along our journey. This is a great time to reach out. Consider it spiritual networking. Everyone at the table is connected to their own network of support. So whether you're wanting to embark on a new career, visit a foreign country, run a marathon or give up an addiction, chances are someone in that room can help you get one step closer.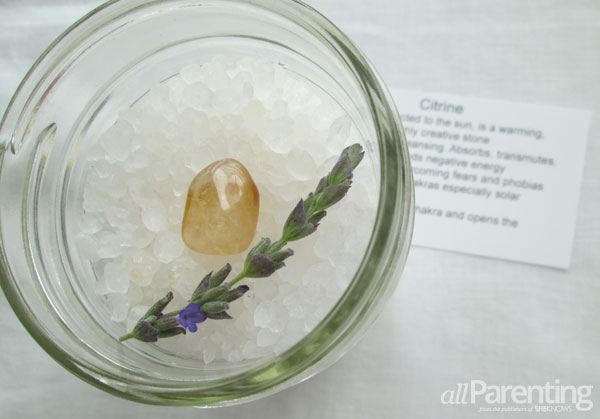 Fill your jar
Finally, every guest fills their jar with bath salts, chooses a crystal and adds a fragrance that feels comforting or inspiring. Be sure to include cards that explain the meanings of each crystal and scent. For example, rose quartz is known to encourage deep inner healing and promote self-love, while moonstone promotes intuition and empathy. The idea here is that each woman will be drawn to whatever color and scent that they need in that moment. They can add dried herbs and rose petals to make their bath mixture even more indulgent. Your little fairies will love this part of the party. My 5-year-old looks forward to bath time when she knows she can add a heavenly scent and some rose petals. I like to think of her as a little goddess in training.
Once your rituals are complete, it's time to feast and celebrate. Poor some bubbly, cut the cake and soak in the divine magic that comes about when women come together as a force for good. Hopefully, you'll all rejoin your families with a renewed sense of connection to one's self, each other and the earth. At the very least, you all will have enjoyed a shared respite from the treadmill of modern life, while paying tribute to our planet's endless rotation around the sun.
For more inspiration on this topic, visit Mystic Mamma. She's an uplifting resource on this subject.
More girl time
Beyond spa days: 4 Unique ways to spend girl time
5 Girlfriend getaway ideas
Ditch girls' night out