Posted: Feb 13, 2014 12:00 PM
Joanna Costa was born with Arthrogryposis (the rare disability shared by
The X Factor
contestant Rion Paige). Despite the fact that only two fingers on each hand function, Joanna has just released her first CD of classical piano music. It will take your breath away.
Joanna Joy Costa plays the piano beautifully, and she does it using just two fingers on each hand. She is a classical pianist and has been playing since age seven, despite a disability that restricts the use of her hands. Now a teenager, Joanna has released her debut album, Four Fingers, Two Hands, One Piano. Without a disability to contend with, her playing would be excellent. But when you watch her music in action, you'll see one of the many ways in which Joanna is extraordinary.
Costa says she's wanted to play the piano "ever since I could remember. Especially whenever I saw my father, mother or older brother play…"
Making it happen
Nancy Costa, Joanna's mother, admits that she had her doubts. "At first, I was not convinced she would be able to play the piano. I was a piano teacher and I couldn't envision anyone being able to play with just two fingers. But, with the encouragement of my mother and brother, we made an appointment for an assessment with a music school that offered adaptive lessons with music therapists. We met Janet Robertson, and she was very positive about Joanna's abilities."
At seven years of age, Joanna began to work with Robertson. They adapted classical piano pieces to Joanna's abilities by simplifying the music down to key notes that can be covered with four fingers at once. Piano music is written, of course, assuming the player will be using 10 fingers, but Robertson didn't see that as a problem, as she has taught piano and other instruments to students with disabilities.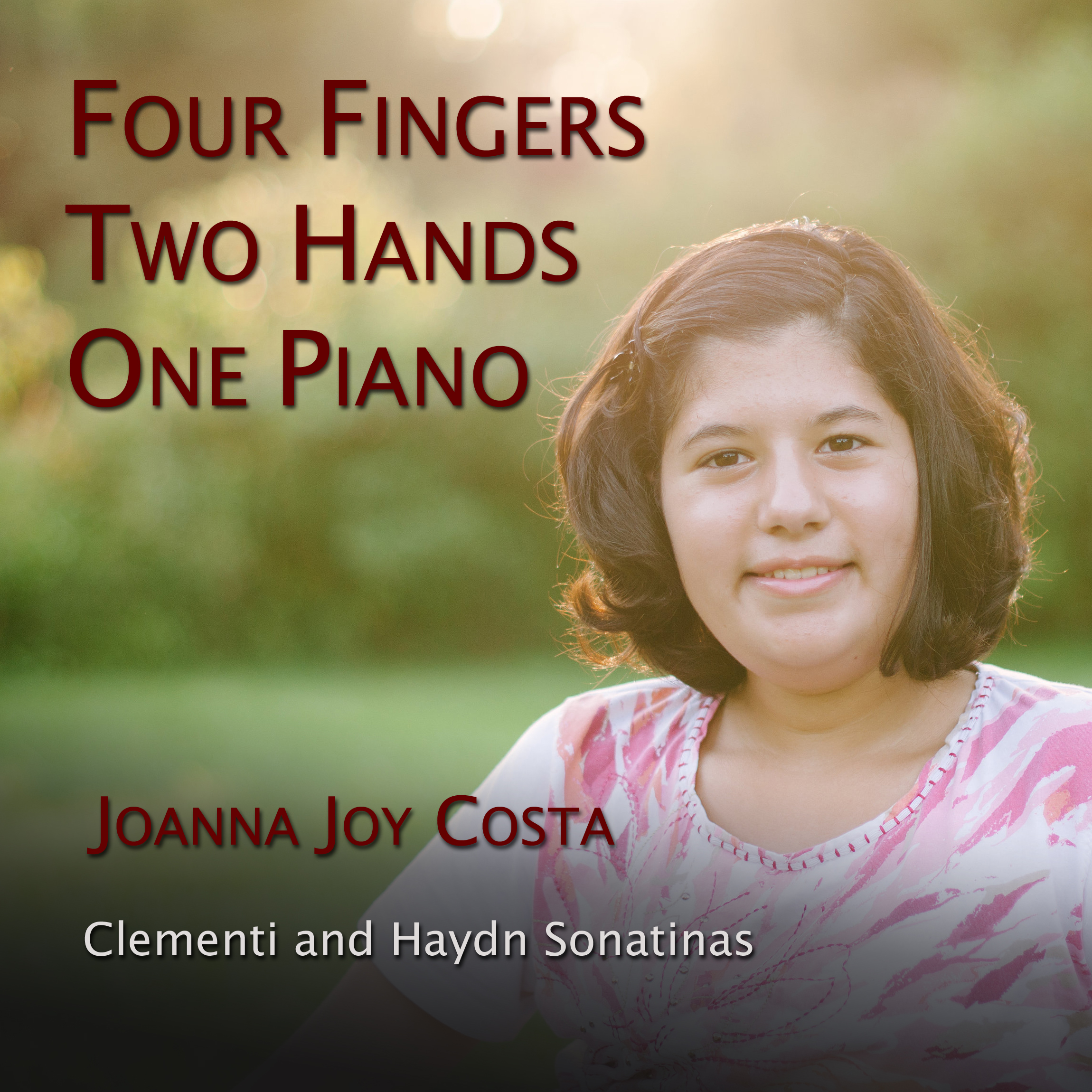 "I can either play most pieces," says Joanna, "or if needed, simplify very complex pieces enough to play almost anything. I cannot play as fast as other pianists because of only being able to use my thumb and forefinger. It can be frustrating and discouraging when I cannot play a piece as it was meant to be played or as some of my friends can play it. It can also be frustrating when a friend is playing a duet with me and I make a mistake." But, she points out, even if she's not the one making the error, people often assume it's her because of her disability. "I think that sometimes people just automatically assume I cannot play as well as other people."
With the debut of her first CD, her skill is no longer in question. She says she started recording the CD three years ago thanks to her dad. "I have to blame my father for this one. Primarily, dad encouraged me to share my story. Our desire was to promote the idea that disabled individuals can still do amazing things (and should not be looked down on by others in society) and we wanted to bring glory to God through the process."
Why stop there?
Even with all she's accomplished in her young life, Joanna isn't stopping here. There is, after all, a whole world of instruments she hasn't tried yet. "I also developed a love for the hammer dulcimer when I saw one at a friend's house (our friend had hand made a hammer dulcimer for his wife). I started saving money to buy one, and my parents surprised me with a visit to a hammer dulcimer artisan in Virginia. They had already arranged to buy the dulcimer and made up the remaining funds needed and we came back home with my dream instrument."
Despite whatever fears Roy and Nancy Costa may have had in the beginning, they fully support their daughter's musical career and do whatever they can to help her make it happen, even if it's only to place the instrument in her hands.
What it's like
Joanna was born with a condition called Arthrogryposis Multiplex Congenita. This is the same "AMC" that Rion Paige brought into the spotlight in a recent season of The X Factor. "AMC affects my feet (need to wear leg braces) and my arms and hands. I have minimal biceps and so have no active flexion in my elbows." Day to day, she says, the disability makes it harder to dress and shower and to do her hair. "I'm currently trying to master straightening my hair. I can do all of my hair except in the back."
I think having AMC has forced me to be willing to let other people help me, and to admit I can't do it all. But it is very frustrating when people assume I can't do something before I even try.
"
"
All this conquering is hard work, she admits. "I often get very fatigued and I'm usually pretty tired by the end of the day. My arms often get very tired. When I eat, I lift my right arm with the support of my left arm. Sometimes my arms are so tired that it is hard to eat. And sometimes I am really hungry but I am struggling so much to eat that my mom will offer to feed me. I love my mom but it is really hard to have someone feed me. I think having AMC has forced me to be willing to let other people help me, and to admit I can't do it all. But it is very frustrating when people assume I can't do something before I even try."
On the cover of her album, Joanna Joy Costa is the picture of peace. Her beautiful smile with a backdrop of summer green might fool you into forgetting that every day is a fight for normalcy. "Probably one of the hardest things about AMC is that I look different than other people and can't do the things they do," Joanna says. "I will wear long sleeves or jackets or put my hands behind my back because I don't want people to see them, or I wear long pants even in summer to hide my leg braces. I do that less now because I am learning that I don't have to be ashamed of my hands or my feet."
Opening doors
But because she fights, because she lets the world in on her work and her music, doors have opened up for her like never before. "I have been able to play in several concerts at our church, and a couple times I have been able to play the hymns during church services. I am also learning music theory. I have sung in many ensembles and choirs and played in ensembles too. People (disabled and otherwise) have often told me that they are inspired to practice their own instruments more, which I find very encouraging."
If she were given the opportunity to make AMC "go away," and have a normally-functioning body, Joanna isn't sure that she would. Some days, she wants so badly to be like other people, and some days she's thankful she's not. In the end, "God knows a whole lot more than I do, and He decided it was best for me to have it, so it must be best, even if I don't completely see how it is... yet."
In the light of all her daughter has achieved and is working toward, Nancy Costa has some excellent advice to parents: "If they express an interest in something, encourage them to try even if it doesn't look the same or sound the same." Whatever you do, she says, "Don't stand in their way."
Be sure to visit Joanna's website to read more about her, and please consider supporting her music by buying her CD.
More inspiring stories
An interview with Momastery's Glennon Doyle Melton
Christy Turlington is certain that every mother counts
Christmas arrives in October for boy with terminal cancer