Posted: Jan 31, 2014 9:00 AM
In the new year we always vow to do more for ourselves as moms. After January, it seems to stop and we're back to the hustle and bustle of everyday life. This year keep your positive thoughts and gratitude going the whole year through with these five items.
It seems like every year we rush through the holiday season and don't even get to enjoy it. Then before you know it, January is over and then it's onto summer. While it's great to get into warmer weather, with each passing day, there's something that also changes — our attitudes toward everyday life. In the holiday season we do our best to spread the holiday cheer but when push comes to shove, our kids suffer the most when we're stressed out every day. If we're short on patience, then they may get a little bit of "mom attitude" that isn't all that necessary. This year, I promised myself and my family that we would work together to create a more positive environment each day with the help of these five items.
PRICE: $29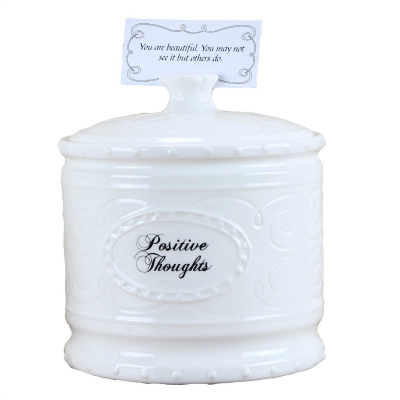 I actually bought my own family and my mother the Positive Thoughts Jar for Christmas this year. I think it's the perfect way to start your day and get motivated to accomplish your never-ending to-do list. If you start your day reading your social media feeds, you can sometimes feel discouraged and daunted by the day's news or negative thoughts people have already put out there. Put this jar on your nightstand and reach for it first thing as opposed to your iPad.
PRICE: $9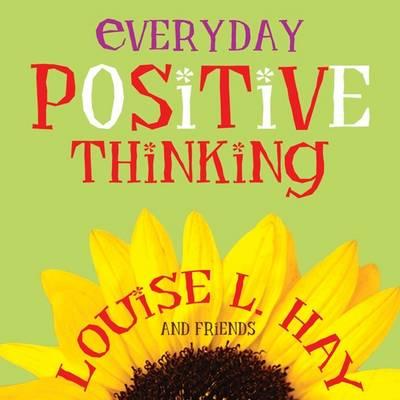 If you don't have time to start your day with a positive thought or you're traveling away from home, take this book with you in your purse for a quick reflection midday. Reading a positive quote can instantly brighten your mood and with quotes from Deepak Chopra, Sylvia Browne and Suze Orman, one can't go wrong.
PRICE: $13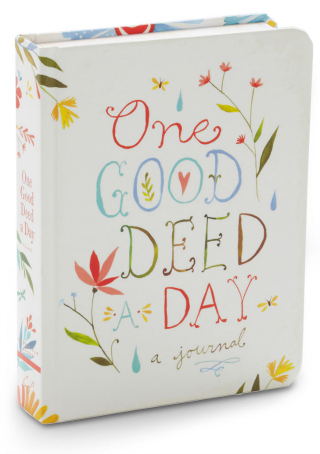 I have to tell you that I always feel so much better about myself and my day when I know that I've done a good deed. Over the holiday season, I bought a coffee for a stranger, turned in lost money and adopted three families to make their holiday season special and merry. It's not so easy to do that every day in life. This journal gives you simple prompts each day so that you can easily complete that one good deed and make not only your day more positive, but also someone else's. Prompts include: smiling at a stranger, putting money in an expired meter and taking your neighbor's trash bins in.
PRICE: $1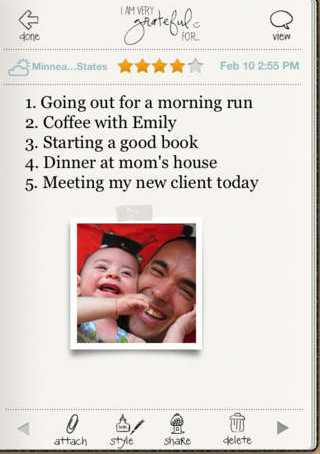 They say that writing down things that you're grateful for will make you happier in the long run. As a writer, I agree. When you actually read the words, it's much more powerful than just saying them. The Gratitude Journal App is a great way to keep track daily of the simple or big things that you're grateful for. Having coffee with a friend you haven't seen in a while or being able to get out of bed after a long illness are both important in different ways and should be dully noted and reflected as you start and end your day.
PRICE: free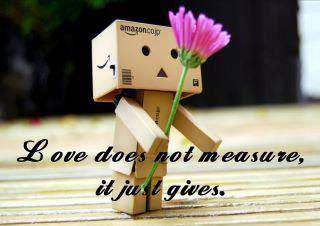 If you're like most people these days, the first thing you look at in the morning is your smartphone or tablet. You want to get started with your day by knowing what's happening in the world and what the weather is going to be like outside. While those are all important things, setting the tone of your day is just as important. Start your day on a positive note by following and liking a positive affirmations page on Facebook. You can choose to just read and reflect on the quote of the day or actually share it with others so you can pass the positive thoughts forward to others.
More on positive thinking
Chicken Soup for the Soul: My own label
Give meditation a try
Self-improvement