Posted: Mar 21, 2014 7:00 AM
The Hands Free Revolution encourages moms — and dads! — to live more intentionally and deliberately. Rachel Macy Stafford isn't asking you to strive for perfection. She wants you to find a balance that works for your family's happiness.
About The Hands Free Revolution
109,000 people "like" The Hands Free Revolution — a sign that Rachel Macy Stafford's movement resonates with people. Stafford once lived a Type A life filled with commitments and packed schedules, a head that nodded yes to every request and a phone that allowed her to stay connected to all of the people pulling her in countless directions. People complimented her on her organization, her ability to juggle community responsibilities with a work-at-home job and a loving family. Through it all, Stafford kept making lists, responding to emails and prioritizing in a way that meant she was always beholden to someone — to everyone but herself.
The Hands Free Revolution is what happened when Rachel Macy Stafford decided to step away from her phone — literally and figuratively — to focus on the joy, the life and the people in front of her. Stafford's blog, Hands Free Mama, follows her journey to becoming more present and less scheduled.
Why you should read Hands Free Mama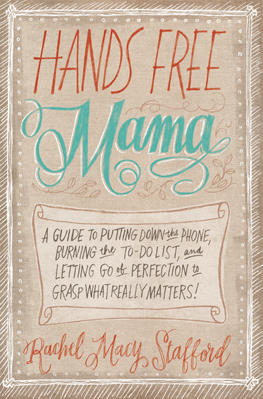 Hands Free Mama: A Guide to Putting Down the Phone, Burning the To-Do List, and Letting Go of Perfection to Grasp What Really Matters! (Amazon, $12). The title of Rachel Macy Stafford's new book gives readers a strong idea of what they'll find when they start reading. Readers of her blog and Facebook followers will recognize some of the stories within the pages of Hands Free Mama, but the book is about so much more than Stafford's personal journey to becoming more hands free.
Hands Free Mama is a book for the person who feels stretched too thin — but thinks it will be better when this project is finished. Hands Free Mama is for the mama who's periodically nodding at her daughter's story while mentally composing an email in her head and checking to see if the school concert is at 7:00 or 7:30 p.m. Hands Free Mama is for the woman hurrying her kids through the zoo to get to the next appointment instead of pausing to look at the butterfly landing on a tree branch.
Hands Free Mama is for anyone who closes their eyes at the end of the day and feels guilty about rushing, being distracted or snapping at their kids — yet does exactly the same things the following day.
Hands Free Mama is a guide — not a to-do list
Each of the 12 chapters of Hands Free Mama contains intentions, reflections and questions along with Stafford's personal stories and observations about how she is working to change her perspective and actions. You can take a year to finish the book — or read it in a few days and pull what speaks to you from its pages. Stafford isn't attempting to prove she's discovered the secret to improving your life. She's showing what's helped to improve hers, and she's offering guideposts for others to reflect and make decisions about how they want to prioritize and focus.
The intentions and reflections will help readers pinpoint what is fighting for dominance in their lives and what they want to bring to the top of their priority lists.
"
"
Each reader needs to discover for herself what being hands free means to her. The intentions and reflections will help readers pinpoint what is fighting for dominance in their lives and what they want to bring to the top of their priority lists. Some of the intentions are straight-forward, like using car time to converse, and others are more complicated, like "create a life list," but all of them come with examples and guidance and let readers personalize the book to their lives.
Set aside the "buts" and the "soons"
Busy moms — and dads — can rationalize why Stafford's former life is different from their busy, hyper-scheduled, hyper-committed lives. Rationalizing distraction can be easier than pushing against it, because becoming less distracted means giving up some of the things that fill our days. Stafford admits her path toward a more intentional, present life hasn't ended. She discusses that she is constantly working to reconcile her Type A tendencies with the purposeful life she is developing with her family. She lets the reader in on her vulnerable moments, and she wants readers to know that she also used to think things would get less chaotic "soon." Soon never came, so she reshaped her focus. Stafford isn't a perfect guide — and that's part of what makes her book so powerful, a must-read for anyone distracted enough to feel like they're missing out on what truly brings them joy.
More about parenting books
6 Books for preemie parents
Parenting books to keep you sane
Find humor in all parenting stages
Photo credit:B2M Productions/Photodisc/Getty Images