Posted: Apr 17, 2014 8:00 AM
You've been pinning your heart out for the past couple of years now and honestly, your Pinterest account is starting to look a little, well, crazy. Here's how to give your Pinterest boards a mini-makeover.
Photo credit: Francesco Ridolfi/ iStock/360/ Getty Images
Step 1: Reintroduce yourself to your Pinterest boards
Think about who you were in early 2011, when Pinterest started gaining popularity, then take a close look at your Pinterest boards. We can imagine that there are some boards that will have you rolling your eyes and thinking, "That's so 2011." But, beyond flat-out deleting boards that you may not have a use for anymore, consider organizing your boards so that they are more useful.
For example, you probably have multiple boards for recipes, which leaves you searching through dozens of pins to find the recipe you need. Try creating boards for "Favorite Dinner Recipes" and "Favorite Kid Desserts" and so forth, to give you easier access to the pins you hunt for regularly.
Don't be afraid to shuffle your pins around to fit how you use Pinterest. Some favorite useful boards that allParenting readers use most: Books to Read, Favorite Recipes, DIY Projects.
Be sure to check in with the names of your Pinterest boards as well. While cute, cheeky board names may seem fun, sometimes the more straightforward names end up being the most helpful.
Step 2: Have the guts to break up with old pins
Click on the pin you'd like to delete, then click on the tiny gray pencil on the right-hand side of the pin. This will take you to the pin edit screen.
Select the Delete Pin button.
There's no need to be ashamed of the pinning-sprees that you've been on. We've all done it. But, if you no longer need 24 pins on curtain ideas for your bedroom, let them go. (You can sing a little bit of Frozen while you do it, if that helps.) Hanging on to old pins is about as useful as hanging on to the jeans that you were able to wear your senior year of high school. Just because you could possibly fit into them again, doesn't mean you should actually wear them... in public. Have the guts to break up with your old Pinterest pins in an effort to make Pinterest more usable.
Step 3: Create an archive
Click on the pin you'd like to move, then click on the tiny gray pencil on the right-hand side of the pin. This will take you to the pin edit screen.
Select the new board you'd like to move the pin to and click "Save Changes."
Have pins that you don't necessarily want on the boards you originally pinned them on, but aren't ready to lose them altogether? Create a "Pin Archive" board when you can move all of those pins for later use. This is also a great place to move pins that you no longer have use for, but that may have been re-pinned by multiple other people. Keeping the pin, but moving it to an archive will still allow them to access the original pin info. To move a pin:
Step 4: It's all about who you follow
If you're like me, you followed everyone you knew (and their mother, literally) when you first signed up for Pinterest. But now, there are definitely people you follow who you look forward to seeing their pins... and others who you scroll past as fast as your finger will allow you on your iPhone. Don't be afraid to "Unfollow" Pinterest friends whose pins are dragging you down. It's not likely that they'll notice that you aren't following their boards and you will enjoy Pinterest much more if you curate the pins that you see.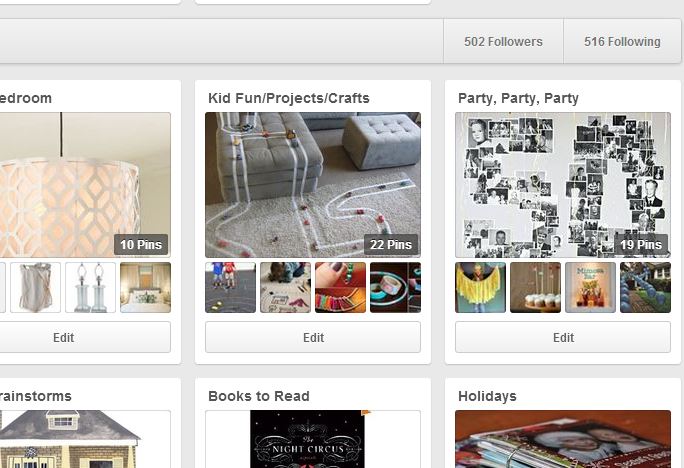 Go to the upper right corner of Pinterest, click on your name, then click on "Your Profile and Pins."

Go to the far right side of the page and click on the button that shows who you are following. For example, it will say: "112 Following."

This will take you to a list of all of the people you are following, where you can unfollow anyone you choose with one simple click.
Step 5: Check in with your profile and settings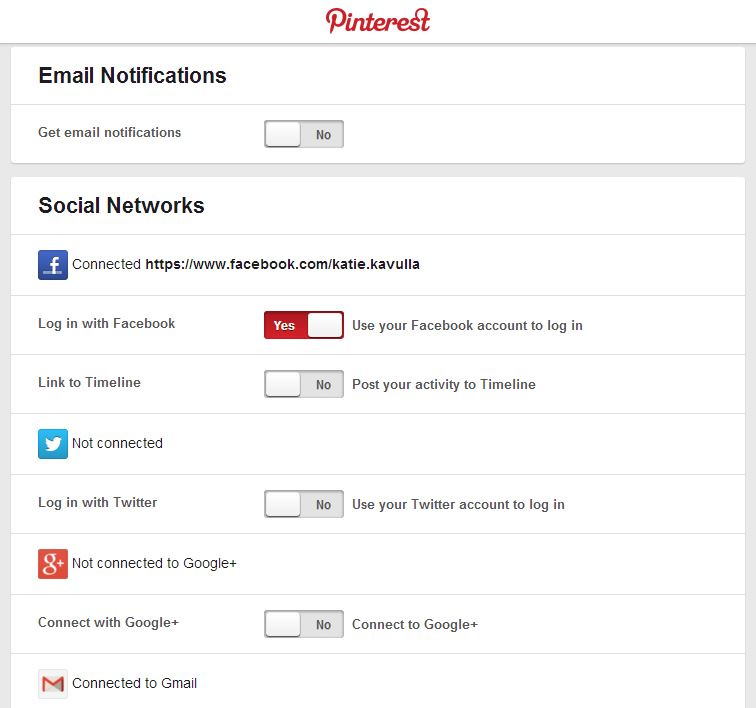 Last, but not least, be sure to take a peek at your profile and settings to make sure that you are using Pinterest the way you'd like. It seems as if there are constant updates to this section of Pinterest, so if you haven't updated this page in a while, there are surely some new options to consider.
A few that are important to take note of:
Website: Under "Edit Profile," if you're a business owner or blogger, you can now verify it with Pinterest to link it to your professional pages.
Search Privacy: Click this button to "Yes" if you'd prefer that your Pinterest account not show up during Google searches.
Link to Profile: Under the "Facebook" heading, click "No" if you want to keep all of your pins off of Facebook.
More on Pinterest
Best photography boards on Pinterest
5 Moms to follow on Pinterest
Pinterest dinner ideas