Posted: Jul 24, 2014 9:00 AM
You've seen plenty of DIY chalkboard paint projects that turn frames and trays into message boards, but these ideas will inspire you to add a little chalkboard paint to just about anything. From lunch boxes to placemats, check out these awesome chalkboard paint crafts you can tackle, too.
Chalkboard-painted bento box
Instead of slipping a lunchbox note into your kiddo's lunchbox, leave your sweet sentiments right on the outside of your youngster's lunchbox with this Bento Lunch with Chalkboard Note Area by Repeat Crafter Me.
Materials:
Chalkboard contact paper
Plastic bento lunch container
Chalk ink markers
Directions:
First, choose your bento lunch container with a flat surface, like the Spencer Bento Box container from Pottery Barn Kids Repeat Crafter Me chose.
Then, measure and cut your chalkboard contact paper to fit the outside of the top lid of your bento box.
Finally, carefully peel and adhere your chalkboard contact paper to the bento box and use your chalk ink markers to leave a note for your little student.
Kids' chalkboard table
Whether you draw streets and let your youngsters drive cars along them or you have kiddos who just love to doodle, this chalkboard-topped kids' table will be a hit with any age group as they can draw, erase and repeat.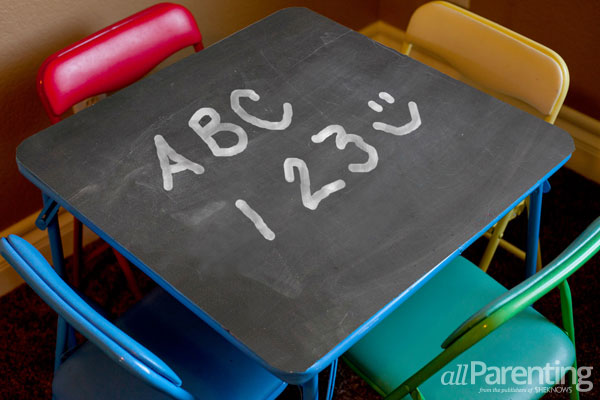 Materials:
Child-sized table
Fine grit sandpaper
Painter's tape
Newspaper
Chalkboard spray paint
Stick of chalk
Directions:
First, for tables topped with paint, give the surface of your tabletop a light sanding to give your chalkboard paint something to stick to. Wipe clean with a slightly dampened rag and dry.
Next, use the painter's tape to tape off the side edges of your table top where you don't want your chalkboard paint craft to cover. I am the queen of overspray so I taped newspaper along each side of the table to cover the legs just in case but it's optional.
Then, give your tabletop 2 even coats of chalkboard spray, following the drying directions on the can between coats. Allow to dry for 24 hours.
Finally, rub the entire chalkboard surface with the side of a stick of chalk and erase it once to "cure" your chalkboard paint project and let your kids go to town with their imagination.
Tiny chalkboard necklaces
Looking for a chalkboard project with a little bit of sentiment? Get your message across with these adorable tiny chalkboard necklaces by Lil Boo Blue.
Materials:
Photo pendant from craft store
Black paper
White gel pen
Scissors
Directions:
First, pick up a photo pendant from the jewelry section of your local craft store.
Next, remove the small plastic covering and the template inside to measure your writing space.
Then use your gel pen to write a tiny message on your black paper, practicing until you get the result you want.
Finally, cut out your "chalkboard," slip it into your photo pendant and replace the clear plastic cover for a tiny chalkboard craft that makes a cute gift or keeper.
Chalkboard coasters
Whether you use these coasters to doodle or let guests personalize with their name to remember whose drink is whose, this chalkboard craft will be a great conversation piece at your next party — literally.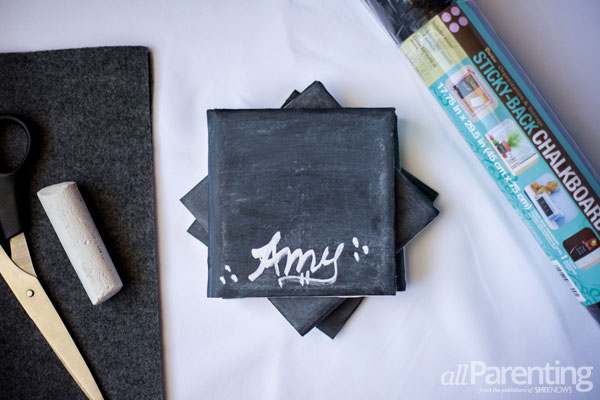 Materials:
4 ceramic tiles
Sticky-back chalkboard paper
Felt
Scissors
Hot glue gun
Chalk
Eraser
Directions:
First, pick up 4 ceramic tiles at your local home improvement store; each tile should run less than 20 cents apiece.
Next, trace your tile onto the back of sticky-back chalkboard paper and cut to size.
Then, carefully stick your chalkboard paper to the front of your tile and smooth out. It helps to do 1 edge at a time, only removing the paper backing little by little as you go, smoothing along the way. Repeat with each tile.
Now, measure and cut a square of felt to fit slightly smaller than the back of your tile and adhere to glue. This will keep your chalkboard paint craft from scratching your tabletop.
Finally, rub the entire chalkboard surface with the side of a stick of chalk and erase it once to "cure" your chalkboard paint project and keep or gift these handy knickknacks. Don't forget to leave out chalk for your guests to use when they come over.
Chalkboard placemats
Add a little fun to your tablescape with a chalkboard project that begs to be drawn on. This chalkboard placemats craft by An Oregon Cottage is not only perfect for personalizing seating arrangements but also great for keeping kids entertained at dinner.
Materials:
Upcycled cork-backed placemats
Flat black paint
Foam roller brush
Chalk
Read more DIY projects
DIY recycled crayon crafts
DIY wine bottle crafts any mom can make
DIY mercury glass decor