Posted: May 18, 2012 4:15 PM
From tweets to tattoos, check out these creative ways to announce your pregnancy.
OK, so my babies aren't babies anymore -- they're 13 going on 14 and ten going on 40. When I was pregnant, I couldn't tweet the news or update my Facebook status with an ultrasound photo because, well, social media didn't exist. I'm really not that old am I? The only "creative" way I announced my pregnancies was to say, "I'm pregnant." Yes, I was that creative.
Luckily for you, it's 2012 and there are tons of creative ways to announce your pregnancy. Here are some fun ones from new moms:
A unique grab bag for the holidays
Laura D. says, "For my first -- at a friend's gathering, we were going to pick names for Christmas giving. I offered to make the slips that we would pull. I put "Baby Dutil" on a slip and waited. We got through about five picks before it was pulled. The surprise was awesome -- at first a moment of confusion, then mayhem as people screamed, laughed and cried."
Make baby and prosper
Angela L. shared the news with her husband by giving him a Star Trek onesie along with her positive pregnancy test.
Let your dog make the pregnancy announcement
Colleen S. let her puppy share the big news. "A lot of expecting parents are already parents -- to dogs," she says. "So, a cute way to announce the pregnancy is to tie a little sign around your dog's neck that says, 'I'm going to be a big brother... to a HUMAN!' or 'Mom and Dad are a expecting a 'real' baby'!"
Do something EGGstra special
Mandy V. explains how her sister told the family she was pregnant. "She learned she was pregnant just before Easter. So, she bought ten of those little plastic eggs that crack open in the middle and inside each egg was a letter spelling out 'I'm Pregnant'. She sent the eggs to my mom on Easter with a bouquet of flowers. My mom unscrambled the letters immediately and called my sister crying with joy."
Breasts -- they're not just for milk anymore
I have to admit, the most creative pregnancy announcement I've seen lately is a tattoo.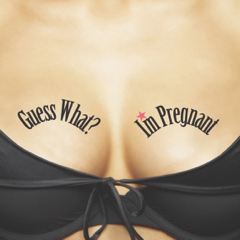 That's right -- don't worry, it's temporary. Check out the "Guess What? I'm Pregnant!" tattoo from TaTaToos. And yes, you wear it on your "tatas" to tell your partner you're pregnant in a very special way.
More about the first trimester
First trimester ultrasound: What to expect
Morning sickness until midnight
The five most surprising things about the first trimester