Posted: Apr 19, 2012 6:49 AM
Every pregnancy is unique, and while nine months may feel like an eternity, it's over before you know it. Check out these five fun ways to turn pregnancy milestones into keepsakes that will last a lifetime.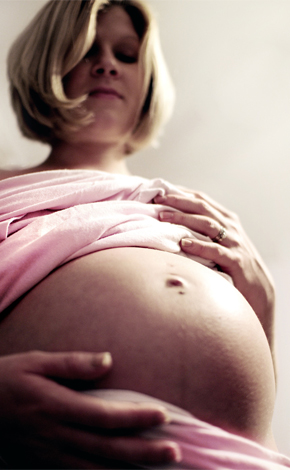 Taking the time to document my second pregnancy was difficult. Between the severe first-trimester morning sickness and excruciating third-trimester back pain, it was hard to get motivated, but I still made an effort to track my pregnancy milestones.
Check out these five fun ways to document your personal pregnancy journey.
1. Weekly belly photos
Taking a photo of your growing baby bump each week is a wonderful way to see how much your body changes throughout pregnancy. Stand in the same location each week, and take a side-view photo of your belly. You can set your camera up on a tripod and use the timer, or ask your partner to take the photo for you.
2. Stop motion video
Take the weekly belly photo one step further by using the images to create a stop motion video. A stop motion video is a dramatic way to view your entire pregnancy, one week at a time. You can see a charming example of a stop motion pregnancy video at Pacing the Panic Room.
3. Pregnancy scrapbook
A traditional scrapbook is a beautiful way to turn pregnancy memories into a cherished keepsake. Fill the scrapbook with ultrasound images, belly photos, pregnancy symptoms and even photos of your baby's nursery. A pregnancy scrapbook will really allow you to be creative and it offers a more hands-on approach to documenting your pregnancy.
4. Online pregnancy journal
If you love the idea of a pregnancy scrapbook but don't consider yourself the crafty type, an online pregnancy journal is perfect for you. Online pregnancy journals like Mama Memoirs give you the ability to track your pregnancy milestones, save belly photos and even note your weekly pregnancy cravings.
5. Blog your pregnancy
For those of you who are like me and want to share your pregnancy with the world, blogging is a great choice. Documenting your pregnancy on a blog not only allows you to track special moments, it gives you the ability to share those moments and milestones with your friends, family and readers. You can even have the best of both worlds by using Blurb's Blog to Book service to print your blog.
Dear Moms: How did you document your pregnancy?
More about your pregnancy
First trimester ultrasound: What to expect
Morning sickness until midnight
I'm pregnant! Creative ways to share the news