Posted: Jul 12, 2012 10:00 AM
There's a standing debate in the world of pregnant moms -- is it better to be pregnant in summer or winter? Well, if you're nearly full-term and the summer sun is blazing, you may be cursing your summer pregnancy! But don't worry, we're veteran moms and we have tips that actually work for staying cool all summer long.
Take a dip
We know that the last thing you want to do right now is put on a bathing suit, but take our word for it -- going swimming, or even wading, is going to cool you down so much! Not willing to invest in a maternity swimsuit or try to put on that teensy bikini you loved pre-pregnancy? Grab a pair of your husband's swim trunks and a tank with a sports bra underneath instead. It will do the trick just fine and you won't care what you're wearing in the water, as long as it keeps you cool!
Dress light
When it comes to staying cool during pregnancy, you may have to deal with the heat during summer, but at least you don't have to wear sweaters, like iin winter! Dress as light as possible -- lightweight dresses instead of pants or even shorts, flowy tanks that don't cling to your belly and ditch the socks for sandals. Staying cool at night is also something to consider, so don't forget some cotton nightgowns to replace your flannal PJs.
Now, this is really dressing light! Read more about taking Nude maternity photos >>
Drink up
Believe it or not, the best way you can keep you pregnant body cool this summer is by keeping hydrated. Pick up a cute waterbottle or one of those plastic reuseable cups with a straw and take it with you everywhere so that you always have cold water to sip on. Pick a cup that's insulated, so that your ice won't melt quickly. Not a big fan of drinking water? Try flavoring it naturally with lemon, cucumber or berries, or make de-caffeinated iced tea to quench your thirst.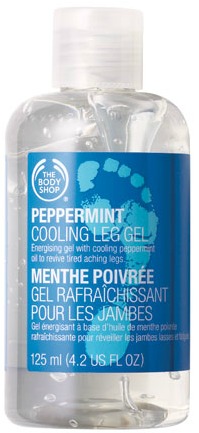 Is coffee your drink of chioce? Educate yourself on Caffeine and pregnancy >>
Chill it
Have you ever heard this stay-cool pregnancy tip? If you are suffering from swollen legs and tired pregnant feet during your summertime pregnancy (cankles, anyone?), try leaving a bottle of lotion in the refridgerator. At the end of a long, hot day, use that chilled lotion on your preggo body for an instant cool down! We also love the Peppermint Cooling Leg Gel ($14) from The Body Shop. It's perfect for keeping in your purse for a leg cool down while you're at work.
More pregnancy tips
5 Things nobody tells you during pregnancy
Surviving pregnancy bed rest
What to do with your water breaks