Posted: Oct 29, 2012 10:00 AM
Maternity fashion guru Liz Lange has shared with us tips for looking stylish and trendy during pregnancy — without blowing your child's college fund on maternity clothes!
If you love bump-hugging fashions and chic designer maternity jeans, you have Liz Lange to thank! Before Lange, many pregnant women had to resort to concealing their pregnant baby bumps under their husband's shirts or wearing oversized dresses or muumuus. Lange was one of the first designers that created a line of maternity clothes that embraced a women's changing shape.
Embrace your baby bump! Show it off!
"
"
Lange's way of thinking? "Embrace your baby bump! Show it off!"
She said her friends would often complain to her that it was impossible to find stylish and flattering maternity clothes. "My idea was to design sophisticated pieces with a fitted silhouette to complement the body. I built my brand around this philosophy of celebrating the bump — not hiding it," Lange tells AllParenting.
She started with her high-end Liz Lange collection and has sense branched out to create a more affordable line at Target. Lange has done a fabulous job of interpreting this season's hottest trends into her Liz Lange for Target line.
From colorful knits to chic florals, check out her new fall line of maternity clothes at Target and find out the key pieces you need to look polished from trimester one to trimester three... and beyond!
Show off your baby bump!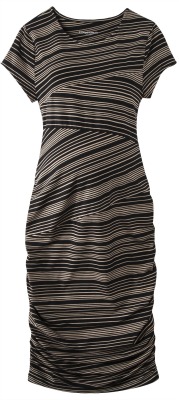 Lange says the most flattering clothes to wear when you are pregnant will show off your baby bump, not hide it behind layers of clothing. "Form-fitting fashion is hot this season," she says. "Go for a body-conscious dress with side-ruching that will comfortably hug your belly and create a flattering and chic maternity look."
One great choice is the Liz Lange for Target Maternity Contoured Knit Dress ($28), which would look perfect paired with a scarf and boots.
Stick with the staples
Jeans are a must-have piece in your maternity wardrobe. "A classic pair of jeans is an essential in every woman's closet, so don't shy away from denim during your pregnancy," said Lange, who "loves" these Under-Belly Bootcut Jeans ($27).
"They have a stretchy belly band that will comfortably grow with you all the way through the third trimester," she says.
To get the most bang for your buck, Lange says to stick to the darker wash denim. "I prefer a darker wash for the sleekness and versatility. They work with flats and a sweater for running errands, but they're polished enough to dress up for a night out," says Lange.
Don't be afraid of bright colors or bold prints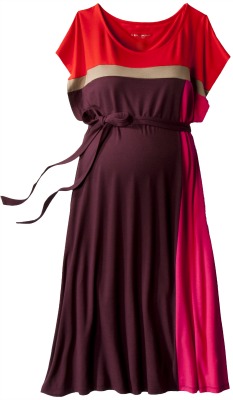 "From magenta to cobalt to emerald, go bright and bold with on-trend jewel tones," says Lange.
This Liz Lange Colorblock Ponte Dress is in a gorgeous combination of berry/orange/pink colors and would make a great baby shower dress.
"Try pairing this floral top from my Target collection with a sleek black pencil skirt for work or dress it down with denim for a more casual, on-the-go look," says Lange.
Not sure if you can get on board with bold colors? Not to worry! "If you're more comfortable with a subdued, neutral palette try experimenting with the trend through accessories," suggests Lange. "Add a pop of color to your outfit with a patterned scarf or a fun beaded necklace — since they have no size, you can wear them during and after your pregnancy."
Check out the entire line of Liz Lange's chic and affordable fashions at Target.com.
You might also like
Celeb mom maternity style steals: Kristin Cavallari
Get Tamera Mowry's chic maternity style from A Pea in the Pod
Celeb mom style steals: Kate Hudson's boho chic