Posted: Dec 03, 2012 4:00 AM
Think more information is better? Make sure you're prepared to hear unexpected results, and make sure to consider the truth no test will tell you.
So, you're pregnant and you're old.
Or, you're pregnant and your pregnancy is high risk for another reason besides age. Or, maybe you're pregnant and simply wondering how many tests you can undergo to find out as much as possible about your unborn child.
Whatever your circumstance, it's important to understand what prenatal testing can tell you, and whether you're prepared to hear the results.
The truth is, prenatal testing can be necessary and it can be an extra — something you don't need but you get it anyway, to make you feel good or reassured. Only you and your doctor can decide together the best plan for prenatal testing.
What troubles me about prenatal testing today is the high percentage of people who choose to terminate their pregnancies because they learn something that scares them.
When Down syndrome doesn't matter
Prenatal testing confirmed our unborn son, Charlie, had Down syndrome. It also told us he had developed a condition called hydrops. Down syndrome does not come with a likely chance of fatality. Hydrops does.
While our hearts froze in fear upon hearing "Down syndrome," The Husband and I held each other and cried to consider that our little unborn bean might not survive the pregnancy. It was a tremendous dose of perspective.
If you are considering prenatal testing and worried about what you might learn, consider this: Parenthood is scary. And the truth is that your unborn child can pose any number of challenges throughout your lives together.
Are you aware that your unborn child could become a felon? A vegetarian? An alcoholic? A racist? A judgmental snob who refuses to touch faux leather? (I am not implying that being a vegetarian is in the same category as any of these. Well, maybe the first one, and highly unlikely on that last one.)
Your child also may become a concert pianist. A teacher. An artist. An actress. Any number of professions you might not have imagined but that will fill you with pride.
Scientific results don't have cute toes
The truth is we know so little about how our children's lives will evolve, for better or worse. What's certain is that we will love them desperately no matter what. That is what I've learned from having a child with special needs.
My advice is simple: breathe.
"
"
The challenge is that, as you're receiving prenatal results, you're hearing only scientific, health-related information. Data. It's cold and it doesn't have eyelashes or pink bowtie lips. You won't get to hold your baby's tiny hand while you hear the news.
Ask yourself, what will you do if a physician gives you unexpected information?
My advice is simple: breathe. I know it's scary. I agree it's completely unfair to learn of a challenge before you've held your child in your arms and marveled at his perfect skin.
But you can do this.
Having a child with special needs is not the path most people imagine how their life as a parent will unfold.
But, wait a minute... when you first imagined parenthood, before you actually were a parent, did you have any idea the exceedingly powerful hold your bundled newborn burrito would have on your heart?
If you're honest, the answer is no. Because the truth is, no one can prepare you for the lengths you will be willing to go to help your child, to love your child and to give your child every opportunity.
Don't waste time on unknowns
Take a breath. Don't look at anyone else's situation. Look into your heart. The life you are about to undertake, whether you choose to complete testing or you choose to trust in a higher power, will be exactly what you're supposed to do.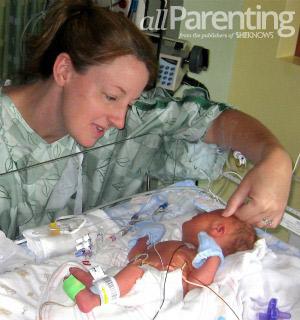 When we received our news, I took on two personas. The first kept her chin up, smiled brightly at anyone who asked how I was feeling and told people everything was going to be just fine.
The other barely made it to her car at night before tears would begin to roll down her cheeks.
That version of me walked slowly into a dark house and crawled under the covers, where The Husband would find me and beg me to talk to him. I couldn't. I was paralyzed. I blamed myself. I worried I would never have enough patience. I worried my son would have no friends.
In short, I wasted precious time. Because the moment I saw Charlie, in his preemie-sized diaper in the NICU, nothing else mattered. Just hours after a C-section, I nearly leapt from the gurney to touch his skin and feel him for myself.
That doesn't mean I haven't had my moments since Charlie was born. Again, parenthood is scary.
Again, it's not going to be easy.
But please trust me on this one.
Read more about pregnancy
5 Things nobody tells you during pregnancy
How much caffeine is safe during pregnancy?
10 Must-haves for pregnant travel