Posted: Jan 20, 2013 10:00 PM
Having swollen feet that won't fit in your shoes isn't a big deal when the weather is warm and you can wear flip-flops. But in the colder winter months, barely there shoes just aren't an option. Try these to keep your poor preggo feet warm for the last few months of your pregnancy.
Sweater boots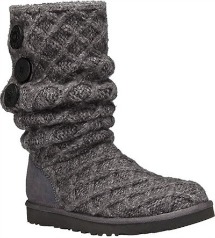 Instead of trying to squeeze your swollen tootsies and ankles into your knee-high boots with the stiletto heel (ouch), trade in the heels and leg-hugging boots for a pair of sweater boots with a flat sole and plenty of legroom. We can't get enough of the UGG Lattice Cardy sweater boot ($160) with buttons that not only serve as cute detail but functionality, too, as the boots fold, as well as scrunch down. Adorable and comfortable... Need we say more?
Rain boots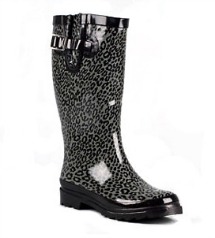 Rain boots are naturally over-sized, roomy and generally flat-soled. Sounds like an ideal combo for swollen feet. Plus, there are so many cute rain boot styles now that you can make them your signature fashion piece this season. We love this darling leopard pair from Charming Charlie, and for just $35, you can splurge on more than one pair.
Ballet flats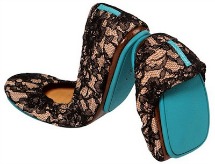 We understand that you can't spend your entire winter snuggled into sweater boots (boo hoo!). So for a day at the office or trekking around the farmers market, we suggest a stylish pair of ballet flats. A tip? Select a pair that stretches or forms to your feet to account for your swollen extremities. For a fashionable splurge, Tieks ballet flats ($265) are a must-have especially in this nude lace style.
TOMS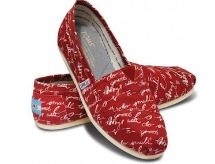 For casual wear we cannot get enough of TOMS comfortable classic shoe. The material is so giving that it will hug your swollen feet without cramping them. With Valentine's Day on the horizon, we've got our eyes on the darling Great Love Women's Vegan Classics ($54).
Bigger = better
You may find as your feet swell you'll need to buy shoes in a larger size or a wide style. Don't invest a lot of money on these pregnancy shoes as your feet will likely return to their normal size post pregnancy.
Tips for swollen feet
Aside from choosing the right winter shoe, soothe your swollen feet with these tips:
Elevate your feet throughout the day, even for just a few minutes at a time, to reduce swelling.
Wear flats whenever possible. You can revisit your awesome collection of heels after baby arrives.
Take your shoes off as soon as you can get home (or sneak them off under your desk at work for a little breather during the day).
Don't cross your legs — opt for crossing your ankles and alternating often.
Stay hydrated.
Take a walk.
Ask your man for a foot massage. Hey, it's worth a shot! You're carrying his baby after, all!
More pregnancy pains
Will the baby ever arrive?
Morning sickness, all day
Acid reflux and heartburn help