Posted: Mar 24, 2013 9:00 PM
Have you heard of gender reveal parties? They are all the rage with the pregnant set, and why not? It's a fabulous excuse for another pregnancy celebration and an exciting way to share your baby-on-the-way's gender news. Enjoy the big reveal with ideas from these pregnant women and moms who had their own gender reveal parties.
Bring everyone together
Expectant mom Melissa's gender reveal party came together in just two short days since she and her husband were able to get an anatomy ultrasound before Melissa went to visit family for the holidays. She says, "Because my husband wasn't traveling with me... we wanted to learn the news together. The two of us actually found out the sex of the baby during the ultrasound together. It was a beautiful, special moment that I'm glad we were able to share together while seeing the baby on the screen."
Melissa credits her mom and aunt for putting together the intimate party of about 15 people. She says, "Since we live so far away from loved ones, it was great to share this with just our close circle."

Divide and conquer
Give gender reveal party guests a task when they arrive. Nicole, mom of one in Phoenix who was inspired by Pinterest to have a gender reveal party, had guests cast their vote on a cute chalkboard as to whether they thought she and her husband Rob were having a boy or a girl. She had signs that read "Team Boy" and "Team Girl" and everything from candy to balloons to cups were blue and pink.
Expectant mom Elizabeth in Ventura had her guests choose sides by wearing pink lips for girl and blue mustaches for boy!

Pick a theme
Though blue and pink colors are a popular theme, Jamie from Albuquerque, was inspired from a blog to kick up her theme a notch. The mom of two says, "Our theme was cravings. We had sweet (chocolates), salty (popcorn), crunchy (tortilla chips), spicy (green chile salsa from New Mexico), chewy (gummies) and sour (lemonade) foods, all based on my cravings."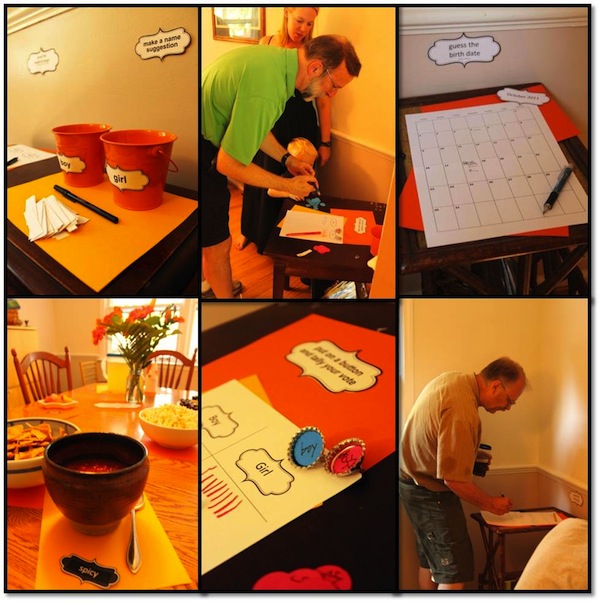 Say it with cake
Doing the big reveal via a cake or cupcakes seems to be the most popular (and delicious) way to reveal baby's gender at ta-da time. Though sometimes the mom and dad to be already are in the know, Jamie and her husband found out the baby's sex along with the other guests at her party.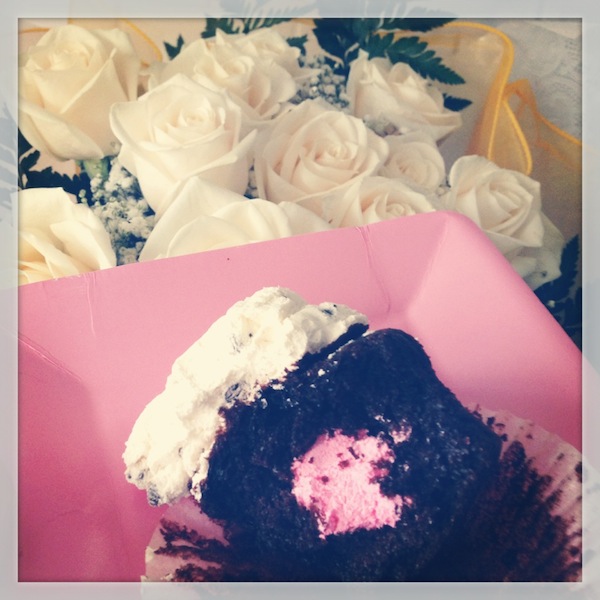 She had the technician write the baby's sex on a piece of paper and seal it in an envelope. Her mom gave the envelope to a baker friend along with directions to make cupcakes with the center filling in the color of the baby's sex (blue for boy, pink for girl). Jamie says at the party, "We handed out the cupcakes, and all bit in at the same time. Everybody yelled in surprise (with mouths full) to see pink icing! We all found out together!"
Melissa had pink-filled cupcakes at her gender reveal party, as well. In addition, her mother also had her unwrap a big box with two balloons that read, "It's a girl!"
More on pregnancy
Mom stories on finding out baby's gender
I don't want to have a baby shower
When to plan the nursery