Posted: Mar 03, 2013 10:00 PM
While diaper bags have certainly come a long way in recent years, there's still something about carrying around a bag that screams "baby" that drives some moms right off the edge. Try one of these diaper bags that will even have the fashionista moms swooning!
The Splurge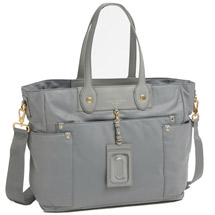 At nearly $350, this better not look like a diaper bag. And, for that matter, it better change our baby's diapers too! The Marc by Marc Jacobs Preppy Nylon Eliz-a-Baby Diaper Bag ($348, Nordstrom) is high on the swoon-worthy scale and there's no way that this pretty bag will give away that you're stashing diapers and spare socks inside. Don't miss the bright, fun colors that this bag also comes in!
The Colorful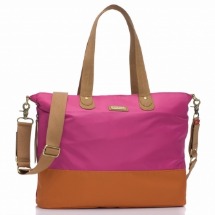 The newest and freshest diaper bag on the block, simply known as The Tote ($120, Storksak), is putting the color-blocking trend to work. This diaper bag in disguise is roomy for moms who are lugging around gear for more than one little one or who need their diaper bag to double as a work bag or carryon too! Also available in yellow and gray, it's nearly impossible to pick which color combo is cuter.
The Classic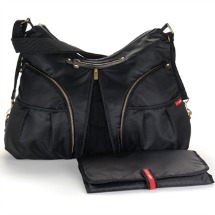 Every woman needs a classic black leather bag in her collection and every mom needs a diaper bag that looks like a classic black leather bag! Diaper bag brand favorite, Skip Hop, steps it up with the Versa ($70). We love this bag for making quick transitions from playdates to date nights. And, that expandable zipper wins major bonus points from moms — perfect for stashing an extra pair of pants for your little one or a full-sized package of baby wipes.
The Trendy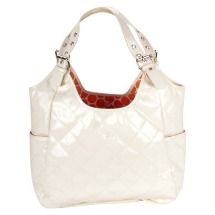 We bet you'd never think that you could find a white patent diaper bag! This super fun option, the JP Lizzy Dreamsicle Satchel ($78, Target) looks like it is anything but a diaper bag. Peek inside and its practical side shines through with a colorful lining that won't show stains and tons of pockets for bottles and pacifiers. This bag also includes a changing pad, which will come in handy when you find yourself in one of those horrible motherhood moments when changing your baby's diaper on a gross floor or surface is unavoidable.
More on baby gear
Baby gear for moms
Top baby carriers for you and your baby
Baby Gizmo must-haves: Crib tent