Posted: Mar 17, 2013 11:00 PM
There are so many fun things to celebrate throughout your pregnancy: the pregnancy itself, baby's gender (have you heard of fun gender reveal parties?) and, of course, baby's name. Don't just tell people your baby's name, announce it with these six creative ideas.
Sweet mementos
Passing out cigars (even the bubble gum kind!) at your baby shower is so passé! Instead, have some customized sweets designed as a way to reveal baby's name. From customized M&Ms and chocolate bar wrappers to homemade cookies or cupcakes with your baby's name written in icing, saying it with sweets is one of the sweetest ways to make sure your baby name reveal is remembered long after the treat is gone.
Say it via social media
Celebrities announce their pregnancies and babies' births via Facebook and Twitter all the time. So why not take a cue from the rich and famous and announce your baby's name through social media?
Make it extra cute like mom of four Kimberlee, who posted this darling photo on Facebook of her baby bump with a "Hello my name is" tag pasted on it to announce baby No. 4 on the way and reveal her name all at one time.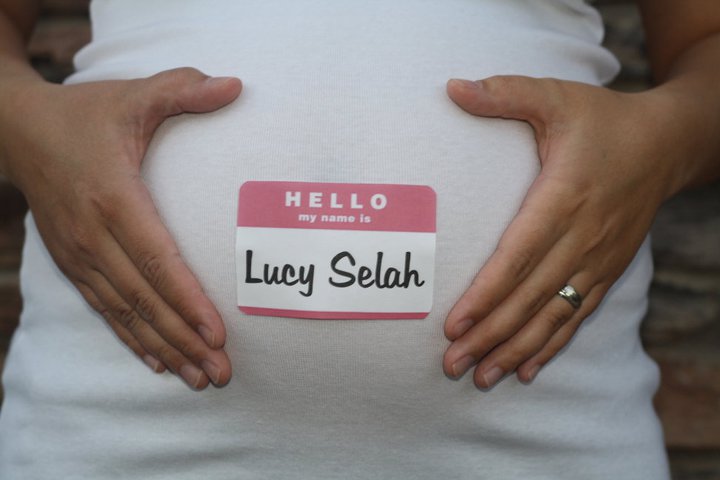 She said, "We did it because frankly everyone in our families and all of our good friends are on there. It is the quickest and best way to have fun with the news."
Another cute option could be to post a picture of your baby bump tied with a ribbon and gift tag with baby's name written on it.
Let it soar
Balloons are a fun way to make your baby's name announcement... and there are several ways to do it. Blow up enough balloons to spell out baby's first (and middle) name and then write one letter on each balloon with a Sharpie. Tie a colorful ribbon or string to each balloon.
Tape the balloons in a not-quite-perfect, up-and-down pattern on a wall to create the look of the balloons floating but this ensures the letters will stay in the forefront as you snap a photo. If you already have a child, have the big sib hold the balloon strings for the photo. Then have baby name announcements made up or post the photo via social media sites.
Another fun option is to have custom balloons printed with baby's name and have them filled with helium for your baby shower or gender/baby name reveal party.