Posted: Jul 07, 2013 8:00 PM
First trimester exhaustion begs for a day at the spa for relaxing and pampering, but keeping you and your baby safe is most important. Discover what sorts of massage should wait until later in your pregnancy. Plus, blondes might have more fun, but is coloring your hair safe during pregnancy?
No spa secrets
If you are keeping your pregnancy private until you finish your first trimester, make an exception for the people at your spa and hair salon. The best way to ensure your beauty treatments are safe during pregnancy is to share the news and talk with the receptionist, stylist, masseuse or esthetician about your best spa options.
Spa treatments to avoid during pregnancy
Unusually high body temperatures are dangerous to baby's development, especially during the first trimester. Pregnant women should avoid spa treatments that raise your body temperature — including body wraps, mineral baths and saunas.
Massage during pregnancy
Certain spas do not recommend massage during the first trimester of pregnancy because the rate of miscarriage is highest during the first 12 weeks. For a massage during the first trimester, find a therapist certified in prenatal massage. A certified masseuse will avoid your abdominal area and remind you of the importance of post-massage hydration. Continue to seek out specific prenatal massages for the duration of your pregnancy. The therapist will be experienced with proper positioning and avoiding pressure points that can cause early labor — and later may be able to move things along if you're past your due date!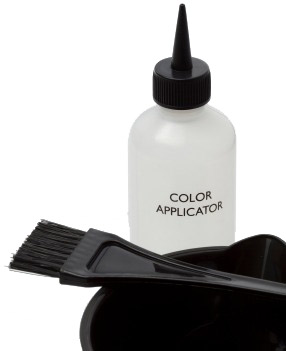 Pregnancy rules about hair dye
Avoid dyeing your hair during the first trimester of pregnancy. Chemicals sitting on your scalp for an extended period of time are absorbed into the body, and the associated odors can wreak havoc on the heightened sense of smell pregnant women may experience. Highlights during pregnancy are a better option than all-over color. Your stylist can avoid your scalp, and most of the dye is contained within the foil pieces so the chemical exposure is limited — though you'll still be dealing with the smell!
Pedicures and pregnancy
As with other spa treatments, talk with your nail technician about your pregnancy. Certain reflexology points around the ankle should be avoided during pregnancy as they can cause contractions and even begin pre-term labor. Mothers-to-be should ask that polish be free of toluene, dibutyl phthalate (DBP) and formaldehyde. If you're unsure about the polishes at your favorite salon, buy a bottle of a brand you trust and bring it with you.
Communication is key
Keeping communication open and honest during pregnancy is the best way to keep you and your baby safe. Talk with your doctor about what he or she recommends for your pregnancy — every woman and every pregnancy is unique!
More about the first trimester
Stay fit during your pregnancy
5 Pregnancy surprises revealed
Explaining hypermesis gravidarum