Posted: Jul 27, 2013 7:00 AM
Those dark patches that suddenly appeared on your face are temporary and harmless, but that doesn't make them any less unpleasant. Put your best face forward with these melasma-hiding tips.
The mask of pregnancy

Melasma, also known as chloasma or the mask of pregnancy, is a condition in which patches of dark skin appear on the cheeks, chin, forehead, nose and/or upper lip. Melasma is most common in young women with brownish skin tones.
It's no coincidence that these particular areas receive the most exposure to the sun. Sun exposure and the female hormones associated with pregnancy are the primary causes of this unappealing skin condition.
Melasma is not harmful and has no other symptoms beyond a change in skin color. But with all of the stresses already presented by pregnancy, melasma is yet one more thing to fret about and can cause emotional distress.
Conceal... for now
Treatments and prescriptions are available to address melasma but are not suitable to use during pregnancy. While you're expecting, it's better to deal with melasma by concealing it. A complete coverage concealer foundation will help you create the appearance of even skin tone.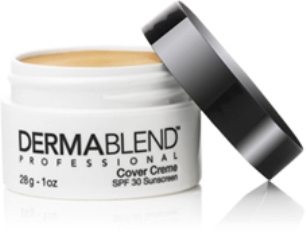 Consider trying a makeup that is designed to hide scars or tattoos. Dermablend Cover Creme SPF 30 foundation provides full coverage and is available in 21 shades ranging from fair to deep ($30, Dermablend.com). Dermablend provides serious coverage and excellent hydration, and it's applied just like regular foundation:
Step 1: Clean your skin so that it is free of dirt, makeup and surface oils.
Step 2: Remove a small amount of the Cover Creme with a spatula. Place the Cover Creme on the back of your hand and soften the products with your fingertips.
Step 3: Apply the Cover Creme directly over your dark patches. Tap gently with your fingertips to ensure maximum coverage and blend outwardly. Add more product for extra coverage, if necessary.
Treat after baby arrives
For some women, the pregnancy mask doesn't fade immediately after their baby is born. "Melasma is a very difficult problem, but there are some things that can help," says plastic surgeon D.J. Verret, assistant clinical professor at UT Southwestern Medical School. LA dermatologist Annie Chiu recommends waiting a few months after giving birth and nursing to begin treating melasma.
OTC products: The first things to try are over-the-counter lightening creams, such as hydroquinone. "Topical preparations can be helpful," says Dr. Debra Jaliman, assistant professor of dermatology at Mount Sinai School of Medicine and author of Skin Rules: Trade Secrets From a Top New York Dermatologist. "Look for licorice extract, arbutin or Kojic acid in OTC products, or products containing niacinamide, which helps to even the skin color."
At-home treatment: To treat the melasma on your own, Dr. Chiu recommends SkinMedica Lytera Skin Brightening Complex, a product that addresses all critical stages of the pigmentation process ($125, SkinMedica.com). These photos show the results after 12 weeks: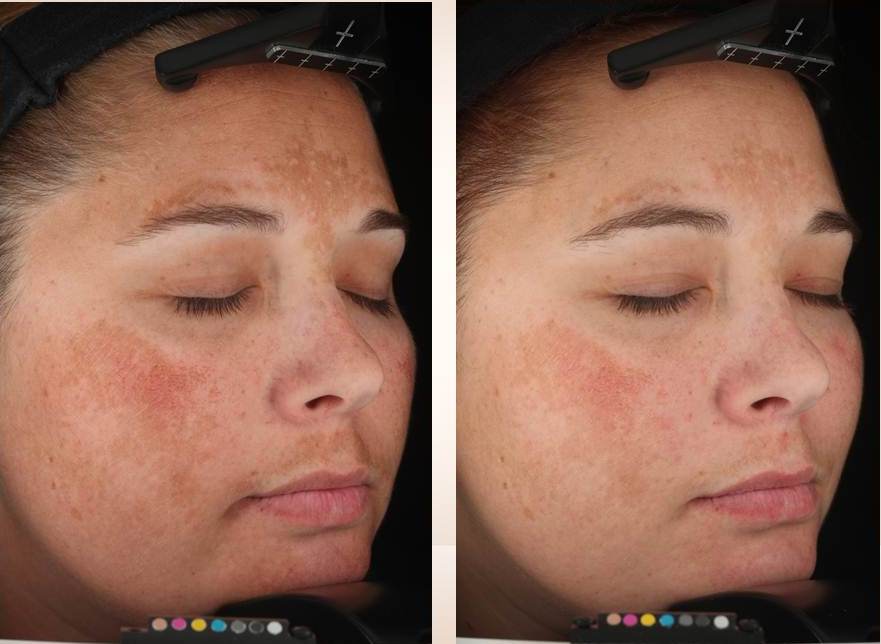 Prescriptions: Both Drs. Jaliman and Verret mentioned the prescription medication called TriLuma. "It contains hydroquinone, retinoic acid and a topical steroid preparation," says Dr. Jaliman. "This is very effective and should be used nightly."
In-office facial treatments: "Next up the ladder are facial treatments like IPL (intense pulsed light), chemical peels (usually medium depth) or laser resurfacing procedures with carbon dioxide or erbium lasers," says Dr. Verret.
"Light chemical peels can also be used as a series of three to six peels every two weeks," says Dr. Jaliman. "Also helpful is the Medlite laser performed as a series of approximately six treatments, two weeks apart."
Fortunately, most pregnancy-related melasma will spontaneously resolves within several months after delivery," says Dr. Verret. "Unfortunately, if it persists past a few months, it can be permanent. The underlying problem in the skin is not understood but it does seem to be a problem that can be permanent."
Sunscreen has never been more important
Skipping
even one day
can undo all of the melasma treatments you've undergone thus far.
"
"
"With melasma, it's important to wear a broad-spectrum SPF 30 sunscreen (block both UVA and UVB rays) — one with zinc oxide or titanium dioxide," says Dr. Jaliman,
Wear your sunscreen every day, even cloudy days. "Even if you spend the entire day indoors, wear your sunscreen because UVA light can penetrate through window glass," says Dr. Jaliman.
Be vigilant about sunscreen. Skipping even one day can undo all of the melasma treatments you've undergone thus far.
More answers to pregnancy questions
Exercise during pregnancy
5 Things nobody tells you during pregnancy
7 Foods to skip while pregnant