Posted: May 07, 2013 11:00 AM
Pregnant Fergie showed off her edgy maternity style in a printed fish tank dress at the Nickelodeon Kids' Choice Awards this month. We have rounded up similar items so you can copy her cool celebrity mom maternity style.
Fergie's personal style
The Black Eyed Peas singer Fergie hasn't let pregnancy stop her from wearing edgy and fashion-forward looks.
"I'll always have a little rock 'n' roll influence," she told Life & Style of her pregnancy style. "There are ways to rock [pregnancy fashion]. Make [your look] your own with a funky bag or some rock 'n' roll jewelry."
The 38-year-old singer, who is around four months pregnant, said she is still wearing non-maternity clothes.
"I haven't gone to maternity wear yet. I'm just banding my jeans with the tailor," she said, revealing that most of the time she has switched out her sky high stilettos for "lower heels."
"Being four months pregnant, I need to be comfortable, but I don't want to be frumpy," she recently wrote in a style article for The New York Times.
Her clothing option of choice when she is home relaxing?
"I'm finding out that tunics are great for my growing belly. I caught a glimpse of myself in the mirror, and thought, 'What a cute Easter look this would be,'" she wrote.
Recreate the look
Under the sea! Fergie rocked the Kids' Choice Awards in this colorful Mary Katrantzou fish tank dress that showed off her growing baby bump. This coveted dress is so hot this season that it is sold out everywhere — despite the fact that it retails for $1,325. In case you don't have Rachel Zoe on your speed dial, we have found similar dresses that will look just as chic.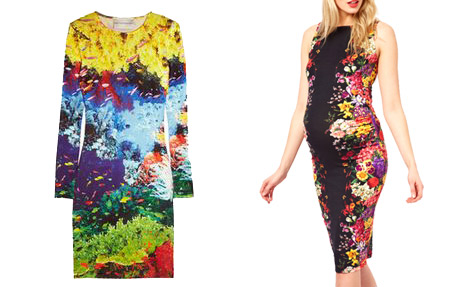 This Ali Ro Stretch Fabric Maternity Dress (A Pea in the Pod, $190) is the same style as Fergie's bump-hugging dress. This cute shift dress has the same trendy print that was rocking the runways this year. This dress would make a great baby shower dress! For another great option, this ASOS Maternity Body-Conscious Midi Dress ($75) is made of a soft jersey fabric that can be worn throughout your pregnancy, while the bright floral print will show off your new curves.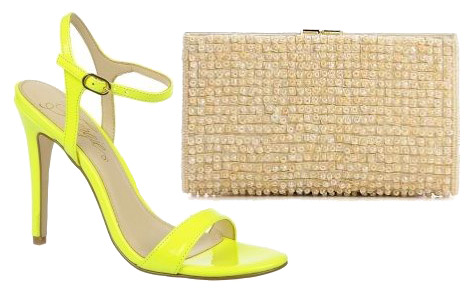 Fergie gives her feet a pop of color with her own line of shoes — the Fergie Roxane shoes in yellow (Famous Footwear, $80). These shoes are also available in a variety of colors to match your dress, including blue, mint, tan and metallic. She is carrying an expensive Swarovski clutch; however, you can get her same sparkly look with the Lulu Townsend Macaria beaded clutch (DSW, $34).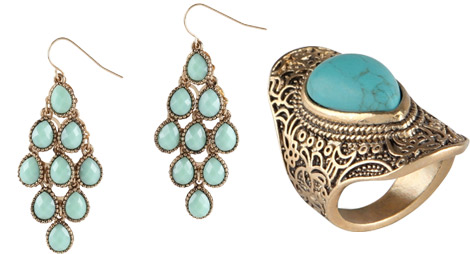 Fergie accessorizes her colorful dress with Stephen Webster turquoise earrings and a ring. However, if you don't have her padded bank account, copy her look with the Dughi teardrop turquoise pendant earrings (Aldo, $10) paired with this turquoise Lorna ring (Aldo, $12).
More celebrity mom maternity style steals
Copy Jenna Dewan-Tatum's trendy maternity style
Found! Pregnant Malin Akerman's must-have tank dress
Copy Kristin Cavallari's chic maternity style
Fergie photo credit: WENN