Posted: Jun 06, 2014 6:00 AM
You don't need to identify as a crunchy mom to appreciate the beauty of a blessingway. These alternatives to traditional baby showers focus on the mother's journey. Find out why a blessingway might be just what you need to kick start a beautiful birth.
Photo credit: Erik Isakson / Blend Images / Getty Images
Interested in an alternative to a traditional baby shower? Whether you're having your first child or your fifth, a blessingway ceremony gives you an opportunity to celebrate birth. This modern ritual embraces the mother's journey and gets away from the games and gifts we associate with baby showers. Is a blessingway right for you? We talked to mom and doula Sarah Scheffert about her experiences hosting blessingway ceremonies — and having her own.
An experienced doula's first blessingway
Scheffert, a mom of four, became aware of blessingways from her local birth community. Just hours before her homebirth after two C-sections, Scheffert's friends, family and midwives threw her a blessingway. "The focus was on me, and more specifically all the support I had going into labor, giving birth and having a new baby," she says. Scheffert's twins participated as well. "They were 8 at the time. I loved them being a part of such a strong, loving group of women!"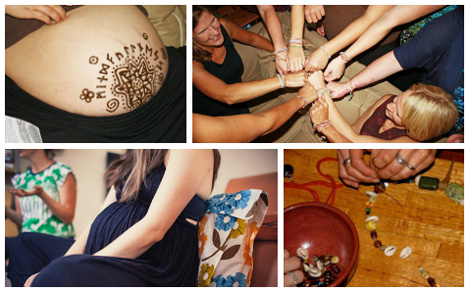 What is a blessingway like?
A blessingway looks a lot like a baby shower. The ceremony is traditionally attended only by women and girls. Everyone gathers for a meal and dessert, which is usually done potluck-style. "Often the mother is pampered with hand and feet washing, massaging her feet, brushing or braiding her hair, rubbing her back, that kind of thing," says Scheffert. "All of this depends on what the mom wants. Some women are comfortable with a great deal of ritual, some aren't at all and just want a flower crown, friends and good food."
Do guests bring gifts to a blessingway?
"As far as gifts, traditional baby gifts are not brought. For mine, everyone brought a meal for my freezer for after Baby," says Scheffert, who particularly appreciated the food. "Other times they are asked to bring something small to pamper mom, which are typically gathered in a basket (unwrapped) and presented to her." Homemade gifts and snacks for Mom are commonly offered.
Blessingway rituals and activities
Every blessingway is unique, and a lot depends on what the mom wants. The host should communicate with the mother to find out what she wants. Here are some common blessingway activities:
Matrilineal introductions and candle lighting. Every woman in attendance introduces herself matrilineally, while lighting a candle. "It symbolizes that we all came through women and through us came babies. It's also fun to hear all those family names. The candles are then lit for the rest of the rituals," says Scheffert. "The attendees then take the candle home and light it when they hear news of labor beginning, keeping a flame going (if possible) throughout labor."
Henna painting. "We painted my belly with henna (one of my midwives asked me about wishes for my upcoming birth and wrote them in beautiful rune characters). Since I had my baby the next day, the henna was with me for weeks postpartum and I loved the reminder to my recent pregnancy," says Scheffert.
Web of support. Attendees sit in a circle and take turns sharing a story or a wish for the mother's birth. After speaking, each woman wraps the yarn around her wrist or ankle and passes the ball on. Then, the yarn is cut to make bracelets or anklets for each woman to continue wearing until the mom gives birth.
Birth beads. One of the most common blessingway rituals is the offering of a bead by each attendee. These are strung onto a necklace during the ceremony or after by the mother. "I love my necklace, wore it during labor and felt very strengthened by it (not because of mystical powers but because of symbolic ones) and wore it (and wear it still) when I need to feel their strength and support," says Scheffert. "I also wear it to other blessingways and when I hear of a friend in labor."
Affirmations. "Have slips of paper and pens around the room and ask participants to write affirmations or encouraging thoughts or quotes or something to make Mom laugh or for Mom to pull out of the jar when she's having a tough day," says Scheffert.
The benefits of a blessingway
Many women report feeling like their blessingway ceremony gave them strength in labor. "It made me feel loved and powerful and like I could totally do it," says Scheffert, "I think blessingways take the focus off of all the stuff that a traditional baby shower focuses on (which has its place, especially for first-time moms) and puts the focus on community, support, love, the journey of birth, the support the mom will have during labor as well as with the new baby. It's a positive event filled with simple rituals to celebrate the pregnant woman, her upcoming labor and how to hold a space for her and fill it with love and support."
More on birth
Can you be forced to have a C-section?
Should kids witness childbirth?
The truth about labor progress